Queensland was first explored by the Dutch navigator Willem Janszoon in 1606 and used to be part of the New South Wales colony.
It was (same as state Victoria) named after the Queen Victoria as honour of her name in the occasion of her signing the Letters Patent which separated the colony from New South Wales back in 1859.
This second largest Australia's state bordering with the Northern Territory, South Australia and New South Wales is located on the north-eastern part of the Australian continent.
Queensland
The natural border on the east is created by the Coral Sea and Pacific Ocean.
Thanks to its size, Queensland's climate varies from the tropical and monsoonal in the very north to the mild climate on the south.
Most of the population counting around 4.75 million people is concentrated along the coast and Brisbane, the state capital city, which is also the third largest city in Australia.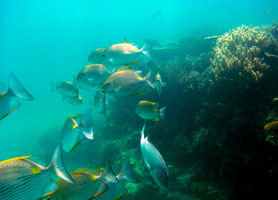 The "Sunshine State" is a favourite place for travellers from all over the world thanks to all natural attractions it has to offer.
Flawless beaches together with pristine nature create the wonderland which stands for perfect holiday destination. Queensland is boasting with some of the biggest Australian highlights.
Whitsundays Islands are place with some of the world's most recognized beaches such as Whitehaven Beach or Airlie Beach and the Great Barrier Reef is a treasure itself.
Fraser Island or the Moreton Island National Park both offer everything from scuba diving around shipwrecks in crystal clear water to sand boarding, four wheels drives and adventurous hikes. Fraser Island is actually the world's largest sand island with freshwater lakes.
The Daintree Rainforest as the oldest rainforest in the world is being home to some of the unique animal species and plants.
Brisbane as a capital is a lovely cosmopolitan city only a short drive from the iconic Gold Coast perfectly made for surfers and water sport lovers.
Other cities which shall not be missed are Cairns (which is a gateway for may travel journeys around the east coast), Port Douglas, Mission Beach or Townsville.