Last updated on August 10th, 2017 at 03:35 am
Green Island is a coral cay located just 45 minutes across the Coral sea by fast catamaran from Cairns.  
The island is located within the Great Barrier Reef Marine Park, which puts it right in the middle of one of the Seven Natural Wonders of the World.  
Green Island is the only car in the Great Barrier Reef Marine area with a rainforest growing on it.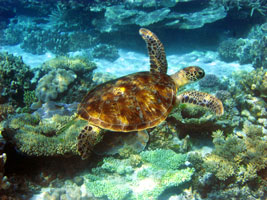 Green Island: Things to Do
Like most tropical island paradises, Green Island offers a variety of things to do, but at the top of the list, is enjoying the pristine, white sand beaches and warm water.
 Visitors can reserve beach chairs and umbrellas to enjoy the water, soak up the sun, and just relax.  Beach volleyball courts are also available for hire, as are both single and double kayaks.
 There are also a variety of trips out to the Great Barrier Reef that allow visitors to explore everything the reef has to  offer, as well as a number of trips around the island. 
 Other activities available for visitors include scuba diving, a boat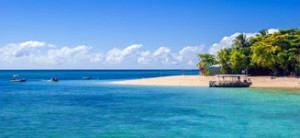 snorkel trip, a glass bottom boat tour, and helicopter flights.  
 Plants and Animals on the Island Green Island sits on the northwest edge of the reef flat, with the surrounding reef being classified as an, "inshore patch reef."
 The reef supports two primary habitats, seagrass beds in the shallower water, and the actual reef itself in the slightly deeper water.
 The seagreass beds support a variety of animals including young fish, large sea turtles, and dugong.  The reef itself has over 190 types of hard corals and over 100 types of soft corals.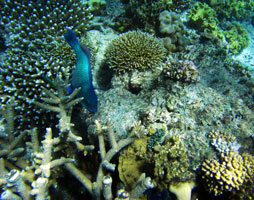 The island itself is home to over 120 species of plants.
There is a unique mixture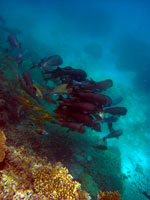 of coastal and rainforest plants, with the area near the beach made up of scrubby coastal vegetation that can survive in a drier climate.
However, only a little way inshore, the vegetation transitions into a dense, vine-thicket rainforest.  
There are also over 55 species of bird regularly seen on Green Island.  Of those, 13 are sea birds and 38 are shore/land birds.  
Green Island:
 is the perfect place for a quick day trip, or, to spend a few days at the Green Island  Resort.  There are a variety of day trips offered to the island, with one that will fit every taste.