Phillips Island is a fantastic retreat, just 140 kilometres south-southeast of Melbourne.  The island is easily accessed by car via a 640 metre bridge that connects the island to the mainland at Ran Remo.
The island is filled with a variety of activities for visitors, one of the primary ones being wildlife viewing.  The Penguin Parade, a Phillip Island institution, allows visitors to observe penguins as they come to shore and waddle to their sand burrows.  
Visitors can also take a wildlife cruise out to Seal Rocks where they can see over 16,000 Australian fur seals.
Additionally, the island is home to the Koala Conservation Centre, which is open to the public.
The island also is home to the Phillip Island Important Bird Area, where in addition to the fairy penguins you can see short-tailed shearwaters, and Pacific gulls.
 Children will enjoy the local wildlife park where they can hand-feed wallabies and kangaroos and watch a midday pelican feed.
 More recently, the area has seen a recurrence of populations of Burrunan dolphins, migratory killer whales, southern right whales, and humpback whales.
Phillips Island:
Considering it is an island, Phillip Island is, of course, littered with fantastic beaches and stunning coastlines. The island
has everything from sheltered bay beaches, surf spots, blowholes, caves, and unique rock formations.
The island was recently designated a National Surfing Reserve in recognition of its storied surfing history.
The northern part of the island is filled with calmer bay beaches.
 Shelly Beach, Bay Bay Beach, and Flynns Reef, are good for beginning surfers
.  Ventnor Beach and Anchorage Beach are good for swimming and also offer great views of Phillip Island and the Mornington Peninsula.
Red Rocks Beach is great for swimming and Cowes Beach is a great spot for families due to its shallow high tide and facilities.
Meanwhile, the southern portion of the island is where most of the famous surf spots are located.  Woolamai Surf Beach is world renowned with fantastic rips and currents.  
Smiths Beach and YCW Beach are great for beginning surfers as they have more gentile surf.  Surf Beach and Surfies Point are also good surf sports.  The south is also home to Summerland Beach, which is the site of the famous nightly penguin march.
 Of course beaches also means there are opportunities for a variety of watersports.  Beyond the world-renowned surfing, Phillip Island also offers fantastic sailing, which allows visitors to take in the sights as well as the marine life.
Fishing is also a popular activity on the island.  The waters around Phillip Island are teaming with various marine life, which makes it the perfect spot to catch yourself a fresh seafood dinner.
Many fishers set up at the jetties at Cowes, Newhaven, Rhyll, and San Remo, where you can catch flathead, snapper, whiting, salmon, shark, and squid.  Charter fishing trips can also be arranged.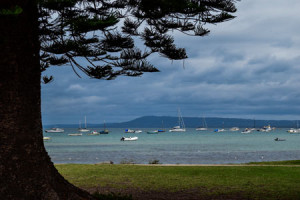 Foodies will relish the wining and dining options on Phillip Island.
The island is home to three wineries, Purple Hen Wines, Bass Valley Wines, and the Philip Island Vineyard and Winery, all of which have tasting rooms open for visitors to the island.
The island is part of the Southern Gippsland Wine Trail.  South Gippsland is known as a premium producer of cool-climate wine varietals, including Pinot Noir and Chardonnay.  The island also has a number of restaurants and cafes ranging from fast food to true, fine dining.
Whether you are looking for local fare, Japanese, Italian, Tex Mex, or any number of foreign and exotic cuisines, Phillips Island has you covered.
  Visitors to the island will find a variety of accommodation options on the island.
Phillips Island has self-contained apartments, bed and breakfasts, caravan parks, hotels, motels, resorts, hostels, camp grounds, holiday homes, farm stays, and pet friendly accommodation.
No matter what your budget is or what you are looking for, there is something for you on Phillips Island.