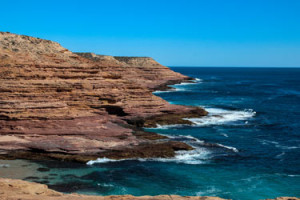 Kalbarri National Park is located 485 kilometres north of Perth in the Mid West Region of Western Australia.  The park covers an area of 186,000 hectares, which is crisscrossed with an array of walking tracks.
The park is also home to the Murchison River, which makes a beautiful river gorge, running out to the ocean, that stretches for over 80 kilometres.
The entire park protects stores of red and white striped Tumblagooda sandstone east of the town of Kalbarri.
 The park is open all year round, but temperatures can be extremely high from December to April regularly exceeding 40 degrees Celsius.
It lies at the northern boundary of a transition zone between a Mediterranean climate and a semi-arid climate.  The winters are warm with moderate precipitation.
Kalbarri National Park: What to Do
        Kalbarri National Park has a number of wonderful nature features to explore that are all accessible by walking trail.  The park is filled with beautiful sandstones, inland river gorges, coastal cliffs, and the peaceful Murchison River.  
There are a number of hikes in the park that allow visitors to experience and explore the beautiful river gorges.  Here is a quick list of them.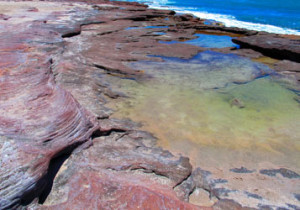 1)   West Loop Lookout: This is a Class 1, 500m return walk.  Hardly a hike, this leisurely walk will provide stunning views of the Murchison River and the park hinterland.
2)   Nature's Widow: This is a Class 3, 1 kilometre return hike that takes you to one of Western Australia's most picturesque locations.  A great spot for photographers.
3)   Z-Bend Lookout: A Class 3, 1.2 kilometre return that is considered to have the most beautiful view of the park.
4)   Z-Bend River Trail: Class 4, 2,6 kilometre return.  This walk is quite demanding and provides river access.  Walkers should expect loose rocks, steep descents, ladder climbs, and stunning scenery.
5)   Four Ways Trail: Another Class 4 hike, this 6 kilometre return walk that is ideal for geology enthusiasts.  This is a rather strenuous hike that descends all the way down to the river.
6)

  

Loop Hike: Class 4, 8 kilometre return.  A hike for the well-prepared hiking enthusiast, this hike allows walkers to go deeper into the gorge system.  Provides excellent views of the Murchison River's switchbacks.
7)   Hawks Head: Class 1, 200m return.  This is an excellent vantage point to take in beautiful park views.  The area also has picnic facilities and a river lookout.
8)   Ross Graham Lookout: Class 3, 700m return.  This short walk offers stunning views over the gorges.
If you want to take in the stunning coastal cliffs, which can exceed 100m in height, there are also a number of different walks that allow visitors to see the most beautiful coastal areas. Here is a quick rundown of the best coastal walks or spots.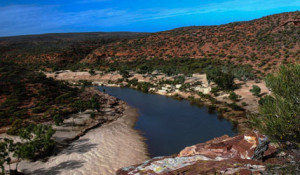 1)   Natural Bridge: A Class 1, 200m return walk this provides great coastal views and is the perfect lookout for whales and dolphins.
2)   The Bigurda Boardwalk: Class 1, 1.2 kilometre return.  This walk runs along a raised boardwalk connecting Island Rock to Natural Bridge.  Provides access to Bigurda Trail.
3)   Island Rock: This is no walk, just a beautiful solidary sea stack.  There are viewing platforms on the shore for visitors to take in this beautiful sight.
4)   Shellhouse Grandstand: Again, not a walk, just an interesting coastal destination you might see on a coastal walk.  A beautiful terraced rock face that is the perfect place to view a sunset.
5)   Eagle Gorge: The Eagle Gorge lookout is a great place to watch for whales and birdwatch.  There is access to the sea below via a steep, rocky path.
6)   Bigurda Trail: Class 3, 16 kilometre return is a coastal walk connecting Eagle Gorge with Natural Bridge.  It has stunning coastal views and an array of wildflowers.  Dolphin pods are a common sight along this pathway, as are humpbacks.
7)    Pot Alley: This view spot is the best vantage point to appreciate the rugged coastline.  There is access to the beach via a winding rock path.  Swimming is not recommended.
8)   Mushroom Rock Nature Trail: This Class 3, 3 kilometre loop takes hikers on a contrasting journey of geologic history, views, and present day Australian wildlife.
9)   Red Bluff Lookout: Class 1, 500m.  This is the highest elevation point in the are, with 100m of cliff face, this is an iconic Kalbarri location.
10) Pedrick Lookout: Class 1, 300m.  excellent view of the coastline in two directions.  Provides access to Red Bluff.
11) Red Bluff to Beach Trail: A Class 3, 1.4 kilometre return, this walk takes you from Pedrick Lookout to Red Bluff Beach, providing wonderful views over the Indian Ocean.  The area at the bottom of the trail is great for swimming.
The Murchison River, which snakes through the park, is also a nice attraction in the area.  The river is the second largest river in Western Australia (820 kilometres).
The river is one of the best places for bird watching in the park.  
A variety of species are visible around the river, including wedge-tailed eagles, kestrels, spied, fairy martins, swallows, ospreys, sand pipers, pelicans, red-tailed cockatoos, carnabys black cockatoos, egrets, kites, wood ducks, black swans, pink and grey galahs, ringneck parrots, mudlarks, and cuckoo shirkes all visible in various parts of the river gorge.
Kalbarri National Park: Accommodation
        Kalbarri National Park boasts a variety of different accommodation options that are sure to meet every taste and budget.
The park has hostels, caravan parks, farm stays, motels, hotels, resorts, and self-contained apartment and house rental options.
How to Get There
        Kalbarri National Park is accessible by car and is a relatively easy six to seven hour drive from Perth.  Drivers can choose between two routes.
They can either take the Brand Highway and then get on the North West Coastal Highway at Geraldton, or, take a scenic route that follows the newly constructed Indian Ocean Drive, which will ultimately take you to the Brand Highway from which the route is the same as the first option.
If you don't have a car, visitors can bus to the park from Perth using TransWA or Integrity coach services.