Last updated on August 10th, 2017 at 08:28 pm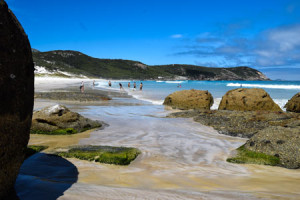 Wilson's Promontory National Park is a peninsula that makes the southernmost portion of the Australian mainland and is located in the state of Victoria.
The majority of the peninsula is protected by the Wilson's Promontory National Park and the Wilson's Promontory Marine National Park.
Affectionately known as the Prom, Wilson's Promontory is a 50,000 hectare reserve that is the largest coastal wilderness area in Victoria.  
The Prom offers stunning scenery, including massive granite mountains, open forest, rainforest, sweeping beaches, and beautiful coastline.
Visitors to the Prom can do just about anything, ranging from hiking, camping, swimming, surfing, and wildlife viewing.
Wilson's Promontory National Park:
There are a number of interesting creatures that call the Prom home.
Visitors to the area can expect to see kangaroos, snakes, wallabies, koalas, long-nosed potoroos, white-footed dunnarts, broad-toothed rats, hog deer, foxes, rabbits, feather-tailed gliders emus, wombats, echidnas, and a variety of flamboyantly plumed birds like rosellas yellow-tailed black cockatoos, and superb fairywrens.
Many of the birds will come right up to humans, especially if you have a handful of birdseed.  Additionally, the waters around the Prom have started to see a revival of the Southern Right Whale.
It is also relatively common to see humpback whales, killer whales, dolphins, seals, sea lions, and penguins.  Whether you are hiking, camping, or
just wandering the park, you are likely to find some sort of interesting creature!
       

The Prom is also very well known for its walks.  The park is a labyrinth of fantastic walking trails that will take you all over the area.
The hikes range in difficulty and distance from one kilometre to many kilometres that will take you multiple days.
There are 23 different walks in the park, with at least one to suit the needs of every hiker.
        Wit all the beautiful scenery in the park, it should come as no surprise that the Prom offers a number of different natural attractions.
Visitors can take a trip out to Agnes Falls.  At 59 metres, Agnes Falls is the highest single span falls in Victoria.  There is also the Cape Liptrap Coastal Park, which runs from the sand barrier at Point Smythe to Waratah Bay.
Depending on the weather, this can be a peaceful coastal area, or an awe-inspiring stormy coastline.
The Korumburra Botanic Park is filled with a diverse range of trees and is also the home of the Olsen's Creek Walk.  Mossvale Park is a beautiful park filled with English and European ornamental trees and shrubs.  It is the perfect place to enjoy a picnic lunch.
Mount Worth State Park offers a number of different hiking and walking tracks.  And the Waterville Lime Kilns sit right beside a beautiful beach with fascinating rock pools and sandy coves perfect for fishing, swimming, walking, or just relaxing.
Wilson's Promontory National Park 

Naturally:
 the Prom offers a number of excellent beaches for visitors to enjoy as well.
Norman Bay serves as a safe swimming and surfing beach with multiple access points.
Squeaky Beach, which gets its name from its rounded grains of quartz sand that squeak as you walk over them, is a great beach for exploring due to its many rock formations at its northern end.
Picnic Bay Beach sits at the bottom of a steep cliff and offers a wonderful lookout point.  It is bordered by two sets of rock formations that create an excellent area to explore.
Whiskey Bay Beach is a secluded rocky beach great for exploring, or just relaxing.
         Visitors to the Prom will be welcomed by a wide range of accommodation types that can meet any need.
The Prom has bed and breakfasts, resorts, caravan parks, campgrounds, farmstay's, self-contained accommodation, and group rentals.
There are a number of booking services that can help you find what you are looking for during your stay in the Prom.