Port Douglas is a town in Far North Queensland, Australia about 70 kilometres north of Cairns.
Situated next to two World Heritage listed sites as well as the Great Barrier Reef,
Port Douglas is a popular tourist destination and was No. 3 on Australian Traveller Magazine's list of the, "100 Best Towns in Australia.
Port Douglas has a typical monsoon climate, with hot summers and warm winters.  The majority of the rain in the area comes between January and March.
Port Douglas:  What to Do Info 
 There is any number of things to do in Port Douglas.  As a coastal town, there are obviously beaches and watersports.
One of the most popular destinations in Port Douglas is the expansive Four Mile Beach.  One of Queensland's most well known beaches, Four Mile Beach provides a huge area for families to enjoy the sun, sand, and water.  Kitesurfing has also recently become popular in Port Douglas.  
The Trade Winds blow from the south in the winter months creating perfect conditions for kitesurfing.  There are also a number of Great Barrier Reef Tours that allow visitors to experience the beauty and unique wildlife on the world's largest reef.
If you want to experience Four Mile Beach from a different perspective, take a trip up to Flagstaff Hill, which offers stunning views over the coastline.  It is an easy walk to this beautiful viewpoint.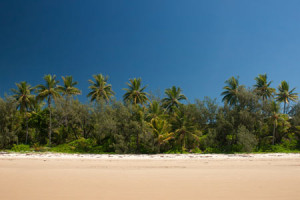 Port Douglas is also very close to the beautiful Daintree Rainforest. 
There are a number of trips and tours that allow visitors the chance to visit, explore, and experience some of the world's oldest rainforest.
Likewise, there is a Rainforest Habitat Wildlife Sanctuary, which allows visitors the chance to see and learn about over 180 species of animal and insect.
There are also a number of attractions in the town of Port Douglas itself. There are a range of art galleries, displaying wonderful work by local artists.
There are also a number of enjoyable restaurants and cafes that make for the perfect place to refuel after you have strolled through the galleries.  
Every Sunday between 8:00am and 1:30pm Anzac Park hosts the Cotters Market, which boasts everything from local produce to other arts and crafts.
Visitors can also take in the beautiful architecture at St. Mary's by the Sea, the first church in Port Douglas. Finally, there are also a number of golf courses in the town.
Accommodation – Info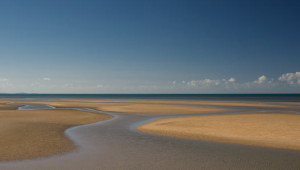 Port Douglas has an accommodation option for everyone at every budget level.
Whether you are looking for a resort, hotel, motel, bed and breakfast, apartment or house rental, hostel, campground, or caravan park, there is something for you in Port Douglas.
How to Get There
 Located just 70 kilometres from Cairns, the easiest way to travel to the town if travelling from abroad is to fly into Cairns and then drive.
 However, if you want a longer tour of Queensland, the town is located 1,700 kilometres from Brisbane, which will take about 20-23 hours driving.