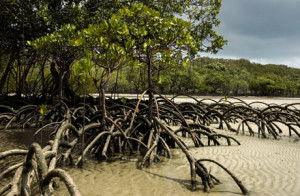 Cape Tribulation is a headland in Northern Queensland, Australia.
Located 110 kilometres north of Cairns, Cape Tribulation is situated within Daintree National Park, which contains the Daintree Rainforest and is adjacent the Great Barrier Reef, and the Wet Tropics World Heritage area.
This is the only place in the world where two heritage sites overlap.
The area is a popular tourism area, with a few bed and breakfasts, eco-lodges, resorts, and backpacker hostels in the area.
In the mid-1980s, the area started gaining traction among backpackers, who would stay in the hostels built in the area.  
As it continued to gain popularity in the 1990s, more upscale resorts were built in the area.
While there are now a number of different accommodation options and activities geared towards tourists in the area, Cape Tribulation remains an, "off the beaten path," tourist destination.
Cape Tribulation: What to Do
Which such abundant natural resources at its disposal, it should come as no surprise that Cape Tribulation offers a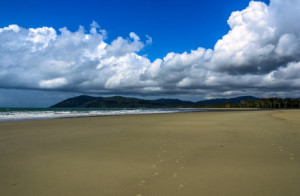 number of fantastic natural attractions and tours.
With stunning beaches and some of the oldest rainforest in the world, visitors can spend hours just exploring the beautiful beaches and wonderful forest life the area has to offer.
Of course, the area does have a few dangerous critters, so check with the locals before setting on unguided forest walks or swims.
In addition to an infinite number of self-guided walks, there are also a number of walks guided by local experts.  Whether you want to explore the coastline or the forest, or both, there are excellent walks that show off the area's beauty while being extremely informative at the same time.
These walks can range in length and time of day, with night walks also available.
If you want to experience the Daintree Rainforest from above, the Jungle Surfing Canopy Tour is for your.
Experience the rainforest without ever touching the ground as you fly through the treetops on a zip line.
This is a truly exhilarating experience.  There are also a number of river tours that will take you down the Daintree River.
The Chris Dahlberg's Daintree River Tour takes you down the river at dawn.  On this tour, visitors are likely to see over 50 different species, far more than you can expect to see on any of the other tours.
There is also a mangrove tour that will take you through the mangroves on the river.
Finally, eco-tourists can take a trip down the river on an electric powered boat with instant digital video replay of the wildlife action along the way.
If you want to get out and explore the ocean and the beautiful Great Barrier Reef, there is something for you as well.  
There are a number of ocean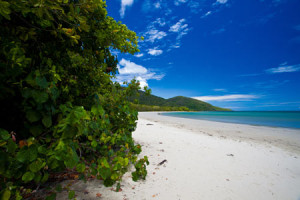 and reef tours that allow visitors to explore and experience the wildlife and beauty of the surrounding water.
Visitors can embark on an ocean safari that allows them the opportunity to snorkel in and around the Great Barrier Reef.
There are morning and afternoon ocean safari tours as well as an ocean safari that allows for both snorkeling in the Great Barrier Reef as well as rafting in the Whitsundays.
There are also Cape Tribulation Sea Kayaking tours, which will take you to a variety of different ocean destinations around Cape Tribulation.  
These tours are offered at a variety of durations and at a variety of times, including a beautiful sunset tour that allows you to experience the stunning sunset from out on the water.
There is also a tour that allows you to experience the ocean off of Cape Tribulation on a beautiful sailboat.
Where to Stay
As previously mentioned, Cape Tribulation offers a number of different accommodation options.
There are a three different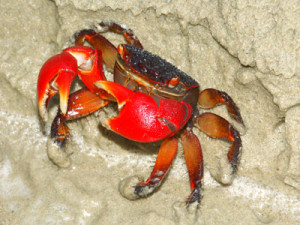 resorts on Cape Tribulation that will allow for a more than comfortable stay on the island.
The accommodation at these ranges from simple, motel-style rooms, to standalone, rustic rainforest bungalows.
There are also a number of small bed and breakfasts that have opened recently.  
Many of these offer very comfortable accommodation set in beautiful, remote locations.
If you want a more private holiday experience, there are also some holiday home rentals available on the cape.  If you want a real wilderness holiday, there are also a number of campgrounds and camping areas on offer for visitors.
How to Get There
The Daintree river serves as the main point of entry.  There is a car ferry that makes continuous crossings during the day.  
The ferry ride only takes about 10 minutes.  Once across the river, there is a beautiful scenic winding road that will take you north to Cape Tribulation.  
The road is fully sealed and a 4WD vehicle is not required.
There is no public transportation to Cape Tribulation, although, there are a variety of coach tours that make daily trips to Cape Tribulation.  All these tours begin in Cairns.