The Mornington Peninsula is located southeast of Melbourne, surrounded by Port Phillip Bay to the west, Western Port to the east, and the Bass Strait to the south.
 The peninsula is connected to the mainland in the north, providing it with easy access.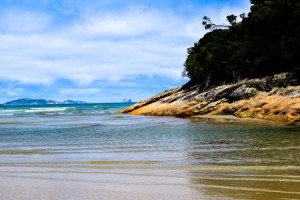 Parts of the peninsula's western coast are considered part of Melbourne's outlying suburbs, but the peninsula is primarily considered a local tourist destination boasting a variety of natural attractions, including a number of excellent swimming and surfing beaches.
 There are also a variety of wineries, mazes, and parks that draw visitors to the peninsula.
Much of the southeastern portion of the peninsula is still home to the native ecology of the region and is protected by the Mornington Peninsula National Park.
 Naturally, the beaches on the peninsula are a huge draw for visitors to the area.
Mornington Peninsula is covered with numerous beaches, many of which are great for surfing or swimming.  Here is a quick list of all your beach options.
Port Phillip Bay Beaches
1)   Frankston: This is a long, wide beach ideal for swimming, snorkeling, diving, sailboarding, and yachting.  It has a boat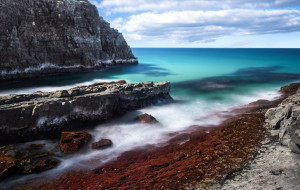 launch and is patrolled by life savers.
2)   Mount Eliza: There are a number of small bay beaches that can be found between Mt. Eliza and Mornington.
3)   Mornington: Mornington has a number of safe swimming beaches located around the harbour.
Yacht and boat facilities are available as well as foreshore reserves, picnic and barbeque facilities, a boardwalk, and a number of scenic lookouts.  These beaches are patrolled by life savers.
4)   Mount Martha: Mount Martha offers multiple safe, sandy beaches, with yachting and boat facilities.  There is also a wonderful coastal walking path.  These beaches are patrolled by life savers.
5)   Dromana: A popular camping beach with picnic shelters, barbeques and playgrounds.
6)   Rosebud: A great family swimming beach that boasts well protected waters.  Shaded picnic, barbeque, and play facilities are also offered.  Patrolled by life savers during the summer.
7)   Rye: A wide, sandy bay beach with a jetty, barbeque and picnic facilities, many boat launches, washing facilities, parking lot, and a scenic walking and cycling path.
8)   Safety Beach: This beach is popular for swimming and boating.  It has a children's playground.
9)   Blairgowrie: A bay beach with barbeque and picnic facilities, a boat ramp, and a walking and cycling track.
10)

 

Sorrento Front Beach: The departure point for the Queenscliff-Sorrento car and passenger ferry, this beach is a popular holiday destination.
There are barbeque and picnic facilities, boat launches, yachting facilities, and a cycling and walking path.
11)  Portsea Front Beach: A popular bay beach with picnic and barbeque facilities.
Mornington Peninsula Ocean Beaches
1)   Portsea Surf Beach: This surf beach is part of the Mornington Peninsula National Park and can be dangerous at times.
It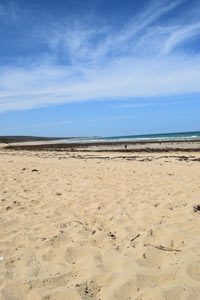 is recommended for only experienced surfers when the weather conditions are safe.  It is patrolled by life savers during select times in the summer.  
2)   Sorrento Ocean Beach: Also part of the Mornington Peninsula National Park, it is a popular surf beach with picnic facilities, barbeque areas, and tea rooms.
 At dusk, visitors can watch kangaroos grazing in the bushland near this beach.  It is patrolled by lifesavers.
3)   Flinders Ocean Beach: Part of the National Park, this beach is well protected and boasts a sandy bay beach, a boat ramp, as well as picnic, barbeque, and play facilities.
4)   Shoreham Beach: Multiple steep, sandy beaches situated amongst a forest of pine trees are perfect for exploring.  With rocky platforms and underwater reefs, there are a variety of places to see interesting wildlife.  Picnic and barbeque facilities are available.
5)   Point Leo Surf Beach: Large swells from the Bass Strait make this a popular surf beach.  The foreshore boasts picnic and barbeque facilities, as well as a kiosk and a camping area.  The beach is patrolled by life savers during select summer months.
Westernport Bay Beaches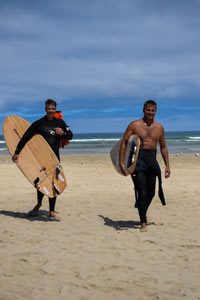 1)   Merricks Beach: Merricks is a safe, sandy beach with wonderful walking tracks through the foreshore.
2)   Balnarring Beach: Complete with well-vegetated sand dunes, camping and caravan parks, and picnic, barbeque, and play facilities, Balnarring is a very popular beach with visitors.
3)   Somers Beach: A sandy beach with picnic and barbeque facilities and a large foreshore reserve.
The Morningto Peninsula is also home to Wilson's Promontory, which is one of the most popular spots in the area and contains a number of popular beaches itself.
There is the easily accessible and perfect for swimming Norman Beach.  Squeaky beach (which gets its name from its rounded quartz sand which squeaks as you walk over it), which is home to some interesting rock formations, is great for exploring.
 Picnic Bay Beach offers a fantastic lookout and also has some interesting rock formations that are good for exploring.  Finally, Whiskey Bay Beach is a secluded rocky beach great for a relaxing day at the beach.
Guests to any of the beaches will want to catch a glimpse of the famous Melbourne bathing boxes.  Located all along the beach between Mount Eliza to Portsea, these rainbow colored boxes are Melbourne summer icons.
 In addition to swimming and surfing, the coastline provides a number of other things to do for visitors to Mornington Peninsula.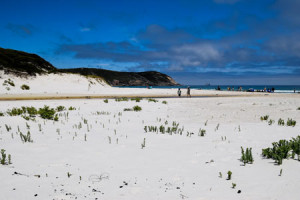 A variety of water sports are possible in the waters offshore of the peninsula, including water skiing and wake boarding, kayaking, boating, sailing, and yachting, fishing, snorkeling, and scuba diving.
There are multiple excellent dive sites in the area, including from the Queenscliff Pier (Queenscliff is where you can catch the sea ferry to the peninsula from).
Divers can dive into the Octopus' Garden to see some eight-tentacled wildlife, around shipwreck, and around reefs filled with marine life.    
   If you want to get a break from all the recreation the sea has to offer, the peninsula is also home to a number of wineries.
The region, which is known for its pinot noir, is home to more than 50 boutique wineries.  Visitors can jump from winery to winery, tasting the different wines on offer.
The workers in the tasting rooms are more than happy to educate visitors on the climate, the grapes, and their process.
Most of the wineries on the Mornington Peninsula make their wines out of locally grown grapes, thus allowing visitors to try and taste the differences of each diverse terroir on the island.
Whether you are a wine enthusiast, or just a novice, a day out at the wineries will be an enjoyable and informative experience.
 Wine isn't the only form of agriculture on the peninsula.  There are also a number of farms.  Visitors can visit these farms and pick up wonderful fresh fruits and vegetables grown on the Mornington Peninsula.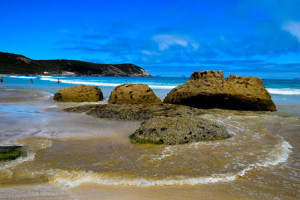 The peninsula also has a number of towns and villages that make for an excellent place to visit, enjoy a meal, do some shopping, or spend a weekend.
Sorrento is a luxurious town, filled with imposing limestone buildings, boutique and designer shops, antique furniture stores, and beautiful art.
The area also has a number of beautiful beaches perfect for swimming or surfing.  Portsea is also a beautiful spot on the peninsula.
Also an upscale destination, Melbourne's rich and famous can often be found at Portsea during the holidays.  Filled with stunning mansions, manicured gardens, and beautiful views, Portsea really is a glipse into how, "the other side," lives.
Located right on the tip of the peninsula, Portsea offers both safe bay beaches as well as world-class surfing.  Portsea is often the home of surfing competitions in the summer months.
As you might expect, there are a number of fine dining establishments in Portsea.  If you want a more laid back vibe, check out artsy Mornington.
Filled with sidewalk cafes, those iconic colorful bathing boxes, and a renowned regional gallery, Mornington is great place to enjoy a relaxed visit.
 If you run out of things to do on the peninsula, you can drive down to Phillip Island, which is attached to the peninsula by a large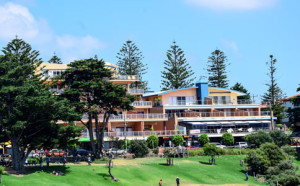 sea bridge, and watch the famous penguin parade.
Every evening, the many penguins that call Phillip Island home return to the island from a day out at sea and waddle back to their dwellings on the shore.
This is a fascinating daily tradition that is great for the whole family.
Mornington Peninsula can be reached by car or via ferry from the Bellarine Peninsula on the other side of Melbourne's Port Phillip Bay.
Running between Queenscliff on the Bellarine Peninsula to Sorrento on the Mornington Peninsula, the Searoad Ferry takes about 40 minutes and offers you beautiful views of the bay from a different perspective.
A ferry departs both Queenscliff and Sorrento every hour, on the hour from 7am to 6pm with some additional routes depending on the season.
  Whether you are looking for recreation, on sea or on land, relaxation, shopping, fine dining, or wildlife watching, the Mornington Peninsula really does offer it all.