Cairns is a significant city located in the Far North Queensland in Australian east coast. Founded in 1876 and named after the Governor of Queensland back then, William Wellington Cairns, the city has been through a varied history.
The initial area was covered mostly by swamps and sand ridges, and the settlement was established as a haven for miners.
It later evolved into a major port including a railhead vital for sugar cane, gold and agricultural products export, Cairns now a day plays its role mostly as an ideal tourist destination with tropical climate and great starting point for explorers visiting many Australian beauties.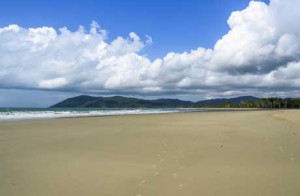 Thanks to the gold rushes, many immigrants coming from around the world have brought their cultures and traditions which helped to turn Cairns into a cosmopolitan mix with warm and welcoming holiday vibes.
The Esplanade offers a Swimming Lagoon directly in the city's business district with plenty of bars and restaurants, thus serving as a gathering centre for tourists and especially backpackers.
Also the surrounding Boardwalk  is a great place for a short beachfront stroll along facilities such as skate park, or various playgrounds.
Multiple beautiful beaches (including for instance Trinity Beach, Palm Cove, Ellis Beach or Holloway Beach) can be found in the Northern Beaches area.
Cairns experiences a tropical monsoon climate with monsoons during the wet season which causes more rainfall than in most
of other Australian cities. Despite that, the region is still one of the most popular tourist destination in Australia, attracting tourists from all over the world.
Tourism thus plays a very important role in city's economy.
Apart from the city's beauty itself, Cairns is popular among travellers thanks to it's location.
It is a official gateway to the Great Barrier Reef serving as an open call for snorkeling, diving and other water sports and activities and it is also only a step away from the Daintree Rainforest.
Other popular destinations within quite a short distance which should not be missed out on your journey are Port Douglas or Mission Beach and last but not least, the incredible Cape Tribulation – the ecotourism destination located directly within the Daintree Rainforest. 
Accesses to Lizard Island and Green Island from Cairns