Like the location, Sydney is home to spectacular best beaches. Sydney is a city offering only everything. Cultural events, nightlife, welcoming atmosphere.. and most importantly, it is a city with some of the world's most fabulous beaches. Every single one of them is stunning and unique in their ways. If you would like to explore each one of them, you would probably need a year. Here is at least a list of those you should not miss at any price.
The Best Beaches in Sydney
Bondi Beach
Manly Beach
Shelly Beach
Bronte Beach
Freshwater Beach
Cronulla Beach
Barrenjoey (Palm Beach)
Coogee Beach
SYDNEY BEST BEACHES   – Bondi Beach
Bondi is indisputably one of Sydney's signature places. Bondi beaches represent not only the perfect Pacific waves and soft golden sand. But also it is a place of great vibes waiting for visitors every day. Bondi Beach is one of Australia's most famous ones and belongs to some of the most visited sites in the country as well. The picture-perfect one-kilometer stretch of golden sand is located less than 10 km far from the city center. It is easily reachable for a pleasant gateway by public transport. Bondi and the surrounding suburb holding the same name is a popular location, including Bondi Junction and North Bondi in Eastern Suburbs.
Named As Bondi
The name of Bondi Beach is an Aboriginal word and means "water breaking over rocks, " which perfectly describes its main feature – perfect waves. A busy beach is an ideal place for surfers and various sports lovers seeking great jogging trails, walks, skating, or an outdoor gym. Bondi Beach is hosting several events all year round. For example, these include City to Surf run, Festival of Winds (kite flying), Bondi Winter Magic Festival, including an ice-skating rink or different art shows.
Coastal Walk
It is also an essential point within the six kilometers long Bondi to Coogee Coastal Walk. Every year, this scenic walking trail is enhanced by the Sculpture by the Sea outdoor exhibition performing artworks from the local artist. By tye, way, Bondi Beach is home to two Life Saving clubs. Bondi also holds the majority of Australian Life-Saving Championship victories.
Bondi Baths
Apart from life-saving, the Bondi Icebergs Swimming Club manages an outdoor saltwater swimming pool called Bondi Baths. Another great highlight is also the Bondi Skate Park established in 1991. The adjacent Bondi Pavilion offers changing rooms and lockers. The neighbouring area is full of cafes, restaurants, and several barbecue spots on a grassy area.
SYDNEY BEST BEACHES – Manly Beach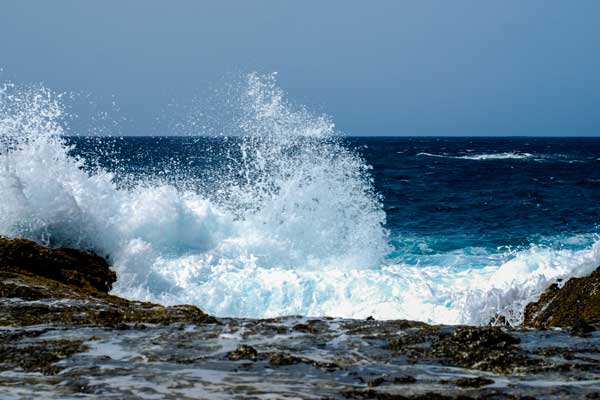 Manly Beach is one of Sydney's premier beaches. Belonging among the Northern Beaches, it is located in Sydney's suburb of Manly, where the stretch of Northern Beaches starts, going up to Palm Beach. The beach is divided into three sections, which are South Steyne, North Steyne, and Queenscliff. Captain Arthur Phillip named one of Australia's most famous surfing beaches. He was impressed by the Aboriginal population's behavior in the area. The promenade is packed with cozy cafes and fine restaurants with delicious seafood and bars and clubs just a short walk from the soft sand.
Access to The Beach
Manly Beach is easily reachable from the city's heart by a 30 minutes ferry trip from the Circular Quay to Manly Wharf. Manly Beach offers a unique laid-back atmosphere within a seaside hub and often serves as a day trip getaway from the busy city life. The beach itself is around a 1.5 km long stretch of golden sand and tranquil water and has a private ocean pool at one of its ends, like many other beaches in Sydney do.
Surfing
Manly beach is highly appreciated by surfers – surfing professionals and even beginners thanks to its surfing school. Manly Beach is also a starting point for a beautiful Manly Scenic Walkway going around the foreshore, offering several stunning views and beautiful scenery. Another top attraction within a short walk is the world-class aquarium named Oceanworld Manly.
SYDNEY BEST BEACHES – Shelly Beach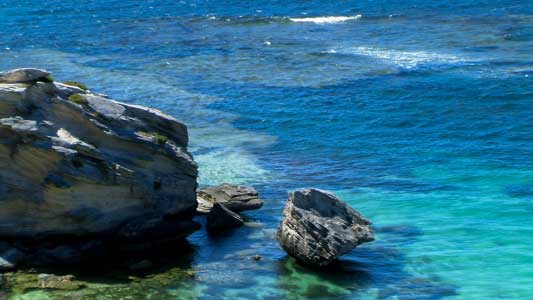 Another Sydney's Spectacular Beaches calls Shelley Beaches, in Sydney's suburb of Manly, is part of the protected marine reserve Cabbage Tree Bay. It is adjacent to North Head and Fairy Bower.
The beach is famous for snorkelers and scuba divers thanks to its perfect depth and tranquil water with ideal visibility and beautiful rich marine life. The maximum depth reaches circa 12 meters, though most areas are relatively shallow.
Beach Facilities
Shelly Beach is relatively small, only about 100 meters long, and it is bounded by a reef from one the right-hand side. Many visitor's facilities within the area, including showers, toilets, or electric barbecues, make Shelly Beach a perfect place for a picnic or a family trip. In walking distance, there are several fine dining restaurants and cafes. One of the beach's secret treasure is an old motorbike wreck standing on the sea bottom around 8 meters deep in the bay's middle.
SYDNEY BEST BEACHES – Bronte Beach
A famous beach in Sydney's eastern suburb is located only 2 km south of Bondi beach. Bronte is a relatively small and family-oriented beach, and it is perfect for various recreational activities. The beach was named after Vice-Admiral Horatio Nelson, Duke of Bronte, an important military figure. Bronte beach is fringed by rocky cliffs from both sides and a park area with multiple cafes at its end. The beach's south end is represented by a 30 m long ocean pool that enjoys high popularity among its residents.
Beach Facilities
Beach facilities included several public BBQ places and picnic areas. It makes the beach famous for various family and group gatherings), changing rooms or a kiosk, and nearby children's playground. The beach is also home to Surfers Club, thanks to its perfect waves for surfing. It also plays an essential stop along the Bondi – Coogee or Bondi – Bronte walking train along the beautiful Sydney's coastline.
SYDNEY BEST BEACHES – Freshwater Beach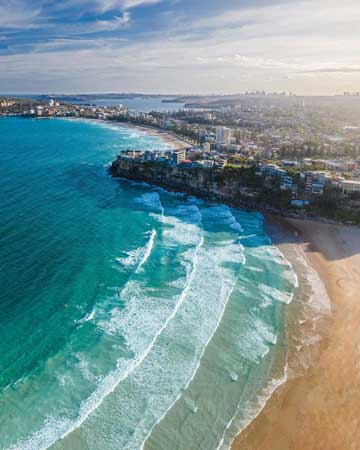 Freshwater Beach is the first beach in the north of the Manly suburb in Sydney. Two headlands from each side flank the smaller (around 350 m long) beach facing southeast, and thanks to its sandbanks, it is an ideal spot for surfers thanks to its consistent waves. On the other hand, the 50 m saltwater pool at the north end is a favorite. However, the beach itself is quite hazardous for swimmers, with many rescues each year.
Surfing
Freshwater Beach is a famous place where surfing in Australia had officially begun when back in 1915. The Hawaiian surfer Duke Kahanamoku carved his surfboard and gave spectators a demonstration of his surfing skills. His surfboard is still a proud and maintained item in the surf club, thanks to its historical significance. The 6 km area between Freshwater and Shelly Beach is now part of the Manly – Freshwater World Surfing Reserve.
SYDNEY BEST BEACHES – Cronulla Beach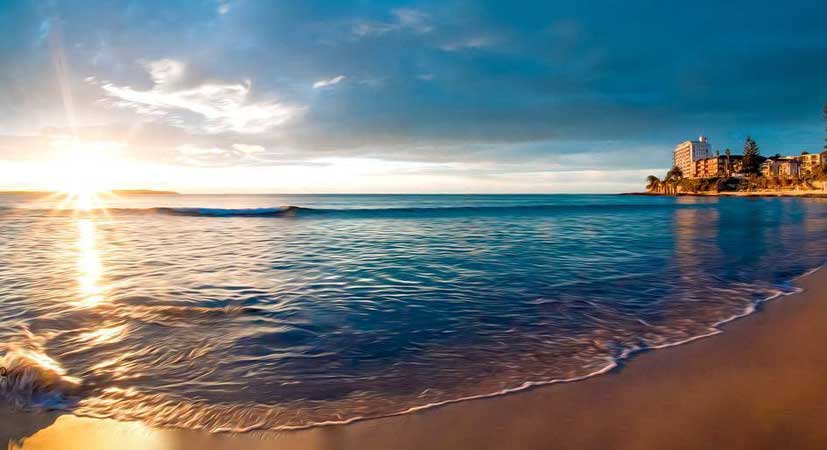 Just south of Sydney, Cronulla Beach belongs to one of the top surfing ones in the area. Cronulla, or sometimes also South Cronulla Beach, is about 200 m long. Its name comes from the Aboriginal word kurranulla, which means "place of pink shells. " The beach can be easily reached by train, and it is also close by to the Royal National Park. Apart from surfing, Cronulla Beach is famous for a wide range of other water sports such as kiteboarding, paddleboarding, snorkeling, and swimming. The park area is represented by the park providing resting sport in the shade and several restaurants and cafes, creating a unique and vibrating atmosphere.
SYDNEY BEST BEACHES – Barrenjoey (Palm Beach)
Around 41 km from Sydney's Central Business District, the northern suburb of Sydney is where the outstanding Palm Beach is located. The beach location belongs to the Northern Beaches region; Palm Beach is with its iconic lighthouse, a famous tourist attraction. The heritage-listed Barrenjoey Lighthouse built-in 1881 sits on the top of Barrenjoey Head, Sydney's most northern point. The lighthouse is 91 m above sea level. Its surroundings offer a breathtaking view over the whole beach, Broken Bay on the other side of the endless ocean from the opposite side of the Barrenjoey Head.
Activities
During the season, whales can also be spotted from there. The way up is a short but steep bushwalk rewarding each visitor with plenty of beautiful landscape views. The beach itself is around 2 km long, and it is an excellent location for a day trip from the city and has a golf club nearby and a sailing club and surf school. The place is easily reachable from the city center (Circular Quay or Central Station) by bus. Palm Beach is where the soap opera Home and Away was filmed and served as a fictional Summer Bay town.
SYDNEY BEST BEACHES – Coogee Beach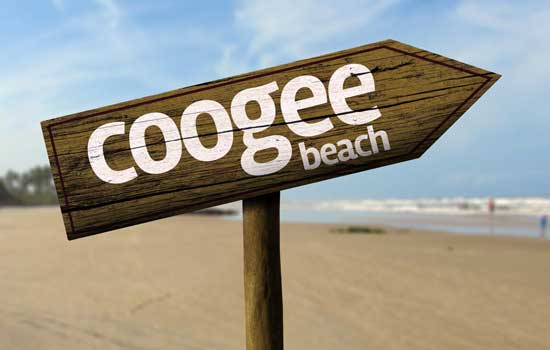 Coogee Beach (pronounced as "could-gee") is a picturesque beach located in the beachside suburb of the same name, situated only 20 minutes far from Sydney's Business District by public transportation.
The name comes from the Aboriginal word "koojah," which means "smelly place" due to seaweed's appearance within the area and the connected smell during the past. Thanks to the Randwick City Council, the beach is being properly cleaned. The perfect condition is maintained 365 days per year.
One Of The Famous Surfing Beach
Together with Bondi Beach, Coogee Beach belongs to Sydney's most beautiful ones and serves as a perfect example of a genuine Australian beach lifestyle. Popular mostly for swimmers and surfers, the beach used to have an amusement pier (Coogee Pleasure Pier in English seaside style), which served as an attraction offering a restaurant and a theatre. Due to a strong surf in the area, the pier was later damaged and eventually demolished in 1934.
Snorkeling And Scuba Diving
Coogee is also an ideal place for snorkeling and scuba diving, thanks to its protected marine reserve. At the northern end, stairs lead to a historical Giles Baths and an open rock pool (Dolphin Point area). The southern end is a place of the famous and controversial women and children-only ocean pool (McIvers Baths) and Wyllie's Baths further south. Circa 800 meters offshore, a small rocky island called Wedding Cake shelters the beach.
Famous Coastal Walk
The beach is also one of the main points of interest within Sydney's famous Coastal Walk stretching from Bondi to Maroubra Beach.
The beach is surrounded by a beautiful combination of historic buildings with plenty of lovely cafes and restaurants. Also, it offers many green areas with picnic and barbecue spots. Offering several spectacular panoramic views over the entire beachside suburb and, indeed, the endless ocean horizon. Coogee is also a venue for several events during the year, including the Coogee Arts Festival, the Annual Coogee Family Fun Day, or The Island Challenge, a popular annual swimming competition involving swimming around the Wedding Cake Island.
Don't miss out on Sydney's Spectacular Beaches on your holiday!
Look Up Your BEST Hotels Deal Here