Bribie Island travel information!
 The island is connected to the mainland by a bridge that takes you through the Pumice stone Passage and is only a 45 minute drive from the Brisbane Airport.
 Being closer to a major Australian city, and being connected to that city by a road, allows Birbie Island to offer a wide range of activities and more city-esque amenities.  
As you drive to Bribie Island, the first thing you will see is the Pumice stone Passage.  This passage is a protected marine park and safe haven for wildlife.
This 35km channel is a popular destination for nature lovers as well as water sports enthusiasts.  Visitors, and residents, can take a guided kayak tour, wind or kitesurf, go bird watching, fish, or just take in a beautiful sunset over the Glasshouse Mountains.  
The abundance of outdoor fun continues onto the numerous beaches found on Birbie Island.  On the eastern side of the
island, you can find the popular Woorim Beach, which is ideal for surfing as well as four-wheeling.
If you want a more relaxed, family friendly beach, head to the west side's Bongaree and Bellara.
Both these beaches have barbeques, picnic facilities, play areas for children, and calm swimming spots.
Despite its proximity to Brisbane, the preservation of the natural beauty at Bribie Island has been guaranteed.
The island is protected by the Environmental, National, and Marine Parks and 86% of Bribie Island will remain unchanged and available for future generations to enjoy.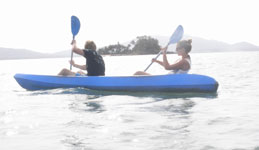 If outdoor fun isn't what you are looking for, head to the Abbey Museum of Art & Archaeology or the Bribie Island Seaside Museum.
The Abbey Museum is filled with an impressive collection of priceless antiques and fine arts from all around the globe.
It also contains a number of fascinating exhibits chronicling western history over the past half-million years.
Should you find yourself on Bribie Island in July, join in on the Abbey Medieval Festival.
The Bribie Island Seaside Museum chronicles the history of the island and tells the story of the people who have shaped it over time.
Bribie Island truly has something for everyone, with a shopping center, restaurants, hotels, clubs, a movie theatre, golf courses, bowling clubs, holiday accommodation, a sports ground, parks, boat ramps, markets, and a marina.  There is no doubt that the island provides an ideal city escape.