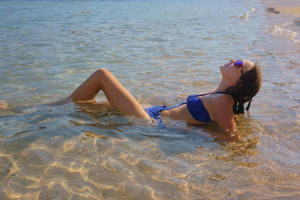 Lindeman Island is an island in the Lindeman Group of the Whitsunday Islands off the coast of Queensland, Australia.
The majority of the island is a part of the Lindeman Islands National Park, which also protects thirteen other islands.
Lindeman Island is the most southerly of all the Whitsundays, and it truly a tropical paradise.
Accommodation
        The resort on Lindeman Island was once a Club Med Resort, boasting fantastic luxury in a wonderful natural setting.  However, the resort was closed in 2012 after expensive damage to the facilities caused by Cyclone Yasi.
 The resort had already experienced a sharp downturn in tourism after the financial crisis and there just wasn't the money for Club Med to make the repairs that would have brought the resort back to its former glory.
The island was subsequently purchased at the cut rate of $12 million by Chinese advertising and media company The White Horse Group.
The White Horse Group just recently gained approval for a $600 million redevelopment plan that will return a world class, five-
star resort to Lindeman Island as well as a six-star spa and a new marina.
Given that Lindeman Island lies within the Great Barrier Reef World Heritage Area, it has been very tricky obtaining approval for the plans as there have been a number of environmental considerations to keep in mind.
If everything in the proposal comes to fruition, the redevelopment project will provide the island with: approximately 335 suites and villas across five facilities, including a six-star spa resort and a five-star eco resort, a central village complete with shops, restaurants, bars, a services infrastructure, and a four-hole golf course, a fifty-berth marina, an upgraded private airstrip to allow for private landings and for all-weather access, a coral planting program, a Great Barrier Reef educational centre, a nature reserve, and a vegetation replanting program.
As such, while there may not be world class accommodation on the island right now, or any accommodation right now, soon, Lindeman Island will be among the best vacation destinations in Queensland.
If you don't mind roughing it, the island does have a campsite at Boat Port on the northwest corner.  There are fees and pre-booking is advised.  The campsite is right on a sandy beach and backs up to the rainforest.
Lindeman Island: What to Do
Lindeman Island is a hiker's dream.  The island has over 19 km of well maintained trails winding throughout the forest and coastline.
 A hike up to the summit of Mt. Oldfield, which is a very manageable 212m above sea level, will provide stunning 360-degree views of the island and the sea.  
On a clear day, visitors can see all the way to Hamilton, Whitsunday, and Haslewood Islands, in addition to a number of much smaller ones, from this point.  While walking through the forest, visitors are sure to notice some of the unique and beautiful birds on the island.
Lindeman Island is home to over ninety species of birds that provide some beautiful natural music for those who choose to explore the forest.
   If the water is more your thing, the island also has a number of stunning beaches that are great for relaxing, beach games, swimming, or snorkeling.  
Humpback whales can often be seen from the shore.  Visitors can also frequently see dolphins playing just off shore.
Both of these are unforgettable sights and part of the wonder of Lindeman Island.
 While on the beaches, visitors should amble over to the mangroves at the end where you can find beautiful golden orchids.
If you are looking for a more private beach experience, there are a number of smaller islands that are only a short boat ride away.
In addition to the natural attractions, once the redevelopment project on the island is completed, there will be a number of
additional attractions for visitors to the island including shopping, fine dining, bars, spas, an any number of resort related activities, amenities, and excursions.    
How to Get There
  At the moment, those wishing to visit Hamilton Island will need to fly to either Hamilton Island or Proserpine.
From Hamilton Island, there is a ferry that will take you to Lindeman Island in about one hour.  From Prosperpine guests must travel either by limo or coach to the Shute Harbor ferry launch, which also takes around one hour.  Scenic seaplanes or helicopter rides can also be arranged.
While Lindeman Island might not be the ideal holiday destination today, it will certainly be one for the future.