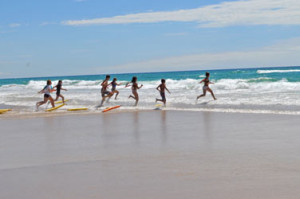 Once known as Southport East, Main Beach is an affluent suburb on the northern end of the Gold Coast, in Queensland, Australia.
The beach got its name for being the main surf beach for nearby Southport.  However, Main Beach is more than just a surfer's beach.
The area effortlessly blends history with new, modern style, balancing heritage listings with high-end hotels, exclusive shopping, and modern architecture.
Main Beach Info: What to Do
As explained, Main Beach is an excellent surfer's beach.
With great water, and nice, calm surf that can entertain surfers of any level, as well as the Get Wet Surf School, for those who want to learn, Main Beach is a surfing haven.
The beach also provides a number of other attractions.
 A massive expanse of soft golden sand, with clear blue water lapping gently at the shores, The Beach is a great place to spend a day relaxing in the sand, playing beach games, or wading and swimming in the water.
Every year, Main Beach is also the host of the National Kiteboarding League Grand Final, which can be a very entertaining event to enjoy at the beautiful Main Beach.  
The coastline also serves as a wonderful location for watersports.  One of the more unique attractions at Main Beach is the water JET Pack, Board, and Bike hire, available seven days a week.
Take in the sights at Main beach while hovering over the water in your own water powered jet pack.
 If you aren't up that, then maybe partake in more traditional watersports, such as boating, yachting, waterskiing, wake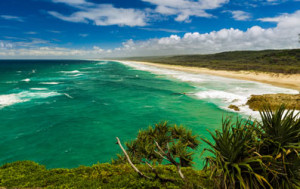 boarding, kiteboarding, and paddle boarding.
The Beach town is home to the extensive and impressive Southport Yacht Club Incorporated.
If you enjoy fishing, Main Beach provides some excellent fishing spots.
 If you just like enjoying fresh caught fish, but not doing the fishing, take a stroll down to the Gold Coast Fishermen's Co-operative Limited, which offers a variety of freshly caught local seafood, both caught and brought in daily.  There are a number of tours on offer from Main Beach.  
Whether you want to cruise the coastline in a sand buggy, island hop on and around the islands off the Gold Coast, cruise the water on a jet boat, go whale watching, or go on a jet ski safari, there is a tour for you.
Finally, The  Beach  town is home to Australia's Sea World, which is an excellent place for families to spend the day.
This beautiful Town is also home to a wide variety of excellent restaurants, cafes and bars.  After spending a long day out on the beach, there are no shortages of eateries to choose from to satisfy your appetite.
No matter the price, or the type of cuisine, there is something for you.  The  Beach town is known for its fine dining.
Where to Stay – Main Beach
This beautiful town has a number of accommodation options.  As a more affluent area, Main Beach is more known for fine, luxury hotels and resorts, like the Palazzo Versace, Xanadu Resort, and the Sheraton Mirage Resort.
However, there are some more basic and budget friendly options such as the Main Beach Tourist Park.  If you are looking for a luxury beach holiday, The town is the place for you.
How to Get There
The Gold Coast is easily accessible via air, road, and rail.