Dunk Island is the largest island of the Family Islands Group, off the Queensland Coast in Australia.
It is a truly breathtaking island that balances expansive blue sea vistas with
vibrant green tropical rainforests and gardens.  
The island has been called Australia's most beautiful tropical rainforest island thanks to its sea views, white sand beaches, thriving tropical rainforests.
Visitors to Dunk Island have a variety of possible activities at their disposal.  Located right off the Barrier Reef, snorkeling and scuba diving are very popular pastimes for those who want to investigate and explore the reef.  
Additionally, hikes or walks through the rainforest or along the beaches are never a bad idea when on Dunk Island.  There is one hike in particular that is a must for anyone visiting the island.
It starts right behind the Dunk Island Resort and winds up through the rainforest, across a suspension bridge, and up to the top of Mount Koo-Tal-Oo, which offers stunning views of the whole island and the sea, dotted with other islands in the distance.  
The Dunk Island Resort is the primary accommodation on the island, although camping is also possible.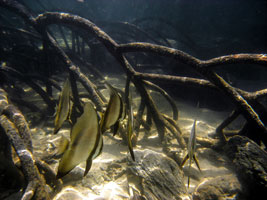 The resort offers both rooms and suites, both of which are fully equipped with modern amenities.  All rooms and suites offer direct access to the beach, making the outdoors, and all the possible activities and beauty they provide, literally right outside your door.
Those rooms that are not on the ground floor are equipped with large  balconies.  Additionally, from the resort visitors will have access to a pool as well as the Beachcomber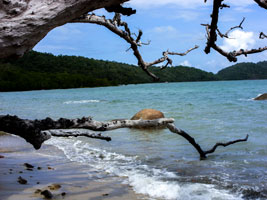 Restaurant and EJ's on the Deck.  
For those looking to just relax and take in the warm breeze and beautiful view with a nice cold drink, they can check out the Plantation Bar and Lounge, the Cascade Pool Bar, or BB's on the Beach Cafe.
 Dunk Island is truly a beautiful place; the perfect balance of sea and forest, natural beauty and tourism.
It is a place you can go with your friends, or with your family and still have a good time either way.  
P.S. Water taxi from mission Beach and   the island can be accessed by a small airport.
The Resort is closed until further notice. The national park and camp ground open for all type of visitors.