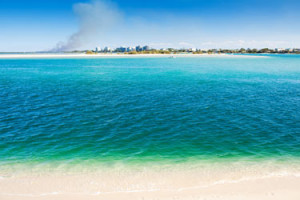 The southernmost community on the Sunshine Coast, Caloundra is located 90 kilometres north of Brisbane.
The region is bounded by Currimundi Creek, Rainforest Drive and the Mooloolah River to the north, Beerwah State Forest and the Bruce Highway to the west, the Pumicestone Passage and the ocean to the east, and Bells Creek to the south.  
The urban centre includes Aroona, Battery Hill, Bells Creek, Caloundra West, Currimundi, Dicky Beach, Golden Beach, Kings Beach, Little Mountain, Meridan Plains, Moffat Beach, Pelican Waters and Shelly Beach.
Caloundra: What to Do
        Recognized as one of Australia's fastest growing holiday destinations, the town is filled with things for visitors to do, whether you are bringing the whole family, just a couple looking for a weekend away, or an individual or a group of friends looking for an escape.  The many beaches of Caloundra are perfect places to start.
 Visitors can choose from Golden Beach, Bulcock Beach, Kings Beach, Shelly Beach, Moffat Beach, Dicky Beach, and Currimundi.
Each beach offers its own unique taste and experience, but all are perfect for either a relaxing beach day, or a beautiful and romantic sunset stroll.
 Visitors can also choose from a variety of cruises around the Sunshine Coast and through the Pumicestone Passage that will surely provide you with the scenery and relaxing day you might be looking for.
there are also a variety of watersports available at the town, such as boat hires, windsurfing, jet skiing, and surfing.
 Visitors can also take a scenic stroll down the Caloundra Coastal Path, which stretches from Golden Beach around the Caloundra Headland to the beaches at Kawana.
Along the path, visitors will be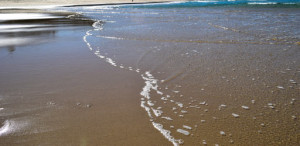 treated to stunning views as well as some of the area's most historic sites.
If you want to cool off on you walk you can even stop for a swim at the heritage listed Kings Beach Bathing Pavillion.
        If you are looking for attractions away from the water, Caloundra is also home to an award-winning theme park, a racetrack, a bowling alley, a rollerdrome, go-karts, hot-air ballooning, and skydiving.
Golfers can spend a day out at the Caloundra Golf Club, which is the perfect balance of challenging and peaceful.
If you are still looking for something to do, take a tour out to the wineries surrounding Caloundra on the Sunshine Coast.  Additionally, history enthusiasts will enjoy a trip out to the Caloundra Lighthouse.  
Constructed in 1898, it is the area's oldest building and a beautiful peace of marine architecture.
Likesiwe, there is the Queensland Air Museum, which boasts an extensive collection of planes and other important relics from Queensland's aviation history.
Visitors in town over the weekend and make a trip to the Bulcock Steet Market, where you can pick up unique crafts, art, clothing, and produce.
The Caloundra Country and Farmers Market is also a pleasant place to visit on a Sunday.
This market is strictly food and boasts some of the freshest seafood, fruits, veggies, deli foods, and flowers that you will find in the area.
Where to Stay – Caloundra
The town offers everything from hostels to luxury resorts, small self-contained apartments to large vacation home rentals perfect for groups.
No matter your taste or your budget, there is something for you in Caloundra.     
How to Get There
  The town is accessible from the Landsborough Railway Station and the Caloundra Bus Station.  It is also easily accessible by car.
Visitors travelling by plane can fly into Brisbane and complete the last leg of the journey by car, coach, or train.