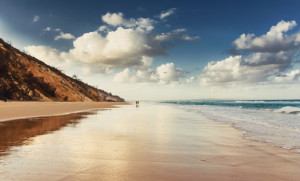 Rainbow Beach is a coastal town in the Wide Bay – Burnett Region of Queensland, Australia.
It is located 75 kilometres from the Bruce Highway town of Glympie and 239 kilometres from Queensland's capital of Brisbane.  
The name Rainbow Beach comes from the rainbow colured sand dunes that surround the settlement.
The colors come from the sand's rich mineral content and make for a unique and beautiful sight.  Now, the area is a very popular tourist attraction.
Rainbow Beach: What to Do
        Rainbow is not lacking for things to do.  The area is very well known for both its four-wheeling as well as its bird watching.
If you enjoy hiking, Rainbow Beach has a number of different trails and tracks that are perfect for a beautiful walk around the area.  Fishing and boating are also popular pastimes at Rainbow Beach.  
Whether you want to just drop a line right offshore into the Great Sandy Straits, or charter a farther offshore fishing boat in the Pacific Ocean, there is fantastic boating and fishing opportunities in Rainbow Beach.
Nearby Wolf Rock also provides an excellent dive site for scuba diving enthusiasts.  Of course, as the name suggests, Rainbow Beach is also home to a beautiful golden sand beach, which offers a variety of activities.  
Visitors can spend some time lounging in the sand, enjoying the view and the soft sand.  Alternatively, surfers will enjoy the surf at Double Island Point and you can even go on a horseback riding trip along the coast.
 If you are a real adrenaline junkie, Rainbow Island offers skydiving, paragliding, and hang-gliding, all of which will provide you with bird's eye views of the surrounding area while raising your pulse and providing you with the excitement you are looking for.
        If you are traveling to Rainbow Island for more than a few days, why not take a day trip to one of the nearby destinations.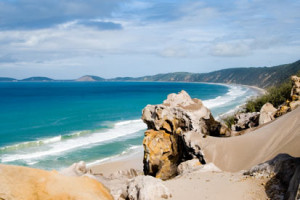 Rainbow Beach is also sometimes considered the gateway to Fraser Island, with the nearby Inskip Point serving as a launching point for Fraser Island.
 The island makes for a wonderful place for a quick day trip from Rainbow Beach.
Additionally, guests can go on a four-wheel-driving adventure through the rainforest at the Cooloola Section of the Great Sandy National Park.
Filled with fresh natural lakes and deserted beaches, walking tracks, picnic facilities, and camping facilities, this is the perfect place for an escape.
If you have a boat, a day out in the Great Sandy Strait is a fantastic and relaxing way to spend a day out on the water.  Nearby Carlo Point offers access to the protected waterways of the Tin Can Bay Inlet.
Where to Stay
        Visitors to Rainbow Beach will be greeted with no shortage of accommodation options.
From resorts, campgrounds, there is something for every taste and budget at Rainbow Beach.
If you are looking for an independent luxury experience with unparalleled views, check out the Rainbow Ocean Palms Resort, which offers self-contained modern luxury apartments located on the highest point on Rainbow Beach.
How to Get There
Rainbow Beach is accessible by road via a turnoff on the Bruce Highway at Glimpie.