Many Single Men are down to Bangkok, AND THEY ARE LOOKING FOR THE BEST GO-GO bars to have sex holiday in Thailand. The main reason why Bangkok is the most prominent Sex tourism destinations in South East Asia. Over the years, Bangkok has been promoting itself as a top adult entertainment destination. By the way, Bangkok GO-GO or Girls bars can be found in almost every corner in the city or all other cities in Thailand.
What Is Exactly A-Go-Go or Girls Bars Thailand?
Many beginners of the travel culture are looking for the real meaning of GO-GO bars every day before starting their travel. Basia ideas and make it simple. It's similar to KTV in Asia. Well, all GO-Go bars are offering.
Drinks
Food
Girls Companies or Some Bars would go furthermore. And providing like blowjobs or sex.
Where Can I Find Bangkok Best GO-GO Bars
Like I said earlier. Travelers can find Bangkok GO-GO bars quat easier. But the best most popular GO-GO bars are located in some specific areas. In this case, if I explain it quickly, they are located around redlight districts in Bangkok. As we all know. The best Redlight districts in Bangkok are
After all, I would say that many other unpopular GO-Go bars location to be explored.
What Is Exactly Bangkok GO-GO Bars Fines
Thailand or Bangkok GO-Go bar fines, it is straightforward in this way. You are baying a pussy for a night in Bangkok or around Thailand many bars or Go-Go bars with sexy young ladies. Well, most bars are providing a girl or even more you to have a sexy companion. Somehow, during the time you in the bar. The bar will cover her expenses on your bills when you buy her drinks. in the end, If you want to sleep with here overnight. You have to pay for the bar for some money. Somehow, The price can vary from 400 to 1000 baht or even little more.
What's The Best Time to Visit Bangkok Best GO-Go Bars?
If your planning to visit BANGKOK GO-GO BARS, make sure that you choose the right time to do so. Notably, All bars and clubs try to drag in customers well before the main action starts. So, because of that, most bars have happy hours beginning as early as 7 to 9 pm. Therefore, most of the drinks for 80 or 90 Baht. Well, cheap drinks. It is an excellent deal for travelers. But it may be better to sit outside and watch the scene.
The Best Time to Pick Up Girls in The Bar?
The girls start dancing either at 8 or 9 pm. And that's precisely when the happy hours end. I recommend you go to any of those bars at 9 pm, that's usually the time when all the go-go girls step up on stage to present themselves before the rotation starts. Don't go too late because all the good looking girls will be taken.
Nude Striptease Bangkok Best GO-GO Bars
Girls, GO-GO Bars Districts, and Places Do the Girls get Naked in Go Go Bars? YES, they do get naked. A Go Go's in Bangkok, where the girls take off everything. Girls are mostly wearing bikinis or G-Strings nowadays. There are plenty of exceptions, though. As mentioned in the article, you will generally make a trade-off. Well, the trades between beautiful and light yellow skinned girls who wear bikinis or some girls who get naked once they start dancing. Baccara is the best example of the first type of Night angels. And then you have bars like Tilac where you can see the girls' pussies (no panties underneath their skirts) and Shark where they wear see-through bras.
The Most Recommended Go-Go Bar in Bangkok For Best Night Out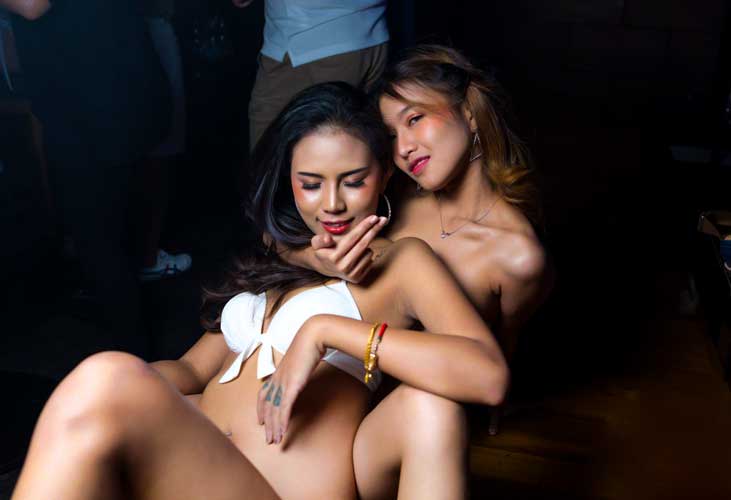 The Pimp One Of The Best in Bangkok
Many as hundred of sexiest Thai hot sex Bombs are dancing overnight. Well, The management has a rigorous selection process of Thai beauties before getting them on the dancefloor.
The Selection Criteria As
Age Selection
Dancing Skills
Hospitality Skills
Body Types
Sexism
Natural Beauty
Thailand, as well as in Bangkok best musical band, are performing every day. Somehow, every night is the sexiest night out and craziest party events at The Pimp. The Pimp offers luxury VIP rooms are the best way to have a romance with Bangkok girls. Well, anything possible in VIP rooms. Rooms with excellent sound system and sexiest interior design
Nude Bangkok GO-Go Bars To See Pussies
I have made a list of Nude Bangkok Best GO-GO Bars to have the best sexual fantasy.
Baccara
Sexy Baccara GO-GO Bar is located at Soi Cowboy, Khlong, Toei Nuea, Khlong. Baccara – popular Go-Go bars in Bangkok, Baccara is well-recognized amongst all clientele. Situated at the end of Soi Cowboy.
Crazy House Strip Club – Sukhumvit 23 – Full Nude
CRAZY HOUSE a GO GO – I have to go to Crazy House on my first day on Bangkok sex tour. It was a five days trip to Bangkok. I would say Crazy House is the naughtiest bar in cowboy, the girls are beautiful, and with different styles, the customers are half Westerners, half Asian.
Black Pagoda
Black Pagoda – Topless one at Phat Pong 2 Alley, Suriya Wong, Bang Rak
Tilac
Tilac GO-GO bar at 23 Soi Cowboy, Khlong Toei Nuea See Pusy Through pant
Dollhouse – Soi Cowboy – Topless and Nude
Suzie Wong Gogo Bar – Soi Cowboy – Full Nude
Spanky's – Nana Plaza – Topless Only/See-Through Lingerie
I have found this very local Go-Go bars. If you are looking to have fun without many tourists, sit down and have drinks with sexy looking girls and take them into your room. White bar area, in Queen's park plaza, SOI 4, Sukhumvit Just about 200m from Kiss massages.
Best Go-Go Bars. Choices Your.
Rainbow – Bangkok one of the most famous Go-Go Bar
Shark Go-Go
Barbar Go-Go
Srilom Go-Go
Sukumvit 22 Go-Go
Angel Witch Go-Go
BillBoard Go-Go
Lollipop Go-Go
Hollywood Go-Go
PlaySchool Go-Go