Noosa National Park – One of Australia's most visited national parks is located around 160 km north of Brisbane in Queensland.
The park covers an area of about 4 000 hectares and is divided into four sections – East Weyba Section, Emu Mountain Section, Peregian Section and Headland Section.
The park used to be a nature reserve till 1939 and today plays an important role in nature conservation for some unique species as a place with an outstanding natural environment.
The Headland Section offers a seaside boardwalk with some beautiful ocean views and has limited parking opportunities.
The popular Laguna Lookout is accessible from Viewland Drive in Noosa Heads part and the Coastal track in this section is suitable for wheelchairs as well.
The Peregian and Emu Section sections are both accessible from David Low Way. The same applies for the East Weyba Section.
The park's flora is a great combination of pockets of rainforest, grasslands and eucalypt forest.
Apart from number of gorgeous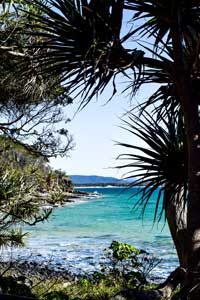 and sometimes hidden beaches, Noosa National Park is home to some of the most rare species and native animals such as koalas, wide range of birds or marine life including dolphins, sea turtles or whales.
Walking tracks vary from short and easy ones (around 1 km) to moderate and even sandy tracks along the coastline stretching up to 8 km which require a proper foot wear.
Some of the main attractions along the way are for instance the Tea Tree Bay park, Koala Spotting area, the Little Cove beach, Lake Weyba, Noosa Main Beach or the Alexandria Bay.
As the Noosa National Park belongs to the UNESCO Biosphere Reserve list, it is important for visitors to behave along certain rules.
The camping is not permitted in order to protect the local environment. On the other hand, there is plenty of accommodation opportunities including camping and caravan parks in close surrounding of Noosa Head and both Peregian Beach and Coolum Beach.
Facilities for visitors are provided, the picnic area with barbecue tables, public toilets and drinking water is located in Noosa Headland Section at the end of Park Road.
Due to the strong currents, swimming in the park is recommended only at patrolled beaches – Sunshine Beach and Noosa Head.
For the park sustainability and its inhabitants' protection, it is highly recommended to collect any rubbish and dispose wisely.
Pets are prohibited in the park area and the same applies for bicycles or scooters on any of the tracks.
Every part of the park is protected, therefore it is not allowed to interfere with animals or plants and feed the animals as well.