Located 27 kilometres north of Cairns, Palm Cove is a beautiful beach community in Far North Queensland, Australia.  
Arlington Reef, a section of the Great Barrier Reef, is located a mere 30 kilometres offshore of Palm Cove.
The reef shelters the coastline at Palm Cove, providing calm beaches.
 Palm Cove provides a tropical climate, with the temperature ranging between 24 and 33 degrees Celsius on average in the summer and 14 and 26 degrees Celsius in the winter.
Palm Cove: What to Do
The place  is packed with attractions for guests.  Located right next to two World Heritage listings, the Great Barrier Reef and the Daintree Rainforest, there are a number of tours and trips, ranging from the informative to those more suited for thrill seekers, that allow visitors to see and experience both of these world treasures.
The Great Barrier Reef is the largest reef in the world and the Daintree Rainforest boasts some of the oldest rainforest in the world.  
Visitors can also enjoy kayaking trips around the smaller, nearby islands, or a variety of other watersports with the island's excellent watersports and beach hire service.
Of course, if you want to enjoy the natural beauty of the are in a more relaxed way, you can just spend the day fishing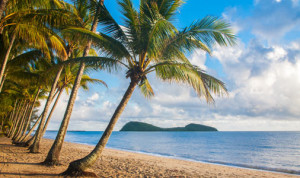 off the jetty or lounging on the beach.
The town also offers a number of amenities to visitors to the area.
There are a number of award winning restaurants and spas located at the renowned resorts in the town.  
Additionally, there is fantastic shopping in Palm Cove, with designer shops, boutique store, and quaint gift shops all dotting the streets.
Hair and beauty salons, health and fitness facilities, car hires, and a number of cafes for all budgets round out a fantastic menu of activities for visitors to Palm Cove.    
Where to Stay – Palm Cove
The Cove is home to a number of world-renowned resorts, including the Drift Resort, Alamanda, the Mantra Amphora Resort, Peppers Beach Club, and the Reef House.
There are also a number of hotels, holiday apartments and homes, and motels, to suit any taste and budget.    
How to Get There
 Located only 25 minutes north of Cairns, The town is very easy to access.  
Travel through Cairns, which has a major international airport, it the easiest way to reach Palm Cove for those travelling from outside the area.
If you don't have your own car or a rental, there is a regular bus service between the airport and Palm Cove.