Last updated on August 11th, 2017 at 09:37 pm
North Stradbroke Island lies within Moreton Bay in Queensland, approximately 30 km southeast of the Queensland capital of Brisbane.
Before 1896, North Stradbroke Island was a part of the larger Stradbroke Island.
However, in 1896 a massive storm damaged the island, separating it into two smaller islands, North Stradbroke and South Stradbroke Islands.
The two islands are now separated by the Jumpinpin Channel.  Despite this, the island, which measures 275.2 square kilometres, is still the second largest island sand island in the world.
It is around 38 km long and 11 km wide, with a maximum elevation of 239 metres above sea level.
The climate on the island is sub-tropical with warm, moist summer and mild, temperate winters.
The island boasts three small towns and a full time resident population of only 117, a number of lakes, and beaches surrounding nearly the entire island, with the exception of the rock outcrops at Point Lookout.
 The primary township on the island, Dunwich, is the home of most of the services on the island, including a medical centre, local museum, and university marine research station.
Point Lookout, or just the point, is the main tourist destination on the island.  Amity Point is much smaller than the other two and is a very popular fishing spot on the island.
Finders Beach is a small settlement of holiday houses in between Amity and Point Lookout.  Currently, tourism and sand mining are the two main industries.   
North Stradbroke Island: Accommodation
North Stradbroke Island is known for some world renown architecture.
Big names such as Rob Cottee, Gabriel Poole,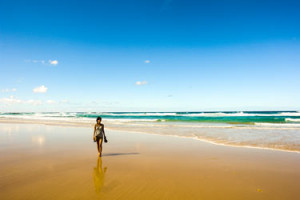 Shane Thompson, Brian Donovon, Timothy Hill, Jennifer Taylor, and Troppo have all designed holiday rentals, hotels, and resorts on the island.  
As a very well developed, large island, there are a variety of accommodation options on the island, including bed and breakfasts, resorts, holiday rentals, chalets, and campgrounds.  Here is a quick rundown of all the accommodation options on the island.
North Stradbroke –Bed and Breakfasts
        North Stradbroke Island offers the beautiful Straddie View B&B.  as you might expect, it offers stunning views over the Point Lookout coastline.  
The B&B offers a very relaxed atmosphere, whether you decided to stay in and enjoy the amenities and views from the accommodation, or go out and explore what North Stradbroke has to offer.
Straddie Views offers well furnished and equipped queen rooms that come with a decanter of port and chocolates, tea and coffee making facilities, a private courtyard, TV, a fridge, air dryer, and an available BBQ.  
The rooms also come with a complementary breakfast served on the deck overlooking the sea.  Each room backs up to a bushland reserve.
Straddie Views also offers a number of excellent activities for its guests, including access to beautiful white sand beaches, access to restaurants, shops and other entertainment, fishing, whale watching, swimming, a variety of nature walks, scuba diving, snorkeling, and sea kayaking.
   

It should be noted that the Straddie View B&B does not cater to children.

 
Resorts:
        North Stradbroke Island offers a number of different options for those looking to spend their time on the island at a resort.
1)   Allure Stradbroke Resort: Situated in a native bush setting, just a mere fifty metres from Home Beah, Allure offers visitors exposure to a variety of local wildlife.
 Koalas, kangaroos, goanna, and an array of wild birds freely roam the grounds of the resort, allowing guests the opportunity to glimpse them without even leaving the property.
 A local garden on the property produces fantastic local produce that is available for guests.
The resort comes with all the resort amenities you could want, including an outdoor heated swimming pool, children's playground, gymnasium, and tour desk.
2)   Anchorage Beachfront Island Resort: Anchorage Beachfront Island Resort is located on a protected north facing beach on Point Lookout.
It is the only true beachfront resort on the island, with the lovely pool area connected to Home Beach by a private boardwalk.
There are four different accommodation options: studio apartments, one bedroom apartments, two bedroom apartments, and three bedroom apartments.  
Each unit is equipped with a microwave and a stovetop, along with all the other kitchen utensils one might need for a comfortable stay and to make anything they might need to make during their stay.  The larger 1, 2, and 3 bedrooms also come with an oven.
All units also come with flatscreen TVs, ceiling fans in both living areas and bedrooms, and sliding glass doors to each room's private balcony.  The resort comes with reception services, a sauna, guest laundry, and car parking.
3)   Pandanus Palms Resort: Also located at Point Lookout, Pandanus offers two and three bedroom villas that are self-catering with private balconies, private BBQ, undercover parking, and fantastic ocean views.
Located high on the hill at Point Lookout, the views at the Pandanus Palms are truly breathtaking.  
There are thirty villas at the resort, each with fantastic views perfect for relaxing and whale watching during Humpback migration season.
The resort has its own restaurant and bar, the Whale's Way Restaurant and Bar, right on location.  It makes for a perfect place to grab some food when you just don't feeling like cooking in your room or relax with a drink during your stay at the resort.
 There is also a small swimming pool that is open for guests to enjoy.  Other facilities available are tennis courts, a game room with table tennis and a multi-game machine, high speed WiFi, DVD rental, games rental, books rental, an activity tour desk where guests can rent 4WDs, gain access to a golf course, ropes course, scuba diving, snorkeling, charter, sand boarding, and sea kayaking tours, a babysitting service, and return vehicle ferry bookings.
4)

  

Samarinda Jewel by the Sea:
Also offering fully self-contained holiday accommodation, Samarinda Jewel by the Sea offers fantastic views, just minutes from the Surf Club and patrolled beach swimming.
The apartments are spacious and either one, two, or three bedrooms, each with large, full-ocean view verandas, and full laundry facilities.
Each unit is uniquely furnished.  Samarinda Jewel by the Sea is a great place to soak up the sun, enjoy the magnificent views, spend a beach day, swim, fish, or watch the whales migrate in the winter.
5)

  

Sea Shanties:
Sea Shanties offers a simple, seaside holiday experience.  There are eight basic cabins set in among one hundred year old pines on an acre of absolute waterfront.
Sea Shanties is perfect for fishing and snorkeling.  Located near Amity Point, Sea Shanties offer spectacular sunsets, bird watching, dolphin watching, koalas, and easy walking distance to beaches, shopping, tennis, a playground, and boat ramps.  Sea Shanties is a throw back to holidays of old!
6)

  Stradbroke Island Beach Hotel and Spa Resort:  
This resort offers three different types of accommodation, hotel rooms, deluxe hotel rooms, and apartments.
Each hotel room has its own private balcony, some with ocean views, as well as all the other amenities you might want or need in a hotel room, including air-conditioning, a small table and chairs, a sofa bed, bathroom amenities, a bath in the ocean view rooms, hairdryer, iron and ironing board, tea and coffee making equipment, telephone, WiFi (charges apply), LCD TV, swimming pool access, laundry facility access, undercover parking, and beach access.  
The deluxe hotel rooms are similarly equipped except they have an open plan with a king bed and a Jacuzzi tub in the bathroom.
Finally, the apartments offer all the essential amenities in a self-contained apartment experience.  They come with state-of-the-art kitches, as well as 2 queen beds and 2 single beds.
hey come in three and four bedroom options.  Guests to the resort can enjoy spa treatments, a bus tour of the island, and a variety of other activities.
7)

  

Straddie Bungalows:
Located at the idyllic Amity Point, the Straddie Bungalows offer a beautiful place to enjoy an island
holiday.  Set within lush tropical gardens, the resort is not far from beautiful walking trails through the forest, and golden beaches.
Visitors can watch and visit with dolphins who regularly visit the resort's own private jetty.
The resort offers an array of self-contained lodges and bungalows that are perfect for couples, wedding groups, families, and groups looking to explore the beauty of North Stradbroke Island.
8)

  

The Islander Holiday Resort:
The Islander Holiday Resort caters to all types of holiday goers.  They boast three different types of accommodation, studio apartments, one bedroom apartments, and two bedroom apartments.
The studio apartments are hotel style, with a queen bed and a separate bathroom, with a washing machine.  They also come with a kitchenette with a full sized fridge, and a small stove.
 The one bedroom apartments have a queen bed in an air-conditioned separate bedroom.  They have a washing machine, a balcony, and undercover parking.
The full kitchens have a full sized fridge, microwave, stove, and oven.  Some of the one bedroom apartments have additional single beds available in the living area.
The two bedroom apartments are spacious and comfortable with both bedrooms coming with air-conditioning.  They also have large kitchens with a fridge, dishwasher, microwave, stove, and oven.
The separate bathrooms have a washing machine and a dryer.  They also come with undercover parking and spacious balconies.
9)  

 

The White Whale Ocean Beach Resort:
Located right on the pinnacle of Point Lookout, the White Whale Ocean Beach Resort is ideally located to make the most of the fantastic views at Point Lookout.
It is also ideally located within walking distance to bars, restaurants, and shopping.  
The Whale Watch Ocean Beach Resort offers four different accommodation options.
The first is the Oceanfront Ground Floor Apartments.  While these apartments are on the ground floor, due to the elevated position of the resort, these rooms still offer impressive views over the sea through the trees.
These apartments are three bedroom, two bathroom units with large kitchens and a full ensuite bathroom.  
They have all been recently renovated and they open right on to the well manicured grounds of the resort.  There are also Premium Ocean View apartments.
These apartments are similarly equipped to the ground floor apartments, except for the fact that their higher position gives them the best views at the resort.
During whale migration season, guests in these rooms can literally watch the whales swim by from the window.
The third option are the Oceanside apartments.
These apartments come in one, two, or three bedroom options and come with a full-sized kitchen and a lounge and dining area.
They are also all air-conditioned.  Finally, there are the National Parkside apartments.
These rooms are similarly equipped to the Oceanside apartments.  However, rather than offering views over the water, these apartments face the lush forest on the backside of the resort.
10)

   Manta Lodge YHA and Scuba Centre:
Opened in 1992, this is the island's only PADI Five Star Instructor Development Centre and dive resort.  Located right on the beach, this resort offers daily dive and snorkel trips for guests.
The accommodation is simple and basic, but comfortable.  A great spot for diving enthusiasts.   
Holiday Rental Agents:
North Stradbroke Island is home to a number of holiday rental agents, offering a number of properties of all sorts that can suit any budget.  
Visitors to the island who are looking for some sort of holiday rental accommodation should check with Discover Stradbroke Island Accommodation, Dolphin Holiday Rentals, Point Lookout Realty, Ray White North Stradbroke Island, Stradbroke Island Holidays, and Straddie Sales and Rentals.      
 

 Chalets –  North Stradbroke
The Headlands Chalet is an eccentric spot, made up of a collection of 1940s and 1950s fibro cabins scattered around a hillside overlooking a long stretch of undeveloped beach.
Guest share bathroom facilities and kitchens, but the chalet has a large base of loyal customers who return year after year.
The chalet is home to interesting gardens, a comfortable guest lounge, and a pool.  It is close to shops and cafes as well as Point Lookout.
 North Stradbroke Island: Camping
The campgrounds on the island offer a fantastic base from which guests can experience the natural wonders of the island.
The island boasts six beachfront campgrounds with both powered and unpowered sites.  If you want a more secluded camping experience, there are also a number of private campsites littered around the island.
Some of the more remote sites are only accessible by 4WD, so a Vehicle Access Permit will be required.
What to Do – North Stradbroke
In addition to all the amenities offered by all the resorts, hotels, and other accommodations, North Stradbroke Island offers a number of natural resources for its guests to enjoy.
Visitors can enjoy the stunning views from Point Lookout, where in addition to the stunning natural scenery, visitors can watch whales, dolphins, sea turtles, and manta rays.
The island also contains a number of  important wetlands, freshwater lakes, waterways, and lagoons.
 These waterways, particularly the lakes, make for wonderful day trips where visitors can enjoy a nice picnic and spend the say swimming.
Likewise, the coastline provides beautiful, white sand beaches that are perfect for relaxing, playing beach games, and enjoying a beach day in the fine weather.  
        The three townships on the island, Dunwich, Amity Point, and Point Lookout, all offer a quaint village atmosphere with a number of cafes, bars, restaurants, and other forms of entertainment.      
 North Stradbroke Island: How to Get There
        The island is accessible by ferry from either Dunwich or Cleveland.  Visitors who would like to bring their car to the island can take the vehicle ferry, which takes about 45 minutes.
If you don't want your car on the island, you may take the passenger ferry, which only takes about 20 minutes.  The ferries leave hourly from each location.
The Stradbroke Island bus service runs from the ferry launch on the island, easily taking visitors without a car wherever they want to go on the island.