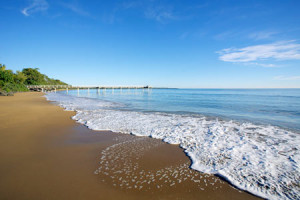 Hervey Bay is a city in Queensland located around 290 kilometres north of Brisbane.
The area is a natural bay between the Queensland mainland and nearby Fraser Island.
The area is known for whale watching, its access to Fraser Island, accessible recreational fishing, boating, and the natural north facing calm beaches with undeveloped foreshores.
Hervey Bay has a mild, tropical climate with an average temperature of 22 degrees Celsius in the winter and 30 degrees Celsius in the summer.
Hervey Bay:  What to Do
        Hervey Bay has no shortage of things to do.  Regarded as Australia's whale watching capital, visitors who visit during the right season are sure to spot a whale or two during their stay.
Hervey Bay also boasts kilometres of beaches that are fantastic for swimming, sailing, fishing, diving, sea kayaking, and waterskiing.
Fishing enthusiasts can either fish right from the shore or charter private fishing boats farther offshore where they can go after a number of larger exotic fish.
Hervey Bay also offers a wildlife park that allows visitors to get up close and personal with a variety of native Australian wildlife.
If you want to experience the marine wildlife, take a visit to Reefworld, where guests can see, and learn about the diverse marine life Hervey
Bay, and the nearby Great Barrier Reef, have to offer.
If you want to get away from the water for a while, Hervey Bay has some excellent golf courses that can provide for a very relaxing afternoon.
Or, you can calmly cycle along the coastline along a wonderful tree-lined path from the Urangan Pier to the stunning old beach houses at Point Vernon.
The town also has public lawn bowls facilities, go karting, tennis, horseback riding, skating, and many other family friendly activities.
If you are a real adrenaline junkie, why not try skydiving, which is also offered at Hervey Bay.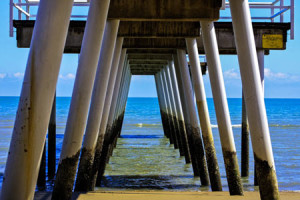 There are also a number of tours and cruises offered from Hervey Bay.
Day trips out to the World Heritage listed Fraser Island are very popular among visitors.  Likewise, there are a number of tours, ranging from the informative to the adventurous out to the Great Barrier Reef.
Whether you want to see the marine life, the coral, whales, sail out on the bay or take in the marine life from a glass-bottomed kayak, you will find a tour to suit your needs.
Likewise, there are also tours out to nearby Lady Elliot Island.
If you are in the area during whale migration season, the whale watching cruises can be very enjoyable and you are nearly sure to see at least one whale.
There is little you cant do at Hervey Bay.
Where to Stay
        Hervey Bay is home to a number of different accommodation options.  There are chic and stylish resorts, hotels, motels, bed and breakfasts, self-contained apartments and houses, holiday rentals, backpacker hostels, and campgrounds and caravan parks.
Hervey Bad does have two of the area's most renowned bed and breakfasts, the Bay Bed and Breakfast and Villa Cavour Bed and Breakfast.
How to Get There
        Hervey Bay is accessible by road, it is approximately three and a half hours driving from Brisbane.
The city is also served by a high speed train (the Tilt Train) which has connections in nearby Maryborough West or Howard.
The city also is home to the Hervey Bay Airport, which has direct flights from Brisbane and Sydney.