As a tourist, you must experience the diversity of WA nature, dramatize outback landscape like never to found elsewhere in the world. WA NATURE is world-class, unimaginable national parks, rock formations, and marine species as well as a vast coral reef. Therefor, WA nature home to the world most extraordinary Biodiversity.
Ningaloo Marine Park WA nature – See Dolphins, Turtles, and Whale Sharks.
Australian, UNESCO is listed as a World Heritage Marine treasure for future humanity. The reef is the world's most substantial fringing reef home to far north of Western Australia. The entire park is covering over 250 Kilometers. And it is home to stunning marine biodiversity. Many important species are living in the park, such as manta rays, dugongs, whale sharks, humpback whales, turtles, and over 500 species of fish and 300 species of reef coral.
Kimberley and Broom
Breathtaking sights to see in the Kimberley when you're on holiday in Western Australia.
The bizzarre horizontal falls in Kimberley – The extreme creation of mother nature. One of the most rear nature phenomena is home to WA western Australia.
Domes of the Bungle Bungles – Magnificent beauty of rare rock fomentation is home to up in Kimberley region.
Boab Trees – Boab trees are unique to the northern part of WA. Tourists can see them in different shape and sizes.
Top WA TOURISTS ATTRACTIONS ARE Beaches – Kimberley in WA is home to many beautiful pristine beaches. But difficulties travelers would face transportation. One of the most easiest access to stunning beaches is located in Broom like Cable beach Pure White Sand and Turquoise Water. Also, there are many creeks and natural pool you to swim. Places are like Emma Gorge, El Questro Gorge, Zebedee Springs, Bell Gorge, and Cape Leveque.
Gibb River Road in Kimberly
The road is one of the stunning beauty and driving adventure in WA for local and overseas tourists. Stretching over 700 km through Kimberly, the circular-shaped Gibb River Road has all best natural attractions of the vast Australian Outback beauty. Popularity as a Daring road adventure road in Australia.
The Pinnacles, Cervantes.
Nambung National Park is one of the stunning limestone pillars fomentation to see while you're on holiday in WA. The lunar-like landscape of yellow sandy posts is rising in a vast area in the park. If you drive up North of Perth Road trip adventure? CORAL COAST ROAD TRIP. You can see most northern attractions without any dubs.
Relax on Rottenest Island
Iconic Island in Perth to see when you're on holiday. Also, the Island is home to world popular quokka. This beautiful little paradise few kilometers from the mainland and traveler can catch boat service every day from morning to the afternoon. By the way, There little penguins Island also another beautiful place in the south of Perth. The Island even home to Perth best Beaches. Rottenest Island is blessed with a Casual Atmosphere.
Cape Le Grand National Park is offering stunning attractions like Ravishing beaches, Turquoise lagoons, Wildflowers, and wildlife. Definitely, The park is a nature lover's paradise. Islands of the Recherche Archipelago, this dazzling stretch of sand is one of Australia's best beaches. When your here sunny beautiful day, wild kangaroo are coming to play on the beach.
Mount Augustus
Mount Augustus sat at Coral Coast on West coast area around the range of 4,795 hectares. Also, it is known as Burringurrah. The Mount rises above stunning the auburn landscape. And it has cleared witnessed about 1,750 Million years of Earth's history.
Cape Range National Park – Boasts Spectacular Rocky Gorges And Karijini National Park – Tropic of Capricorn.
The park is one of the large and rewarding parks in WA. The landscape of the park evidence to millions of years ago soil erosion. And the vast area was a sea bed at that time. The park is also home to some of the top tourist's attractions in WA, attractions such as Yampire Gorge leads to most of the scenic and highlights in the park. There are many hiking tracks throughout the park with some beautiful waterfalls witnessing the nature beauty f the park.
The park is located west coast of WA and west side of Exmouth. Perhaps, Cape range is home to most beautiful pristine beaches in WA. Breathtaking red rocky landscape, deep canyons such as Yardie Creek surrounded white sand beaches make you call it your home. By the way, world-famous Turquoise Bay and it is beaches within the park boundaries.
TOP WA TOURISTS ATTRACTION – Shark Bay
UNESCO has listed on World Heritage protected site for future humanity. Because of the bay home to world most massive sea-grass in the sea bed. So, the entire sea area is home to abundant marine biodiversity. By the way, the bay is famous among tourists because of the dolphins of Monkey Mia, feed the dolphins at Monkey Mia by hand.
The rock is world-famous extraordinary rock fomentation. Original wave shape creation has created the result of millions of years rainwater reacting with different chemical substances.
The walking track is stretching over 135 kilometers. It is starting from Cape Naturaliste to South of Cape Leeuwin through in Margaret River region. I can say that it is one of the most beautiful coastal walking. The track with stunning beaches, isolated bays, steep sea cliffs, deep caves, rugged headlands, and fields of wildflowers are some of the highlights attraction on the track.
The region is popular wine production in WA, as well it is home to world-class white-sand beaches. The entire area is full of natural beauty, combined with a nature park, scenic driving road. Also, Jewel Cave is located in the same region. And there are many more tourists attractions you to enjoy time here in WA Australia. If you do South of Perth Road Trip driving adventure, you can cover most of the stunning tourist attractions.
Swan Valley in WA
Tourists should visit this region in WA. WA travel and tourism highly recommended Swan Valley region for local and overseas tourists. The area is holding popularity as the oldest wine productions. Therefore, the Swan Valley is offering a verity of world-class wines beautifully blend with pure Australian nature beauty.
Perth – CAPITAL CITY OF WA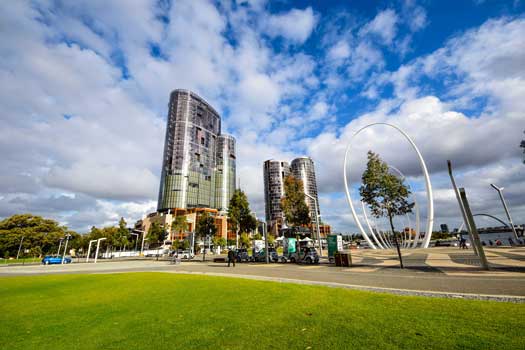 Perth Capital of WA is one of the nature city in Australia. The city is home to beautiful Swan River, Perth Kings park and many lovely little parks around the city. Also, Tourists are must visit the city area as well as Elizabeth Quay, which is located right on the Swan River. New development segment, which is called Elizabeth Quay is home to a beautiful sunset as well as great restaurants and cafes to have a good time in Perth. List of Perth City Attractions and Things to here. Surprisingly, Perth offers world-class hotels and best hotels deal on Booking.com.