Located in the northwest of Karijini National Park, in Western Australia, Hamersley Gorge is a beautiful and dramatic gorge filled with a variety of colors, textures, and reflections.
The gorge is made up of beautiful rock formations that in some cases, are nearly as old as earth itself, thus making it a haven for geology enthusiasts.
These ancient rock formations line the walls as waterfalls plunge into a tranquil pool of still water.  
Karijini National Park travel info
Hamersley Gorge is a fantastic place to enjoy a swim and take in all the natural beauty of the gorge.
The gorge has a natural spa rock pool, which is the most popular spot for visitors to take a dip and unwind in the tranquil paradise of Hamersley Gorge.
Visitors to Hamersley Gorge will also have access to all of the fantastic attractions at Karijini National Park.  The park is filled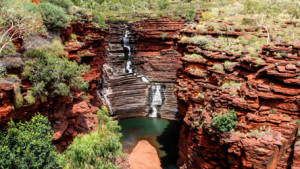 with walking trails, making it the perfect place for hiking.  
It is also filled with a number of other gorges and natural attractions.
 There is Fortescue Falls, where visitors can see the Dales Gorge as well as experience three major highlights of the park, a swim at Fortescue Falls, relax in another fantastic and scenic swimming location at Fern Pool, or take the three-hour return hike to Circular Pool.  
Karijini is also home to Hancock Gorge, which is a truly stunning sight.
A ladder will take you deep into the depths of this rock gorge where you can walk through narrow chambers and past beautiful rock formations.
 Tour guides run excellent and informative tours through this gorge.  There is another wonderful gorge, Weano Gorge, which will take you to Handrail Pool.
Handrail Pool is another great swimming location and allows visitors a fantastic peak at some of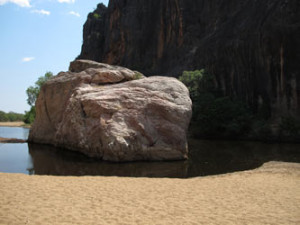 Australia's most ancient landscapes.
If you just want a fantastic lookout, the park is home to Oxer Lookout, which sits at the junction of four gorges, boasting one of the best panoramas in Western Australia.
Finally, Karijini is home to Mt. Bruce, the second highest point in Western Australia.
 The mountain has one of Australia's most scenic walks that boasts wonderful views over Karijini National Park and the whole Pilbara region.
The walk is a must for anyone visiting the park.
At the end of the day, the natural spa rock pool at Hamersley Gorge is the perfect place to unwind and relax as you contemplate the beauty of the park while enjoying the beauty of Hamersley Gorge!  
The Location Extremely Remote: See more info at
Safe Driving Tips:  See more info at: