Last updated on September 5th, 2017 at 04:34 am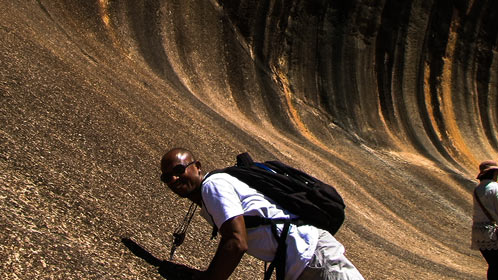 Wave Rock is a natural rock formation that derives its name from the fact that it looks like a tall breaking ocean wave.
Measuring around 14 metres tall and around 110 metres long, Wave Rock forms the northern side of a solitary hill known as Hyden Rock.
 Hyden Rock is around 3 kilometres east of the small town of Hyden and around 296 kilometres East-Southeast of the Western Australian capital of Perth.  Both Wave Rock and Hyden Rock are part of a 160 hectare nature reserve called the Hyden Wildlife Park.
 Wave Rock is what geologists refer to as a, "flared slope."
It is argued that flared slopes are created by the concentrated chemical weathering of rock at the base of a large rock formation.  
This chemical weathering produces a concave upward, or inward, pocket of heavily weathered, relatively loose bedrock.
Wave Rock: What to Do
Despite just being a rock, albeit a very cool rock, there is a lot to do at Wave Rock.  The area has over 100,000 visitors every
year and it isn't just for one rock formation.
The region has a number of other interesting rock formations, including Mulka's Cave and Hippo's Yawn (which is a formation that looks remarkably like a yawing hippopotamus) as well as cultural and historical sites.
Indigenous Australians have inhabited the region for hundreds of years, and the area is of great cultural significance to them.
Visitors can stop by Mulka's Cave and the Humps (which is another rock formation) to see authentic Indigenous rock art that dates back hundreds of years.  
Mulka's Cave has over 450 ancient rock paintings covering its walls depicting the legend of Mulka.  In addition to the Aboriginal history, there is also a lot of early European settler history in the area.
 It is believed that sandalwood cutters were the first European settlers in the area and farming began in the Hyden region in 1922.
There are many descendants of those original European settlers that still live in the region today playing host to the area's many visitors each year.
 Visitors can learn about the regions first settlers at the Pioneer Museum.
If you are looking to enjoy the outdoors a little more, take one of the many trails in the area that will allow you to get up-close and personal with some of the fascinating rock formations the Hyden Rock area has to offer.  
Along these trails, keep your eyes open for birds as there are more than 40 species of bird native to the area ranging in size from the tiny wren to the large, wedge-tailed eagle.  The wildlife park also is home to a variety of native Australian wildlife including koalas and rare white kangaroos.
If you are in the area during the spring, from September to December, enjoy the stunning carpets of billions and billions of Western Australian wildflowers that cover the landscape around the rock.
 If you want to take it all in from the air, there are scenic flights offered.  Finally, while you are there, why not enjoy the scenery while getting in a game of golf.  
The area is home to a beautiful 18-hole golf course that is open during the winter and the spring.
 Wave Rock: Where to Stay
        The town of Hyden itself offers multiple accommodation options ranging from stylish motels and cottages to a simple but affordable backpacker hostel and a caravan park with both van parking an camping sites.
The town also has a number of bakeries, bistros, fine dining restaurants, and cafes to suit a variety of tastes.
How to Get There
        Hyden can be easily reached by car as all roads to the town have sealed roads.  From Perth, this drive takes about three to four hours.
 Perth is home to a major international airport with service from a variety of countries and continents.