The Australian Coral Coast Road trip, from Perth to Exmouth is a fantastic destination for travellers who want to enjoy the sun, the Indian Ocean and the stunning landscapes of this country. Heading north is the insurance to see and do amazing things all the way up on a ''short'' distance. Up to you driving further to Darwin by Broome and the beautiful Kimberley.
 The Coral coast is classified as a World-Heritage Site: you'll be mesmerised by the whiteness of the beaches, by the diversity of the marine life,  the authenticity of the National Parks. It's a place everyone would dream about!  
As a French ''new-born'' traveller, I enjoyed every single minutes of this adventure. When I left Perth with my boyfriend and 2 of our friends, we would never imagine how breathtaking would be the landscapes. As we expected to travel around Australia, the Coral Coast was an absolute must-do for us.
It offers plenty of options for a very complete road trip. With our new car, our tents and all our motivation we started our  adventure trip to Coral Coast, starting by Yanchep National Park.
For all the backpackers, I would recommend to buy a car if you plan to travel more than a month. If you only plan a short trip, renting a car is probably easier. But be careful ! Australian roads may be tough and really often the car get damaged.
Coral Coast Road Trip: Yanchep National Park:
Yanchep NP is located less than an hour from Perth. This a well-known place to see koalas, kangaroos and beautiful birds. The walks are nice but not as spectacular as many others in Australia. We only stopped for a few hours, saving times for the rest to come. It's a good place to take pictures of animals and flowers.
Lancelin Sand Dunes:
The next stop was Lancelin Sand Dunes. And it was a really funny experience to hire sandboards and sliding on the dunes. If you go high enough, you'll see the ocean from the top of the dunes. Those dunes are so beautiful and offer a giant playground for those who kept their kid's soul.
I also tried the buggy in the dunes: a load of sensations and amusement for a reasonable price. If you like extreme sensations I would recommend it!
And as our afternoon at Lancelin was ending, we continued our way to the Pinnacles Desert in Nambung National Park.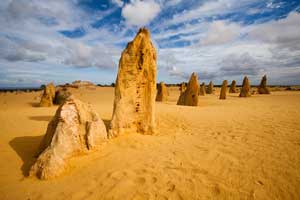 The best of Coral Coast Road Trip: Nambung National Park.
The best moment to see the Pinnacles is the end of the day. When the sun sets, all the colours are changing every minute for and endless pleasure of the eyes…
From this moment, the distance started to be bigger and bigger between two places. And that's exactly when you start to feel free on those endless roads. When you know you are in the middle of nowhere without thinking of what's next.
Kalbarri National Park:
The Kalbarri National Park. One of the most beautiful national parks in Oz. Different walks are available, and you don't even need to walk a lot to access stunning views and lookouts.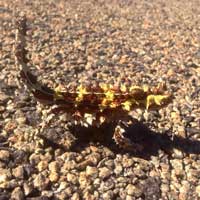 The gorges are spectacular. The Nature's window is a great and well-known spot to take pictures. If you are lucky, like I was, you may see the incredible Thorny Devil.
The cutest and strangest lizard you'll never see. It was also the first time, our beloved car attempted to take a gravel road. What an adventure!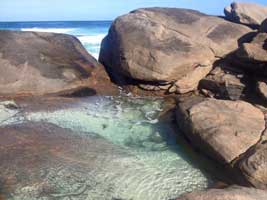 Coral Coast Road Trip: The best  marine life expirance, Shark Bay and Coral Coast
Slowly but surely we arrived at Shark bay. The weather is so good, the water is warm and it's only the beginning of a wonderful journey.
I felt in love with the white beaches of the Coral Coast. And specially Shell Beach and Coral Bay.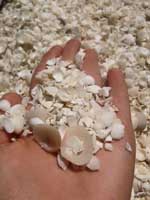 Shell Beach is a very unique place. The beach is purely white because it's made of billions of shells. The water is so shallow that you can walk very far into the ocean without swimming. It's a paradisiac spot to lie down and relax.
Coral Bay was busier than Shell Beach. I and my mates were a bit disappointed by the crowd on the beach. But we understood really quickly that everyone wanted to see the corals…
Indeed, just a few meters from the edge of the water, you can see beautiful corals and sublime fishes. That was the very first time in my life I experienced snorkelling.
I would never be able to describe all the feelings you have while watching the marine life. It's a whole new and hypnotizing world. That's one of the best thing Coral Coast bay has to offer.
Monkey Mia was also on our ''top-list''. Monkey Mia is a resort where you can spend the day and see the dolphins. Every morning, the Staff feed the dolphins and invites the lucky ones to do so. The dolphins are wild even though they are used to human contact. It's an exquisite pleasure to see them swimming, jumping.
While staying in Coral Bay, we booked for the most thrilling adventure of our trip: A day on a boat to dive and snorkel at the Ningaloo Reef.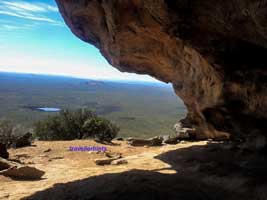 We swam with grey sharks, ray mantas, turtles, incredible fishes hidden in a forest of coral. Scuba-diving is a really exciting experience. For a backpacker budget it might be a bit expensive but it worth every cent. When you decide to travel to Coral Coast, that's exactly what you want to see and experience.
The last destination of our Coral Coast road trip was Exmouth and the Cape Range National Park. The national park is full of remote beaches, far away from the crowd where you can snorkel, catch crabs on the rock, watch wallabies in the bushes… The Cape Range NP is home of the famous Turquoise Bay which deserves its name. It's a good place for snorkelling.
I recommend planning at least 10 days for this road-trip, if you don't want to rush.
Concerning the accommodation, we stayed 90% of the time on ''free-camps'', all listed in the App. "WikiCamps''. The most useful and trustworthy phone app you'll find.
Look up your best camera deals here 
Everything a traveller needs is in there: accommodation, water points, Wi-Fi access, lookouts, point of interest… Because of this app we slept almost every night for free in our tents, on authorised areas. Except some places where there were no free camps like in Exmouth. For a tent in a campsite the average cost per person was $15.
Summary of the main costs during the Coral Coast road trip.
–National Parks: $12/per car and per day
-Hiring a sand board: $10/hour (a $50 bond is usually required)
-Buggy session in the dunes for 3 people: $20/person
-Monkey Mia entry fees: $10/person for a day
-Scuba diving and snorkelling at Ningaloo Reef : $250/person including the shuttle, meals, drinks, 2 scuba diving sessions, 2 snorkelling sessions with Manta Rays.
-Average cost in camping ground 15$/night/person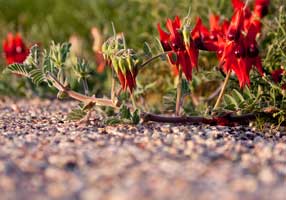 Wish you all travellers would enjoy This  Miracle Mother Nature's, ultimate adventure on Coral Cost of West Australia!
Written by Margaux Richard, from France