Kings Park is the mot beautiful and the largest park in Perth City 
Sitting on top of Mount Eliza, reminiscing the evolution of Perth into the city as we know it today, is a jewel, a glimpse of 'what used to be'.
Kings Park, one of the largest inner city parks in the world, was spared from the hands of industrial modernization and instead left to showcase the abundant native flora and fauna characteristic of Western Australia.
It is a beautiful escape from the city, a haven for plant enthusiasts and a popular spot for walks, picnic and all sorts of education, ceremonial and cultural events.
Kings Park – thing to do 
Its stunning location offers beautiful panoramic views of Perth's skyline, the tranquil waters of the Swan River and the lush Perth Hills. It represents the heart and soul of the city and is what sets it apart from other Australian cities.
Nearly two thirds of the park is untamed bush land whilst the remaining has been developed into cultivated gardens or used as
open recreational spaces.
There is an abundance of trails for beautiful walks, jogs and even cycling. For those wishing for a more intimate experience with the majestic trees, the LotteryWest Federation Walkway offers the opportunity to walk by the tree tops.
Amongst the 319 native plant species visitors will also find the famous 750 year old Baob tree from WA Kimberly Region – definitely a sight to see!
The expansive open grassy areas offer the perfect spot for picnics and if the sun is blazing the scattered Chinese pavilions are the perfect retreat from the sun.
The park also caters for children's needs with a number of playgrounds to keep them entertained.
The Best  of Kings Park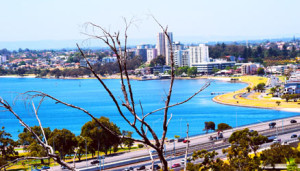 There are a number of free guided walks led by the Kings Park Volunteer Guides which take place twice a day and run all year round.
The Bush Land Nature Trail is probably a good way to get acquainted with the park as it begins with a walk through the botanic garden and follows on to the bushland offering unique encounters with an abundance of native species.
For those wishing to roam the park at their own leisure, there are a number of self-guided walks including the insightful Boodja Gnarning Walk that leads visitors through a place of ancient gatherings and celebrations depicting ways the natives would live off the land.