Last updated on November 4th, 2019 at 04:45 am
There 100 of amazingly beautiful Nusa Dua Resorts in Bali should be among the top consideration for your next Bali getaway. Especially if you're up for the 'wow' and bite your own lips! Each of these resorts in Nusa Dua not only providing rooms as places to stay.
Explore Bali's amazingly full of sights nearby, Spa, dining and from zero to exceed all customer's expectations. On the other hand, each of them offers something that is totally unique. Of course, Bali owns spectacular countryside and picture-perfect vistas, and some of these resorts make excellence of use of their attractive locations.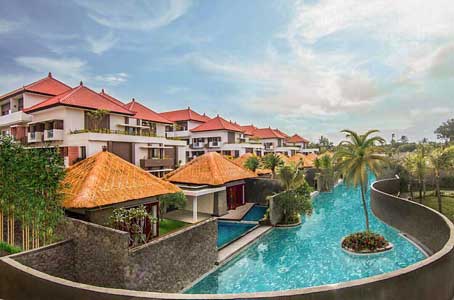 Best Resorts Nusa Dua in Bali -1 # INAYA PUTRI! Booking.com
Majestically Sensational Tropical Island Experience.
Situated in the exclusive beach peninsula of Nusa Dua Bali. Right on one of Bali Indonesia's most beautiful beachfront locations.
INAYA Putri Resort in Bali Nusa Dua offers the finest of modern hospitality in the world.
Touched by a sense of tropical feeling on the beautiful island of Bali.
This incredible Nusa Dua beach resort is not only an ideal holiday destination for your ultimate Bali getaway. It also offers a complete Island of fantastic cultural experience.
Rooms
With a choice of well-established Bali, accommodation options are available in the INAYA Putri resort. The resort ensures a quality stay in a stylish environment for all kinds of holiday makes But, also, the resort is specializing for honeymooners. On the other hand, the resort offering a luxurious, unique home away from home style villa holiday accommodation is perfect for families and larger groups.
SPA
Discover the INAYA Dewi Spa where the great treat is here available for you to relax.
Tropical Suny Natural Daylight, smooth music, and pure natural fragrance are staged to create a real moment of total relaxation in heaven.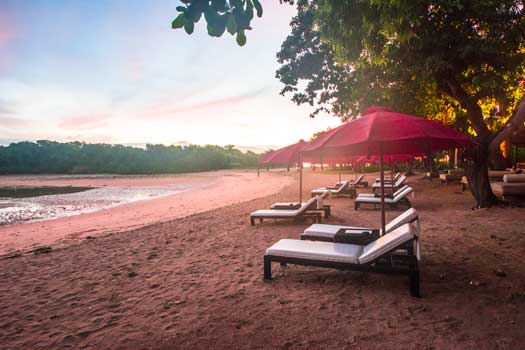 Best Resorts Nusa Dua in Bali – 2 # MELIA BALI! Booking.com
EXOTIC BEAUTY ON BALI INDONESIA! THE ISLAND OF NATUR POWER
Step up into the real tropical nature of Bali in Nusa Dua. A perfect haven that will fascinate you in many ways such as the resort offers warmness and the exclusivity of its services.
Exceptional Balinese top market beachfront sanctuary located on Bali's prestigious resort enclave in Nusa Dua with only just under 20 minutes' drive away from Bali's International terminal.
Just walking distance to Shopping Centers, many tourist attractions, the Bali National Golf Club.
Features
All facilities are available such as pools, beautiful gardens, great beach views, dining, SPA, and all 5 stars accommodations types included Villas.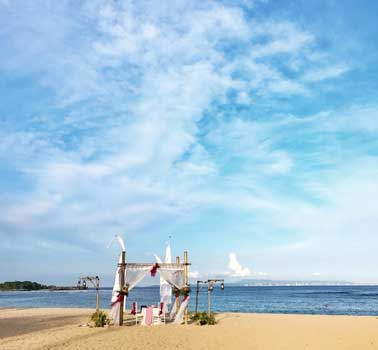 Best Resorts Nusa Dua in Bali – 3 # AYODYA RESORT
The magic of Bali, the Ayodya Resort Bali almost dares account for the best holiday resort in Nusa Dua. At Ayodya Resort, The resort vibrantly blends the hospitality and love of Bali's charming people.
Magical Ayodya Resort standards of the excellency of the Island in nature resorts category. The Resort serves up a generous amount of traditional Ayodya magic from the locals to learn the reality of tropical Island life.
Rooms
All type of accommodation is available including Villas, pools, and SPA.
Some of the Unique Features.
Just under 20 minutes' drive from Bali airport, collections beautiful SUITES, creative theme events, nearby to Bali National Golf Club, only a few steps away to prime beachfront, BALE BANJAR showcase, Mandara Spa, Direct access to the ballroom and many local attractions nearby.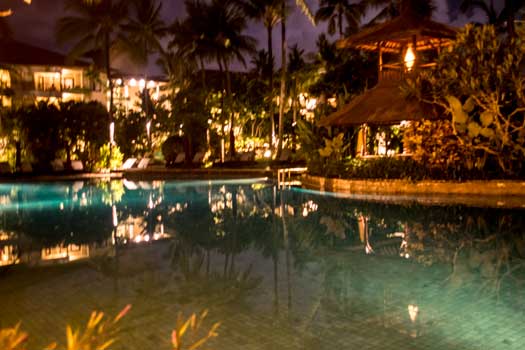 Resorts Nusa Dua in Bali – 4 # THE LAGUNA RESORT & SPA
Discover Nusa Dua best beach resort in Bali with THE LAGUNA.
From its panoramic pure nature views of the Indian Ocean to its luxury villas and world-famous Balinese hospitality.
The Laguna is a Luxury holiday Collection Resort & Spa in Bali Nusa Dua. Even though, Bali offers a memorable experience for tourists in general. Something extraordinary here, The resort beachfront provides spacious rooms, lagoon access suites, and luxury villas to have the best holiday in Bali.
Beauty Surrounds.
Real tropical harmony with dense green tropical gardens and a pristine white sand beach here just a paradise.
This stunning resort owns seven lagoon pools, an unspoiled park with sunshade, and emerald tranquility enthralling crystal clear waters.
All you need under one roof such as Relaxing Spa Treatments, specific skincare, and individual wellbeing.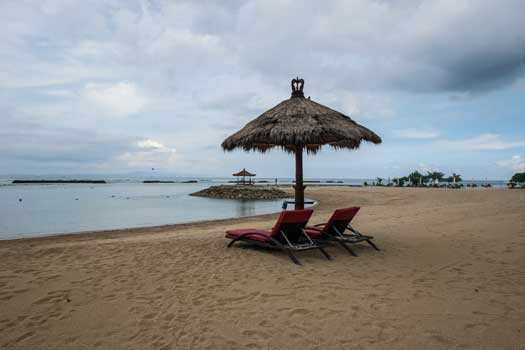 Resorts Nusa Dua in Bali – 5 # COUNTY MARRIOTT
DISCOVER THE BEST OF BALI WITH LUXURY 5-STAR IN NUSA DUA.
Getting to know 5-star luxury at Courtyard Bali Nusa Dua Resort. The resort built lush green gardens just a few steps away from the hotel beach club.
Just a few minute's drives from Bali airport. And this miracle place provides an ideal image for business and leisure travelers to the Island.
Well planed rooms, which offer beautiful marble bathrooms, mini-bars, and balconies with a garden. Also, Stunning pool views. All other facilities such as Luxury resort amenities include a stunning lagoon pool, a day spa, a modern gym, kids club, complimentary Wi-Fi and five large indoor and outdoor restaurants.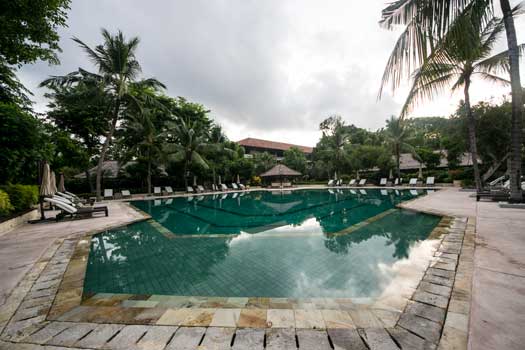 Resorts Nusa Dua in Bali – 6 # TROPICAL RESORT & SPA
BEST TROPICAL RETREAT TO REMEMBER FOREVER IN LIFE – ONE OF THE BEST BOUTIQUE RESORT IN NUSA DUA.
Bali Tropic Resort & Spa, an exclusive beach accommodation provider in Bali.
The entire resort was built with traditional Balinese and modern architecture.
And it offers an excellent ambiance for a true Island home beach vacation experience.
An incredible setting among Frangipani & Bougainville flowers is contrasting with the most breathtaking views of the tropical Indian Ocean. Very centrally, right on the world-famous Nusa Dua Beach in the south of Bali.
All five stars featured are available for residents in the Resort.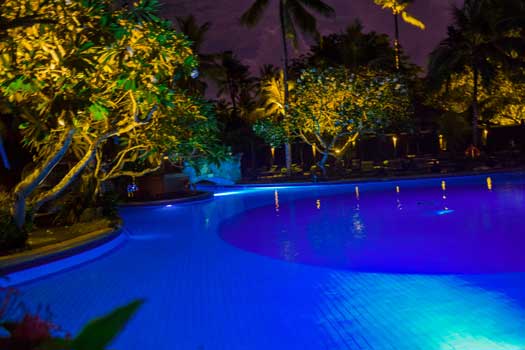 Resorts Nusa Dua in Bali – 7 # SADARA BOUTIQUE
Oceanic Heritage in Bali.
Escape the Ordinary and move to luxury on the planet. And experience the excellent traditional hospitality as well as Balinese Stylish tropical Indian ocean Beachfront Resort in Nusa Dua.
The beach resort is a stylish beachfront in Nusa Dua Bali.
The entire resort with 80 newly designed rooms. Also, elegant swimming pools and seaside view dining venues as wells a glamour beach club.
SADARA BOUTIQUE committed to encouraging sustainable tourism through unique and personalized hospitality that introduce the spirit of Balinese culture and tradition.
All five stars feature are available in the property.
Resorts Nusa Dua in Bali – 8 # THE WESTIN RESORT
5 Star Beachfront Beachfront Quality.
The Westin Resort offers 100% customer satisfaction for leisure and business travelers. Conveniently, the hotel located right next to the Bali International Convention Centre provides comprehensive business meeting facilities with ample space over 10,000 delegates.
The Resort magical business began in the soaring air-conditioned lobby and continues throughout the resort. Magically, at the array of beautiful outdoor restaurants.
Features.
Incredibly beautiful SPA with 5-star facilities ever lashes green garden as well as Villa style accommodation available with all other 5 star features.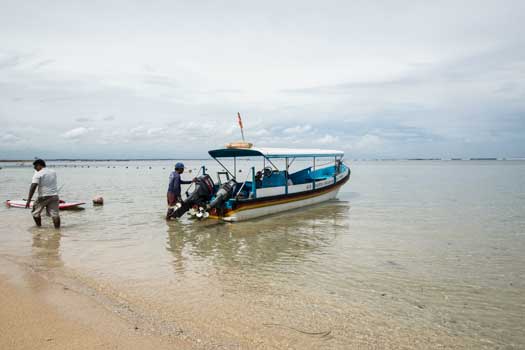 Resorts Nusa Dua in Bali – 9 # SOFITEL RESORT BRAND
WORLD-CLASS HOSPITALITY IN BALI!
Sofitel Bali Beach Resort Hotel French luxury and local cuisine in the world's most exciting Island offers world-class services.
Sofitel recently started MyResorts program featuring exclusive luxury experiences for Le Club AccorHotels members.
Inspired by the most elegant French 5-star beachfront resort with beautiful evergreen tropical gardens as well as modern architecture offers 415 well-settled rooms. Also, including 39 suites and villas alongside complete resort facilities – 3 restaurants, 2 magical bars, SoFIT, SPA, Cell-Science Solitaire Bali traditional Clinic, outdoor, kids club and 12 function rooms including one magnificent Grand Ballroom. Also, Beachfront Ballroom one as well.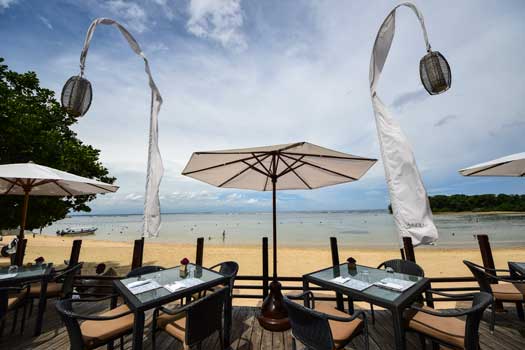 Resorts Nusa Dua in Bali – 10 # THE SAKALA RESORT
Magical SAKALA RESORT offers 247 suites. Also, 14 family & couples villas, each of the grand suites were designed to be significantly more vast than most. By the way, it is bringing you into a range of modern-day Balinese luxury like no other Place on the planet.
Made up of six elaborately extrinsic restaurants, bars and entertainment venues spread just over 2,3 hectares of lush greenery, enhance your Balinese experience with a romantic oceanic dinner by the beach or an energetic night by the pool.
SPA.
The uniquely holistic surroundings of Bali's growing importance on wellness bringing to life. The resort Wellness Spa is the place to be.
Resorts Nusa Dua in Bali – 11 # SWISS BELHOTEL SEGARA
The Finest Swiss Quality Hospitality in Bali.
A tropical resort where the stress is on relaxation. Surrounded by trimmed tropical gardens, two large lagoon pools, and large sunbathing areas. A variety of luxury room types all offering "Affordable Luxury with tropical experience".
Swiss-Belhotel Segara is located one of the premier tourist destinations in the world-class Nusa Dua.
For an unforgettable holiday island experience on Bali Island.
The resort 4-star rated. But Swiss-Belhotel Segara offers an amazingly affordable level of luxury combined with genuine Balinese hospitality in 5-star quality.
The hotel features a selection of generously large sized rooms, with tropical furnishings including 75 Superior Pool view, 18 Premiere Pool View, 36 Loft Pool view, 18 Laguna Pool Access, and 7 Suites.