An active volcano, Mount Batur is surrounded by lake is what Hindu believed is one of the sacred mountains. The lake that surrounds the volcano is known as Danau Batur which isconsidered the biggest crater lake on the island of Bali, Kintamani, Indonesia that provides a good source of fish, as well as for Bali drinking water. It takes 6 hours to go to this mountain from the place where you staying in Bali. ( it depends on your location)
Mount Batur – Bali Hostels Booking here 
Mount Batur – the most easiest volcanic hiking in Bali.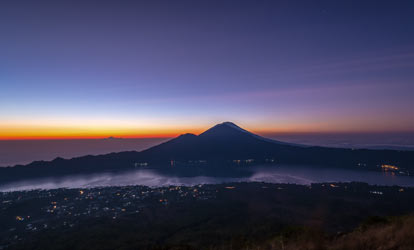 Upon your arrival, you will feel the excitement by experiencing these activities such as mountain biking, Bali trekking tour, Hai Bali cycling tour, Bali Batur volcano trekking tour, Mount Batur sunrise trekking, Kintamani adventure and Orchid Bali tour that provides a good glimpse of the beautiful scenery.
Hiring a private driver (they call it a Bali driver Ketut) is a good way to explore the place and dip in hot spring in The Toyo Devasya.
Travelers can choose which restaurant to dine in. Like the Batur Sari restaurant with a great view of the mountain, Warung
Baling Baling that serves amazing food and the staff is friendly.
The Lakeview restaurant and the Danu art Cafe is where you can relax and chill while drinking coffee. Such places are not too expensive, so don't worry about your budget.
From Ubud, the travel time is about 2 hours going to the mountain. The tour cost $40 to $65 for the transportation and food.
Before your trek you must hire a tour guide and you need to bring the following; warm jacket and long pants for the cold weather, hiking shoes or sports shoes.
 Recommendation:  "Very easy track for you to be able to hike your own"
Bali Hotels Booking Here