Mount Rinjani was formed during volcano eruption in the caldera, which was caused by coagulation of new small cone Gunung Baru, meaning a (New Mountain). It consists of 66,000 hectares of protected forest outside and 41,000 hectares within the park Boundaries. The place is too big for the travelers to spend their vacation.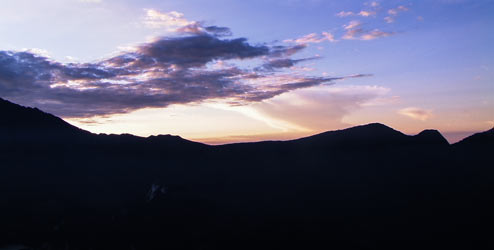 Famous for its eerie isolation and beauty, the peak can't be seen from the low land because of the clouds.
Mount Rinjani, The mountain has a high spiritual significance for the local people and it is a part of the well-known Ring of Fire.
For those who want to visit the place, the entrance fee costs Rp 150,000 (cca $12) per person. The fee is divided into 25% for the trek route maintenance, 62% for the Mount Rinjani ecotourism trekking program and 13% for the national park authority. Usage of sturdy
hiking boots is a necessity as is the wind and water resistant jacket and a head light.
The place offers a lot of things to do like having a great massage under the falls of Sindang Gila Waterfall. Hiking at Rinjani Samaras, or experience to make handicrafts like pottery fabric weaving and woven bamboo baskets in Tetebatu Village.
Or also to swim in the wonderful Segara Anak lake. Aside from that tourist may also set a camping equipment such as the tent, sleeping bag, toilet tent, dinning tent, trekking chair and sleeping mat to spend their night on top of the mountain.
Lombok Hostels Booking Here 
Visitors will have no difficulty in finding the place to eat because this place offers many, indluding the nearest Square Restaurant -one of the favourite restaurants among travellers around the area. It is recommended thanks to its great services, views and delicious food.
It also serves cocktails and other drinks. The Rumah Makan Asano is a simple and affordable restaurant within the area.
There is also a ballroom Restaurant which serves delicious cuisine including some foreign food, grilled food, seafood and Aroma Baker.
Lombok Hotels Booking here