Bali, being known as the most famous and magical island in Indonesia is yet another fascinating travel destination to go. It's a good destination for everyone who's looking for a place to explore unique culture, warm people and great scenery.
Some of the best highlights is that Bali was awarded as the World's Best Island in 2009 by Travel & Leisure Magazine, which has made the place one of the best searchable places to go especially for amateur travelers.
And for the additional records, it was also ranked as the second place for Lonely Planet's Best of Travel 2010.
The beauty of  the island itself is proven by its stunning volcanoes, abundant terraced rice fields and alluring beaches. Aside from the good looking sceneries, This tiny island has also ravishing palaces and temples that will simply amaze everyone.
Hostel Booking Here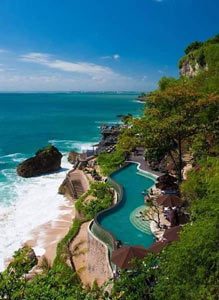 One best thing about the island is their local cuisine and famous hotspots like clubs and dance floors. And when it comes to cultural dance performances, views over rice fields, forested rivers and valleys, then Ubud, which is the island's cultural centre.. it is the right spot to go.
On top of that, the popular island has a lot of modern facilities such as shopping malls, amusement parks and sport facilities like water rafting, surfing and diving. Among such activities, water rafting is still the most popular activity on Ayung, Unda Rivers, Telaga Waja, and others.
Must-see attractions include the Besakih Temple in Eastern Bali, Tanah Lot Temple in Tabanan, Tegallalang Rice Terraces in Ubud, Ubud Monkey Forest and Kintamani and Mount Batur.
What to expect from tiny Island are simply all of the great things that you can imagine. All of your desires can be fullfilled here.
It's a real place for real people with warm hearts and souls.  Plan ahead and you'll surely have a remarkable experience.
 Hotels Booking Here