Raja Ampat, Misool, Salawati, Batanta and Waigeo are the four major islands of the archipelago of the Raja Ampat.  This four major island is surrounded by small islands such as Kofiau, cays and shoals.  The Raja Ampat is the home of the richest marine diversity on earth and it is part of the Coral triangle.
The Coral triangle is a term used to refer to a tropical area of marine waters of Indonesia, Malaysia, Papua New Guinea, Solomon Islands, Philippines, and Timor Leste.
This Coral triangle is known to be the sanctuary of 500 species of reef –building corals.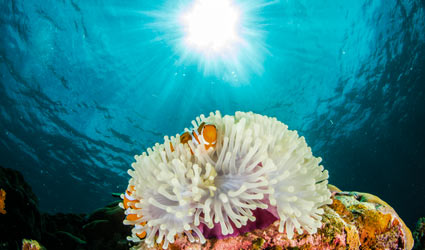 Raja Ampat means four kings and according to myth, it is the story of a woman who was looking for seven eggs and when it hatches it became the King that is now the four major Island of Raja Ampat.
It is located at the northwest tip of the Bird's head Peninsula on the Island of New Guinea in Indonesia's West Papua Province.
Raja Ampat and the territory that surrounds it are colossal.
It has 9.8 million acres of land and sea, sanctuary of 540 types of corrals, 1000 types of coral fish and 700 types of mollusks.
According to The Nature Conservancy and Conservation International, almost 75% of the world's species are found here.
The diversity of the marine life in Raja Ampat aside from the clear turquoise crystal water and powdery sand is the reason why diving here is the best spot.
Divers should prepare themselves to be awe for they will be welcome with beds of coral reefs and be mesmerized by the vertical underwater walls and the euphoria in drift driving.
Locals like fisherman are often assigned by the eco-lodge in Raja Ampat to be a guide for travellers.
Tourist can enjoy bird watching in the islands where there are a couple of species of birds.
Diving organizers not only cater the diving experience but it also serves food from local to international menu.
The Sup Ikan Kuning (Yellow fish soup) served with local spices is a must try.
Tourist can buy souvenir like Asmat sculptures, traditional clothes, traditional musical instruments such as Suling (flute) and Tambur (drum). You can buy these souvenirs in the villages of Raja.
There are many hostels, hotels and resorts that accommodates tourist and if you want to experience the local's culture, you can choose to rent a place for a homestay. Divers usually join the tour and lives in the resort for the period of their stay.  
Raja Ampat liveaboard, Diver Raja Ampat and Raja Ampat were some of the several tour operators that offers liveboard tours.
Divers enthusiast needs to comply with the requirement first before they can be allowed to dive. You need to bring
your passport with three copies of the passport page with Indonesian Visa.
 The diving organizers will help you obtain the permit. It takes a six hours flight from Jakarta to Sorong for tourist to reach the magnificent archipelago of Raja Ampat.
From Sorong you have two options, one is a 40 minutes speedboat ride that cost Rp 2 million and a two to three hours of  boat ride that cost Rp 1- 2 million.