Komodo National Park, Indonesia has 17,508 beautiful islands and Komodo island is one of them. Known as the habitat of the Komodo dragon which is the largest Lizard on Earth, Komodo Island which took its name from this lizard is part of the Lesser Sunda chain.
The island was used to be the place where convicted Indonesians criminals were exiled.  Approximately there are two thousand people who inhabit in the island. The people in the islands are adherents of Islam.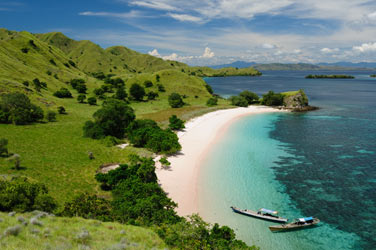 There are also Christians and some Hindu. The island was included as one of the New Seven Wonders of the World in 2011.The Komodo Island is famous for its pink beach. The pink sand that can be found in the island make sand turn pink due to the mixture of the white sand combined with red sand from the formation of the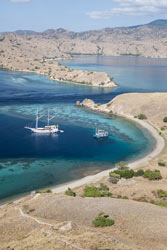 Foraminifera.
The island is rich when it comes to the fauna; the number of Komodo dragons is in abundance.
Aside from Komodo dragon in the island, it is the home of the large number of Javan Deer, water buffalo, banded pigs, civets, cockatoos and macaques.
Tourist can enjoy snorkelling and witness the beauty of the coral reefs and the settlement of the clown fish.
The island is famous as the best diving site around the world.  Diving into the water of Komodo Island is a slice of heaven since several sea creatures are awaiting for the divers to see.
There is numerous number of sharks; the whitetip, blacktip and the Grey shark to name a few. You can come for a visit during the rainy season from December, January and February to dive with the Manta rays. However the best diving condition is from March to October.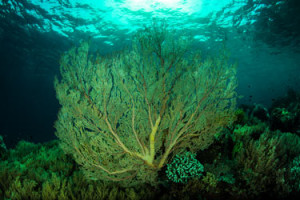 Komodo Island is one of the three major islands that is part of The Komodo National Park.
The islands are Komodo, Rinca and Pandar. It was established in 1980.
The establishment of the National Park was to conserve the Komodo dragon and as well as its habitat.
Through the years the purpose of the Komodo National Park  expanded into protecting the entire island and the biodiversity both terrestrial and marine.
The National Park was proclaimed as a World Heritage Site and a Man and Biosphere by UNESCO. The existence of the park is vital both for land and marine life.
The Komodo National park is consisting of one of the world's richest marine life.
You can reach the Komodo Island by air from Bali to Labuanbajo (the little town on Flores). In Labuanbajo , you can
arrange a short trip to go on a sightseeing of the Komodo Dragon in the island as well as Rinca which is also Part of the  Komodo National Park.
Tourist can also organize a shared boat in Labuanbajo or bema to the two major points of access in the park. Loh Liang (Komodo Ilsnad) or Loh Buaya (Rinka Island).