Salawati Island is one of the beautiful islands in Raja  Ampat. This is one of the best  islands  to visit in Indonesia. 
 Aside from its natural beauty, having a clean and clear water, the place is very quiet and far from the crowded and polluted cities.
Beautiful Salawati Island is one of the four main islands in Raja Ampat region of Indonesia. The area of this island is about 1623 km². The island is truly beautiful.
And the beauty is so popular around that it attracts many tourists & travellers from all over the world to visit the island.
This is the best place  to relax and enjoy the nature. One reason to visit  Salawati Island is when you want to snorkel or want to dive and check the rainbow fish, or a  variety of multicolored fish.
An Admired aquarium fish is considered  as one of the most beautiful exotic  fish aquariums in whole world. You can take plane to Sorong Airport.
From Sorong Port  take Taxi or rental car to reach the island, or from the port  take the speedboat. This will take you two hours, but as you travel going to that island you will enjoy  the green nature and sceneries of  several other island along the way.
Salawati Island is the best place for diving, snorkeling and swimming with the other exotic  fish in this island.
You can go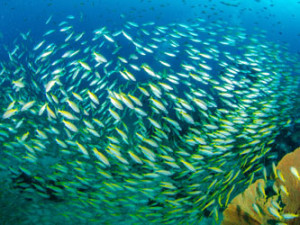 sunbathing and just enjoy the sunset, or take a walk along the seashore and breath the fresh air from the sea.
This Island is one the beautiful diving site in  Raja Ampat because of its rich coral reefs and marine species. Make sure that you bring enough foods or snack when you go to the island since restaurants are not available in this place.
The people in this place are very accommodating and willing to guide you in touring the island. Consider this place when you are planning for a very relaxing  vacation.
This is also a place for the people who loves photography and capture those exotice plants and fishes while enjoying  the serenity of the place.