Gili Islands, or The Gilis are Lombok's most popular sexy beach beach party heaven-place to tourists and adventurers.
The island is known for the Banana Pancake Trail.
The Banana Pancake Trail is an endearment for the locals and guests as well as a metaphor in reference to the still developing route, connecting different guesthouses, restaurants and cafes that serve banana pancakes as sweet breakfast.
The influx of Western travelers led to the increase of many different cafés and bistros that serve food adapting to their needs, comprising honey, yoghurt, and of course banana pancakes.
The Gili Islands  are laid-back and very relaxing, with innumerable little beachside restaurants and cafes, and bars that serve wide varieties of local and international flavors.
But the best experience for most guests is the freshness and pollution-free air and the serenity of the place without any disturbances from automobiles.
It noticeably hotter and drier in the Gilis, but during the night, it can still be refreshing and cool for outside activities.
The rainy
season is coarsely from November to April, but in Bali, it rains much more than the Gilis. Peak tourist season is from July to August and December to January.
Gili Island Nightly Parties & Where to Catch Them
Some of the major nightlife bars on Gili T have a kind of competitions over the island's late-night beach nightlife.
Here is the best beach party night pubs.
Monday Night – Blue Marlin

Tuesday Night – Trawangan (Beach) Cottages

Wednesday Night – Tir Na Nog ("the Irish")

Thursday Night – Sama Sama + Pool party at Gili Hostel + Quiz Night at Trawangan Dive (Bar)

Friday Night – Surf Bar + Rudy's

Saturday Night – Sama Sama

Sunday Night – Evolution + Ladies' night at the Irish
Cool Fun Shit to Do on Gili Trawangan
Movies on the beach opposite Jessica Homestay and also Vila Ombak, best way to get drunk over night. Travellers  can check showings a day in advance.
Climb to the viewpoint and World War Two bunker early morning for sunrise.

There is no airport in the Gili Islands.
Getting there by plane is through Lombok airport or flying to Bali and taking the boat going to the islands are the options.
Using the ferry, which is popular with the locals and backpackers – there is a public ferry service every hour from Padang Bai (east of Bali) to Lembar Harbour (southwest of Lombok) that runs 24 hours every day.
The travel time will take 4 to 6 hours excluding the time consumed during loading and unloading; the on board facilities are very basic and the travel is very slow.
After arriving in Lombok, it will take another 2 hours transfer to get to the Gili Islands via road and local boats from Bangsal harbor. A ticket costs IDR44,000 or 4 USD for adults. Boats from Bali offer fast travel services and the most direct way to travel going to the islands.
There are different boat companies where you can book your tickets.
The most reputable site for checking live seat availability, most trustworthy fast boat services, and e-ticket booking is with Gilibookings and Gilitickets.
Gilibookings prices range from $50 to $75 one way, $100 to $150 return, while in Gilitickets, it's generally 30% cheaper for the fast boats.
When travelling from the southern part of Bali resorts, such as Legian, Kuta, Nusa Dua and etc., Serangan and Benoa are the closest ports.
For a shorter crossing however, you can set off from Padang Bai, 1 hour from south Bali by road.
The weather should be taken into consideration during the travel. Shorter routes could reduce discomfort for those who suffers or prone to motion sickness. In the Islands, there are no motorized vehicles.
The only options are, cidomo — a horse-drawn carts, and bicycles that are available to be rented from the locals.
Depending on the length of the journey, the tourist price starts at RP20000 to RP50000 per head.
Though there are no major sights on the Gili Islands, there are few attractions that are worth visiting. Turtle Sanctuary in Gili Trawagan and Gili Meno.
Common turtles around the Gili Islands are the green and loggerheads. Sanctuaries have been set-up to ensure the survival of these creatures.
Gilii Meno Bird Park is a bird sanctuary located at the center of the island, exhibiting exotic species in a stunning landscaped surroundings.
Flamingos, pelicans, eagles, macaws, parrots, cockatoos are just some of the bird species to be seen there, it's also home to crocodiles, a kangaroos and some deer.
The sunset point on the hill at Gili Trawagan is a great spot with a panoramic view of the three islands, Lombok and Bali which is a good place to take memorable photographs.
Gili Trawangan Info:
"Full packed escapades await every nature lover and adventurer – that is what Gili Trawagan promises."
Why do travelers, adventurers and sea-lovers keep coming to this place? Though there isn't much to see, there is so many activities to do. Scuba diving is the first one on the list.
The Gilis are being globally known as a proficient teaching center for diving from beginners' level up to the instructor level.
There are also technical diving courses available here on Gili Islands .
Environmental enthusiast will be interested in the biorock artificial reefs and the extraordinary display of marine life; great muckdiving sites for macro photographers and a Japanese wreck for deep diving.
Drift diving is common in the  Gili Islands due to its exposed geographical position, making the currents strong. Gili Trawagan, or simply Gili T, is the most visited among the Gilis.
From Senggigi, Lombok, the daily Perama tour service, may take you directly to Gili T at 8AM in less than 2 hours for a flat rate of RP 150 000.
Some operators offers RP75 000 or as low as RP 50 000 but these often go through Bangsal—to avoid this, make sure that it is a private boat that will be used and not the public boat.
Taking the public boat is cheaper, though. RP15 000 is the official price as of August 1, 2015.
Travelers will be asked for an additional IDR5000 as a foreigner and another IDR2500 as terminal fee.
Island hopping boat service is provided solely by Koperasi Angkutan Laut Karya Bahari, price ranges from RP35 000 to RP40 000 every day at 8:50 AM.
There is also the official charter boat, from the same provider, that is permitted to carry 12 persons. Price ranges from RP190 000 for 1 way and RP350 000 vice versa.
There are also informal private charters and their prices are negotiable.
Gili T can be considered as the centre of a thriving dive industry of Lombok.
A British free dive record holder, Mike Board, operating and owning the Freedive Gili, the sole free dive center in the region, located close to the harbor of Gili T, offers free dive and apnea, breath holding, courses from beginners to advanced levels while it shares office with Gili Yoga center which offers daily meditation and pranayama, luxury accommodation, twice daily yoga practice, group activities like snorkeling and sunset boat ride, and gourmet vegetarian food.
Another is the Yoga Place Gili Islands. Their services include yoga and meditation all throughout the day for all levels.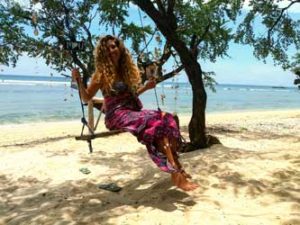 Together with the vegetarian Garden Café, they are both located on the hillside overlooking Gili T away from the crowd.
Flyboarding with Aqualfight allows you to experience flying like superheroes and diving like dolphins.
Gili T is where the cheapest flyboarding place in Asia, during the present time, they charge $75 per session.
Snorkeling, boat trips, surfing, strolling around, and the lovely tropical sunset are the other things to look forward to in Gili Trawagan. It's the perfect getaway for a tropical adventure of a lifetime.
Gili Meno Info:
Gili Meno is the smallest islet among the Gili Island. It promises an idyllic setting and relaxation.
Gili Meno is located in the northwest coast in Lombok, Indonesia.
Known for its crystal clear water and white beaches, it is no wonder that this place is most sought after by honeymooners and people who just want to be away from the bustling cities.
One way to get there is through boat from Lombok, you can choose what boat to take: Public Boat, Shuttle Boat and Charter Boat.
You can choose to stay in simple beach huts / thatched bungalow or opt for villas / luxury resort depending on your budget of course.
There are no automobiles and motorbikes and so the only sounds you can probably hear is the soft waves crashing in the shoreline, gust of the wind, and if you're lucky enough, you might just hear how the turtle making noises. Yes, you read it right ~ Turtles! These cute turtles just freely swiming in the waters.
There is even a turtle sanctuary in Gili Meno, tourist should not miss this sanctuary.
You'd probably be pleased to know and see how the natives protect baby turtles, leading them to be released back in their natural habitat ~ Gili Waters.
If you love the idea of reading books while resting in a hammock, Gili Meno could be a perfect place for you.
Aside from that, here in Gili Meno you can also enjoy walking on a long stretch / whole beach and will be able to do so in a span of two hours.
And to really maximize your stay and experience, you must try Indonesian cuisine and share stories with the locals.
Gili Meno has a handful of restaurant and also offers European Cuisine.
Another attraction that might interest you as well is their Bird Park, there you can see Pelicans, Macaws, Peafowls, Eagles and a lot of colorful parrots.
When the night comes, you could hang out in one of the bar and just enjoy music and have a drink or two.
So next time you plan a trip and the purpose is to relax and just enjoy the sun, sea and beach, make sure to put Gili Meno on your list.
Gili Air Info:
Gili Air is the closest island to Lombok, Indonesia. It is probably the most developed one out of the 3 Gili's.
One must
take a boat to reach this sophisticated island.
Boat ride will take about more or less 30 minutes.
Please remember though to put your gadgets in waterproof bags when crossing the waters especially in the months of July and August where winds and waves may be a little rough.
If you are that adventurous-sporty-type of person, you would really love the Gili Air and your stay won't be boring because the moment you set your foot on this beautiful island, you will probably whisper to yourself:
Now this is what I am looking for! The island offers activities like snorkeling, scuba diving, stand up paddleboarding, and even kitesurfing!
There are diving shops which offer diving courses, will rent you diving gears and they could even assist you with planning of your marine adventure.
Accommodation is not a problem as it is almost everywhere in Gili Islands .
You can choose from Huts to Bungalows or splurge on Luxurius Resorts. These luxurious resorts offer a great view.
This, of course depends on your budget.
If you run out of cash, worry not because establishments here accept both visa and mastercard and there's an ATM machine which can be found in the ferry arrival area and on the main beach track.
Moving around in Gili air is truly easy. The best you can do is just walk around the island and you will surely enjoy your 90 minutes walk as you would appreciate the towering view of Mount Rinjani.
Just a fun fact, Mount Rinjani is the second highest volcano in Indonesia. You can also rent a bicycle but sometimes this is already included in the package of the accommodation so be aware of it.
You might as well experience riding the Cidomo – small horse-drawn carriage. But this, of course, is a little pricey compared to bicycle.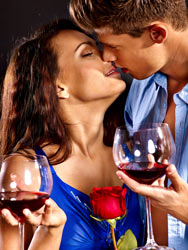 After all of these activities, you must be very hungry. Well, there's a lot of restaurants around.
You can have pizza, bagels, sandwiches and you should also not miss the Indonesian delicacies or you might want to try organic seafood on Gili Islands.
Now, if you are a sweet tooth, there are shops which offer gelato and milkshakes.
If you are a budget traveller, there are also restaurants which offer delicious meals for a very affordable price, same with vegetarians and coffee lovers.