Russians  are the most mysterious People & Russia is the most secretive country in the world.
Russian History
If you are even slightly interested in the history of cultures, you can notice that Russia is one of the few countries, the history of which can be tracked in terms of continuity: governmental, cultural and territorial. Once upon a time in the 9th century, the territory of modern Russia was formed first. Principality of Rurik. Since then until the 20th century, Russia's main form of government was a monarchy. We've all seen the Hollywood cartoon "Anastasia" by great work of composer David Numana.
Since childhood time, we've heard that in Russia there was a revolution. TheRoyal family was brutally murdered by the communists. We have all heard about the bearded Russian "wizard" Rasputin involved in court life and about his mythical sexual Possibilities.
Probably, there is no man who does not know the Boney M song "Rasputin". With the arrival of the Communists, Russia became part of the Soviet Union and was closed. It hasn't been available for the world for 74 years as once Japan wasn't. Then, the era of the Cold War began.
What we've heard about Russia when it was under the curtain? Gossips have been different: about the all-powerful KGB, a rigid censorship, about grandpa Lenin, about the brutal Stalin, on the impoverished population and atomic bombs, about the people who drink large amounts of vodka, about the anti-American propaganda. After the second world war and the victory over Hitler, we knew that the army of the USSR is one of the strongest ones in the world. Then the Soviet Union proved ambiguous in the Caribbean crisis.
Well, we've all heard and laughed about the fact that in the USSR there is no sex, banned rock ' n ' roll and erotic movies. In 1991, communism came to an end under the rule of Gorbachev. The Russian Federation was formed, and the Soviet Union broke up into many republics. Russia has announced that it now adhered to the democratic values and Boris Yeltsin came to power.
Yeltsin made the odious impression of the new Russia. His numerous funny antics put into misunderstanding the world and still did not give any clear ideas about Russia of that time. And then, finally, Putin came to power. Putin, the most influential person according to the magazine "TIME", and there the new era of Russian history began.
Russia has declared itself as a cultural, political and social part of the world. Also, we heard of the arrests of political activists, prosecution of Khodorkovsky, Pussy Riot, the death of the nuclear submarine Kursk, of the persecution of homosexuality. And a lot more. And about Russian supermodels and the Russian mafia. On average, those are such bits of knowledge of Russia an average European and American in the world have. All this, as you see, is rather ambiguous.
I decided to visit the country to get my own impressions. How can it be attractive to foreigners and why it is worth a visit?
I split the article into several parts and start with the attractions that I remember most.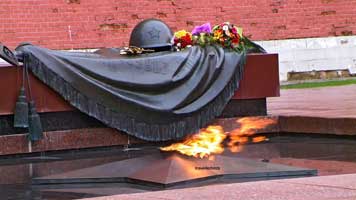 Attractions
Red Square
Red square is the main square of the country and the most recognizable symbol of Russia.
It really is divinely beautiful. Don't forget to walk there and take photos. The Red Square includes many attractions, I recommend to pay attention to:
The Kremlin Wall is the residence of the President. Here you can visit the Kremlin Armoury, the Cathedral of the Annunciation, the Cathedral of the Archangel, the Cathedral of the
Dormition, to see the Patriarch's Palace and Ivan the Great Bell.
Price: 250 to 700 rubles
Working hours: 10:00 to 18:00. Thursday – weekend.
The Cathedral of Vasily the Blessed, it works as a museum, and here you can take a guided tour.
Price: for adults 350 rubles, children under 16 fo for free.
Working hours: May, September and October: from 11:00 to 18:00; July, August:
from 10:00 to 19:00; November, April: 11:00 to 17:00.
Mausoleum a monument-tomb on Red Square near the Kremlin wall in Moscow, where since 1924 rests the body of Vladimir Lenin. Usually here stand in long lines.
Admission is free
Working hours: 10:00- 13:00, Monday and Friday weekend.
Alexander Gardens park for walks. Muscovites love this park. It is a very nice place with a lot of loving couples. Previously, this land was a river Neglinka.
Admission is free
Manezhnaya square the square on the territory of Red Square. Here were hold political and nationalist rallies.
Admission is free
GUM the most famous, expensive shopping center in Moscow. There you can enjoy luxury and some crazy prices. The building is a landmark and, even without buying anything, you will enjoy the walk.
Admission is free
Location: Moscow, Red Square, 2
Get – go to the "Ploshad Revolutcii" station "Okhotny Ryad", "Bibliotek imeni Lenina ", "
Borovitskaya "
Tip: I suggest to dedicate one entire day to the Red Square. You can work around it all day long.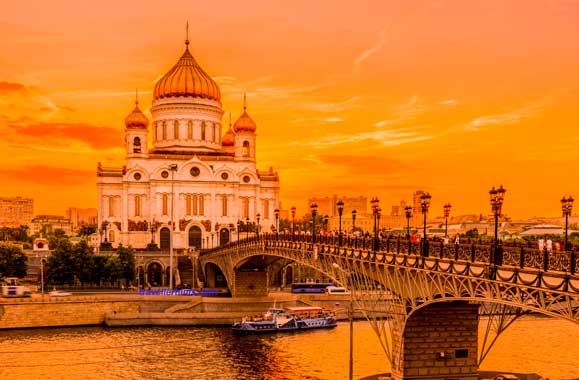 Christ the Savior Cathedral the largest temple of the Russian Church. Its height is 105 meters and the capacity is more than 10 000 people. The temple was built in 2000. Therefore, it can be called one of the newest attractions in Moscow. Although this temple is a modern incarnation of the same church built in the 19th century.
The temple holds services Patriarch of Moscow and All Russia. This is the temple where famous Pussy Riot sang punk moleben and were sentenced to 2 years in prison.
Location:: Volkhonka Streer, 1517.
Working hours: 10:00 – 18:00.
Admission is free
Get there — station " Kropotkinskaya".
Red October:
From the temple, you can walk to the Red October to the bridge along the Moscow river embankment and the Bersenevskaya embankment. Red October is the name of the candy factory that was situated there from 1889 to 2007. The factory moved, but the place kept the name from this factory and is now the center of nightlife in Moscow. Here you can find: a lot of clubs, restaurants and cafes overlooking the Moscow River, as well as showrooms and galleries .
Be sure to hang out there. There is a special rave atmosphere. By the way, the factory Red October moved and releases the famous Russian candy, you can find it in all supermarkets. The most famous and delicious "Bear Bruin", "Alenka", "Tales of Pushkin", "Crayfish", "Little Red Riding Hood"
Location: Bersenevskaya naberezhnaya 6.
Get there: station "Kropotkinskaya".
Ostozhenka Street
Ostozhenka Street. After visiting the temple i recommend to take walk on the street Ostozhenka, the most expensive street in Moscow. Between the lanes in this street there are many embassies and the most expensive mansions in Moscow.
Get there: station "Kropotkinskaya" and "Park Kultury"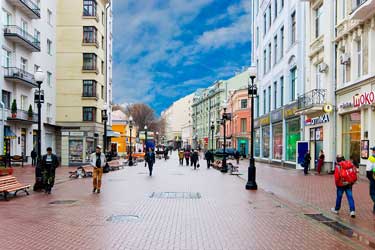 Arbat:
Arbat is the most famous street in Moscow, along with the Tverskaya street. Arbat Street, some of the oldest streets in the city. Arbat is divided into two parts which are parallel to each other: the Old Arbat and Novy Arbat.
As you might guess, the old Arbat is a pedestrian street representing the architectural style of old Moscow – with lots of alleys, museum houses and the former possessions of famous Russian figures. It is advisable to walk through all Arbat and feel the spirit of old Moscow.
I recommend you to focus your attention to the following buildings there:
Pushkin House Museum (Arbat, 53) the most famous Russian poet who died in a duel with Dantes.
Price: 150 rubles.
Working hours: Wednesday, Friday, Saturday,Sunday: from 10.00 to 18.00 Thursday: from 12.00 to 21.00.
Tsoi Wall (Arbat, 37) is the wall of rock and roll and punk and also the Russian freedom. Tsoi Soviet rock musician meant  more for Russia than Kurt Cobain for the world. Tsoi was a breath of fresh air in the Soviet censorship for young people. His sudden death in a car crash at his 28 years has become a shock for young people. Wall "appeared" in 1990, when someone, after the news of the death of Victor Tsoi appeared, put the black sign: "Today, Viktor Tsoi died." In response, someone added: "Tsoi is alive."
Youth has not allow the government to demolish the wall for 26 years.
Novy Arbat (Novinsky Boulevard)
As for the Novy Arbat, it is a glamorous area with lots of cafes, restaurants, cinemas and other entertainment venues. Here you can find highrise, glamor and luxury buildings and hotels. I recommend to visit the legendary Georgian restaurant located in the alley between the old and Novy Arbat Genatsvale (Novy Arbat Street, 11/2). You will not forget the taste of the dishes in this place for a long time and will always want to return.
Get there: I recommend to start the way from station Smolenskaya (dark blueline), here you can stroll along the Arbat and get to station Arbatskaya… You can make other way round from Arbatskaya to Smolenskaya.
Gorky Central Park of Culture and Leisure
Gorky Park the best park in Moscow by many ratings. Today Neskuchny Garden, Sparrow Hills and Muzeon are part of Gorky Park. The park includes a lot of very interesting things:
Sports activities bike paths, tennis courts, table tennis, skate park, a mini football, carousel, Chess Club, ice rink, basketball court, hockey playground, ping pong, jogging club and fitness center.
Facilities offer free internet in the entire territory of the park, stand for charging your laptops and 

phones, complimentary lounge chairs and ottomans to relax, there is a mobile application for 

the Gorky park, drinking fountains on the territory of the stalls. Automated parking for visitors in front of the main entrance to the park.
Get a meal at one of the many cafes and restaurants, as well you can taste an ice cream "Gorky Park"
Other Activities are for instance the Museum of Contemporary Art "Garage", an open air theater, observatory and also you will see your own kind of roses "Gorky Park", fountain with a rose garden, sandpit, greenhouse in Neskuchny Garden.
I recommend to pay special attention to the Park of arts Museon, related to Gorky Park, but separated by a large highway in between. The Muzeon is located on the right side of Gorky
Park across the road. In the Park there are about 700 sculptures located, among them are some leading figures such as Stalin, Dzerzhinsky, Gorky and many others. Modern Park Museum has turned into one of the favorite places of recreation for children and youth. The Park often hosts various children's and youth's activities. 
The admission is free
Moskow City
Moscow city is a little Manhattan in Moscow, located on the Presnenskaya embankment.
Patriarshiye Ponds
Patriarch's Ponds is an affluent residential area in downtown Presnensky District of Москов. Here is different life, different from the whole of Moscow. I recommend to walk there and drink wine or a cocktail in any restaurant.
The Bolshoi Theatre
The Bolshoi Theatre is a historic theatre in Moscow, Russia, designed by architect Joseph Bové, which holds performances of ballet and opera. Make sure to visit Russian ballet!
Tickets: from 100 rub to 12000 rub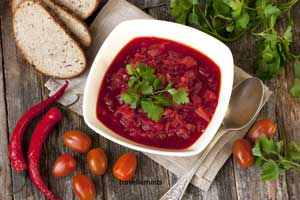 Russians Food
In Russia, I recommend to get acquainted with two kitchens: Russian and Georgian. You will be surprised, but most foreigners here are trying the Georgian cuisine because it is  delicious. I will tell you what dishes are worth a try in Russian kitchen as well.
Soups: Russians adore soups and they differ from European soups. They are more liquid. Soups that I recommend:
Borscht — a Ukrainian soup, which is considered Russian in the world, except for Ukraine. This is a soup based on beets and served hot or cold. Recommend adding is a tablespoon of sour cream or mayonnaise. Very tasty!
Okroshka. The traditional Russians cold soup based on kefir, and sometimes kvass. Very unusual dishe, yet delisious!
Russians Appetizer:
Aspic is a dish in which ingredients are set into a gelatin made from a meat stock and with pieces of meat, eggs and some vegetables.
Pancakes with caviar: red or black. Caviar can't afford just any Russian. And the black one is only in expensive restaurants. Caviar is a classic in Russian cuisine. Try, certainly!
Pickles. In Russia every housewife loves to glaze vegetables for the winter and then open. It's like without a marinade, it can not do any russian table.
Dishes
Pel'meni is a boiled dish of Russian cuisine of dough stuffed with minced meat. Dumplings in Russia eats everyone from taxi drivers and to millionaires. In some restaurants you can try pel'meni with salmon.
Herring with potatoes. Boiled potatoes with pickled herring. Served with onions and black bread and washed down with vodka!
Russians Dessert:
Pancakes with cottage cheese with condensed milk and jam! You can taste it only in Russia! Insanely delicious!
Russian Drinks:
Kvass is a traditional Slavic and Baltic fermented beverage commonly made from black or regular rye bread .
Kefir is a fermented milk drink made with kefir "grains" and has its origins in the north Caucasus Mountains. It is prepared by inoculating cow, goat, or sheep milk with kefir grains.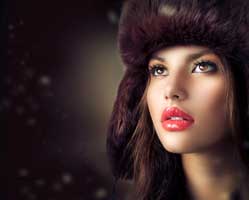 Russians Girls 
Russians girls are very beautiful. All of them are called Russian, but in fact there are a lot of nationalities, so there is beauty for every taste. For example, here you can meet girls in the style of Natasha Vodianova – wide noses, light hair, skin, eyes, thin and cute. But you can also meet such juicy tatar girls like Irina Shayk.
They have dark skin, brown or green eyes, small noses and pouting lips . Also, here you can meet Penelope Cruz and Kim Kardashian, because there are a lot of girls from the Caucasus. And of course, a special place is occupied by the so-called club girls. If you go out in glamorous club night, you drown in a sea of silicone and cosmetics.
All those women in the world are called Russian girls, but these women are very different, with different character, upbringing and culture. And sometimes, you can be surprised they are so different in their behavior. Common to them is that Russian women are very feminine and open to communication with men.
They're very nice, attentive and warm. I would like to explain the word "warm" in Russia are very fond of this word.. They call a "warm person", a person with a soul, which gives the other person a feeling of affinity. This is a very Russian concept, which is not so easy to understand, if you do not live in this country. There, people are divided into warm and cold. But for women, the most of them are warm.
Here women do not like long walks. But they love heels, and sitting in cafes and restaurants. They like to go to museums, and sing karaoke. I have met a lot of women who loved music and went to rock concerts coming from the West. Russian women are very fond of gifts.
They love flowers. No woman in the world loves flowers more than Russian woman do. They love the attentions of men constantly, and they want it every time. With all the advantages of Russian women, I have to mention the fact that women are very clever. They know how long to play along with the man, but their patience is not eternal.
Russians Souvenirs
When you walk on the Arbat, you can buy souvenirs. Here are the most classic ones: 
Matryoshka – is a Russian wooden toy in the form of a painted doll, inside of which are other similar, but smaller dolls. Although matryoshka is considered a traditional Russians toy. A samovar is a device traditionally used to heat and boil water for tea. Balalaika Russian folk stringed musical instrument.
Russians Museum:
In Russia, there are many museums that are certainly worth a visit.
The State Tretyakov Gallery.
The Garage Museum of Contemporary Art.
Moscow Contemporary Art Center Winzavod.
Tsereteli Art Gallery.
Bulgakov Museum in Moscow.
The Jewish Museum and Tolerance Center.
The Artplay Center of Design.
Where to hang out/eat/drink?
Stoleshnikov lane to see freaks and hang out. (Station Chekhovskaya).
Kamergersky lane to drink wine and watch people. (Station Teatralnaya or Ohotny Ryad).
Clubs?
Rodnya: Rodnya is famous among younger crowds and for bringing amazing latest electronic music in Moscow.
Propaganda: Propaganda is truly one of the best places in Moscow to have a night out. Also, Propaganda is one of the oldest nightclub in Moscow.
Icon: Another great place in Moscow for best clubbing experience. Icon club applies entry charges on men.