The Coral Coast of Australia runs along the western coastline, stretching around 1,100 km from Perth to Exmouth.  Along this stretch, there are expansive areas of uninterrupted beaches, untouched coral reefs just a few strokes from the coastline, stunning gorges, and expansive fields of colorful wildflowers.
The Coral Coast also boasts some of Western Australia's best known tourist destinations and attractions.  The area is littered with various national parks, heritage sites, picturesque villages, and fascinating and captivating wildlife.  Below, I will take you through a journey along the Coral Coast, starting in the quaint fishing village of Cervantes.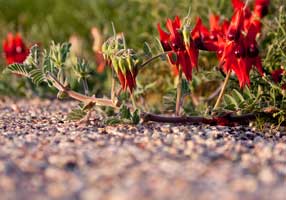 Western Coastline: Cervantes Town
        Located about two hours by car north of Perth, Cervantes is a small on western coastline, sleepy fishing village that acts as the Coral Coast's gateway to the beautiful Pinnacles of Nambung National Park.  The island boasts a number of sandy beaches, with colorful blue water that is full of marine life, making it a perfect stop for a fishing trip.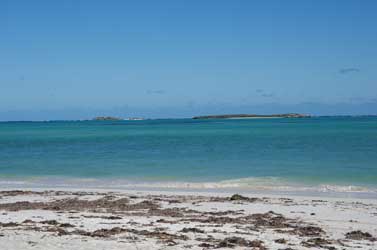 Fishing is available in Cervantes both from the coast and via boat farther offshore.  In addition to fishing, guests visiting Cervantes can explore the coral reefs offshore and explore the nearby islands, where they will likely encounter sea lions.  Visitors arriving during rock lobster fishing season can stroll by the jetties and watch all the activity taking place.
 Likewise, visitors in the spring can enjoy the sight of endless waves of colorful wildflowers surrounding the town.  If you are a 4WD enthusiast, you will find the sand dunes between Cervantes and Lancelin to be perfect for a day out on the dunes.    
        If you want a break from activity and just want to take in the sights, there are also a number of incredibly scenic lookouts in and around Cervantes.  Hansen Bay, just a kilometre south of town offers many fantastic lookouts, as the Thirsty Point Lookout.
The Scale Molah Hill Lookout offers sweeping views of the Western Australia coastline, including Cervantes and Jurien Bay.  Geological enthusiasts will be excited to visit Lake Thetis and the stromatolites there.  This is only one of five sites in Western Australia to feature stromatolites, which are natural formations created by the oldest known organisms on Earth.
Some can date back to as far as 3.6 billion years ago.  If you want a man made sight, take a trip to the Emu Downs Wind Farm and observe the 48, 120 metre tall wind turbines.
       Perhaps the biggest attraction to the Cervantes, western coastline region is the Pinnacles of Namburg National Park, which attracts about 190,000 visitors each year.  The park is located around 200 km north of Perth and covers an area of 17,487 hectares.  The Pinnacles are natural limestone structures that were created 25,000 to 30,000 years ago when the ocean receded leaving behind seashell deposits.  Overtime, the wind eroded these seashell deposits, leaving the pillars that remain.
Some of them can measure as high as five metres.  The park features a huge expanse of thousands of these pillars.  In addition to the Pinnacles, the Namburg National Park also features private white sandy beaches where visitors can swim and snorkel, Hangover Bay, which is perfect for a picnic, top class windsurfing and surfing, and some diverse vegetation.    
Cervantes offers an array of accommodation options to suit everyone on their journey along the Coral Coast.  The village has caravan parks, motels, hostels and other budget accommodation for backpackers, holiday cottages, and chalets.  There are also a number of different dining options, ranging from traditional sit down, ala carte restaurants, to takeaway, to fast food.  As you might expect from a fishing village, the seafood in Cervantes is excellent.  The Pinnacles Visitor Centre website can provide you with all the information you need about finding accommodation for your stay in Cervantes.
Western Coastline: Geraldton Town 
        Nestled in expanses rolling hills and farmland, Geraldton is 420 km north of Perth and right on the western coastline.  With the surrounding farmland as well as the Moresby Ranges, Geraldton makes for a very picturesque village.  The town has fantastic beaches, warm, but comfortable, weather, and a regional service centre, where guests can find anything they might need, including shopping, banking, accommodation, cultural attractions, entertainment options, and sporting facilities.
 Geraldton is also one of Western Australia's water sports hotspots.  It is a very popular spot for yachting, windsurfing, surfing, diving, and fishing.  Coronation Beach, St. George's Beach, and Point Moore are all great places for surfers.  The Batavia Coast Marina makes for a great place to take a walk and stop for a coffee or a meal at one of the many boardwalk cafes.
The marina also has a number of galleries and art features.  Inquisitive visitors can learn about the intriguing history of the regions lobster fishing industry at the Geraldton Fisherman's Co-operative processing factory.  Likewise, the Geraldton Meteorological Office offers regular tours where guests can learn how meteorological data is gathered and used to created weather forecasts.
 Likewise, history enthusiasts will enjoy the HMAS Sydney II Memorial, which was built to honor the sailors lost on the HMAS Sydney in 1941.  There are also tours of the Byzantine styled St. Francis Xavier Cathedral.
 A visit to the Western Australian Museum Geraldton makes for a particularly interesting visit, showcasing the region's cultural, maritime, and natural history.  Finally, the Point Moore Lighthouse and the lighthouse keeper's cottage are another fascinating visit for those interested in the history of the area.    Those interested in the local culture can also come visit in October and November and take part in the annual Blessing of the Fleet Festival, or the Sunshine Festival, which celebrates the cultural diversity, local talent, music, art, and culture of the region.      
        If you are willing to make a day trip out to sea, the Abrolhos Islands, located about 60 km from Geraldton, are a beautiful and fascinating trip.  The islands are a meeting place of temperate and tropical sea life, leading to a truly diverse wildlife setting.  Large breeding colonies of various forms of seabirds can be found on the islands.
From Geraldton, visitors can either view these islands from the air on a sea flight or via a boat-led Eco tour, where you can interact with the wild life and in some cases feed it by hand.  If you decide to take in the islands by boat, you might get the chance to see humpback whales up close and personal should you be visiting during their migration season in July to October.  During this time, humpbacks frequent the Abrolhos Island area.  Some of the boat tours offer live aboard stays on a yacht, which includes all meals, accommodation, and activities while on board.    No matter how you decide to experience the Abrolhos, you will be provided with a fantastic perspective of a beautiful island chain.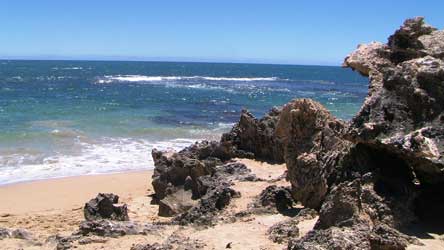 Western Coastline:  Denham Town
        Denham is in an ideal location to explore the Shark Bay region of Western Australia.  Located a ten hour drive north of Perth, Denham is another friendly coastal town with safe swimming beaches, restaurants, shops, and airport, and plenty of places to stay.
Some of Australia's most stunning natural wonders, such as the famous Monkey Mia dolphins, the Hamilton Pool stromatolites, Steep Point, Shell Beach, and Francois Peron National Park, are accessible from Denham, either via self-drive routes, cruises, or tours.
Monkey Mia beach is the home to a large pod of friendly bottlenose dolphins, who frequent the shores of Monkey Mia beach to interact with humans.  The area is now a marine reserve and there is a small fee to enter.
However, any interaction with the dolphins is free.  The Hamelin Pool stromatolites are the oldest and largest in the world, thus making the area a hotbed for botanists and geologists alike.  
There is a jetty that has been built that allows visitors to walk out and view the stromatolites without any danger of damaging them.  Steep Point is the westernmost point in Australia.  Is provides the perfect point from which to observe the Zuytdorp Cliffs, which rise over 170 metres above sea level.
Steep Point is also a mecca for fishermen, widely regarded to be one of the best fishing locations in the world.  At Steep Point, fishers can expect to catch, Spanish Mackerel, assorted Mackerel, Sailfish, Tuna, Cobia, Yellow Tailed Sea Kingfish, and monster Tailor.  Shell Beach lives up to its name.  Located 45 km southeast of Denham, within the Shark Bay World Heritage Area, Shell Beach is a pristine, white beach made up of millions of little bits of shell pieces, 10 metres deep and stretching for over 120 kilometres.  On a clear day, this beach is one of the most stunning locations in all of Australia.  
There are a variety of tours in the area that allow visitors to see the Shark Bay region from either plane or yacht.  Guests can interact with the wildlife at Ocean Park, or enjoy a picnic or another afternoon fishing at Little Lagoon.  Those who want a more cultural experience can see the region through indigenous eyes can take an authentic indigenous tour.
Likewise, visitors can learn about the region's cultural and ecological diversity at the Shark Bay World Heritage Discovery Centre, or follow the interpretive signage at Shark Bay World Heritage Drive.  Dirk Hartog Island also offers plenty of opportunity to learn about the area's heritage.
        Denham offers accommodation for everybody, ranging from resorts to hotels to campsites and tourist parks.  The Shark Bay world Heritage Discovery and Visitor Centre can provide you with all the information you need regarding accommodation.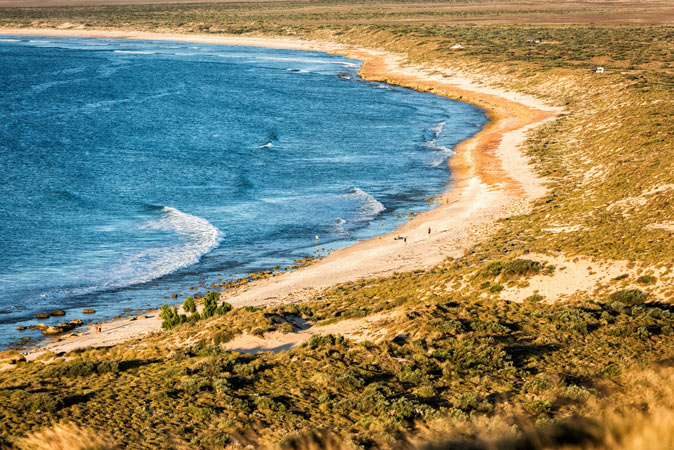 Western Coastline: Exmouth 

Town
Exmouth has many  beautiful white sand  beaches, crystal clear indian ocean,  dive sites, snorkel trails, fishing spots, whale sharks, turtles, manta rays and humpbacks whales
        Exmouth is the must see destination on western coastline for diving and snorkeling enthusiasts.  Located right on Ningaloo, the largest fringing reef in all of Australia, Exmouth offers divers with a number of excellent dive sites where they can enjoy all sorts of marine life.  Located on the eastern side of Western Australia's Northwest Cape, Exmouth is a two and a half hour flight, or fifteen-hour drive, from Perth.
 At Exmouth, the rugged forges of Cape Range National Park meet the pristine white beaches, clear blue water, and vibrant reefs of the Ningaloo Marine Park.  From Exmouth, visitors can take a glass-bottom boat tour over the reef, or experience the reef from a kayak.  Beach, reef, or game fishing are also popular activities in Exmouth, with both shoreline fishing spots as well as charters available.
 The Vlaming Head Lighthouse offers stunning views over the Indian Ocean and is particularly beautiful during the sunset.  Between June and November, guests can swim alongside rays.  Even with all these other activities, the two primary draws to the Exmouth area are the Ningaloo Marine Park and the Cape Range National Park.