Last updated on November 6th, 2018 at 02:28 pm
Visit Sri lanka now,  Sri Lanka is blessed with a huge variety of fruit such as bananas, mangoes, pineapples, cashew apples etc. They produce their seasonal output for people to enjoy their taste and obtain other benefits.
The juicy succulent bite of such fruit pleases your palate, quenches your thirst, satisfies your hunger and satisfies your nutritional requirements while blessing you with their medicinal properties.
They are full of vitamins especially vitamin C and are recommended by doctors for various ailments. So any visitor to Sri Lanka stands a chance to enjoy these benefits.
If you are a visitor in Sri Lanka you will be able to consume our fruits and feel greatly satisfied having had a bite of juicy succulent fruit like pineapple or mangoes.
The tropical warm climate quite naturally makes you feel thirsty while holidaying here in Sri Lanka. Juice or fruit nectar will definitely help quench your thirst. The taste appeals to your palate, the sweet fragrance to your nose and its juicy state to your mouth.
The specified carousel id does not exist.
Visit Sri Lanka – Rambutans – Sexiest Fruit Ever!
Rambutan is not a traditional fruit. It is a little similar to the strawberry fruit. It is successfully grown in Gampaha and Colombo Districts.'Malawana' , which is located in the 'Kelani' river valley is well known for its rambutan orchards. Srilankan rambutans are seasonal.
If you guys come to our island paradise from July to August you can enjoy this fruit with an outer covering of hair which is sexy!. The varieties we possess are Malaysian special which is orange-red in colour and 'Malaysian yellow' which is, of course, yellow in colour.
During the harvesting season, rambutan sellers and rambutan stalls are a pleasant eye-catching sight for tourists not only because the colour of this hairy fruit is attractive but also because the vendors shout out loudly in Sinhalese "Malvane pani rambutan" which means sweet juicy rambutan from the orchards or Malvana. Well, mainly tourists do not forget to go to Malvana to feast their eyes on the beauty of this fruit in trees.
As I usually do, I would like to share with you its nutritional properties. In fact, it contains energy, proteins, fat, carbohydrates, calcium, phosphorus, Iron and Vitamin C.Interestingly, it is not only pleasing to the eye, juicy and delicious to your pallet but also health-giving as well.
When in this amazing island of ours 'rambutan' is something you never want to miss out on. As a traveller, you might live to regret it!
---
Best Sri Lankan Tours with A and The Driver. 10% Discounts Available With Traveller Hints. Message on  Viber or WhatsApp.
---
Visit Sri Lanka: Pineapple – A Yellow Fruit!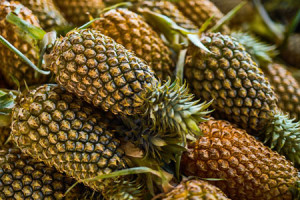 This tropical fruit which gives a juicy, succulent bite at each interval bears balancing, sweet, tangy flavours. At the sight of this fruit when ripe, attracted by its sight and fragrance, you will exclaim wow what good is this!
It grows well in Colombo, Moneragala and Galle. The season of availability is from March to June. It is can be found all year round, though. Both the local and foreign demand for pineapples is high.
It is a fruit popular among various visitors to our island SriLanka. It is eaten as a snack, a  dessert or otherwise. Being juicy it also quenches your thirst caused by the tropical climate here in Srilanka. It is also eaten with rice and curry as a fruit itself or as a salad.
Pineapples can be made into a drink instantly. Pineapple juice is well liked by many tourists both local and foreign. The value-added products are jams, cordials, and syrups.
Quite naturally you would want to know its health benefits. yes, It is a rich source of Vitamin A, C, B6 and B12. Interestingly enough it is a rich source of carbohydrates and sugar as well. It contains dietary fibre too.
In Sri Lanka 'Navala' is famous for pineapples and there is also a Sinhalese saying "Navala annasi rasai" which simply means 'pineapples of Navala are delicious'.So why don't you find it out for yourself!
Visit Sri Lanka for the Best – Breadfruit – A Substitute for the Main Course!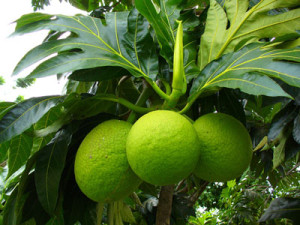 Let me elaborate on one of the most health-giving foods grown in Sri Lanka. It is nonother than breadfruit.It is known to have come to our paradise island from abroad but now it is grown in most parts of SriLanka really well.
This is a tree of the mulberry family which has its home in the south pacific. Why is it important to us Sri Lankans? In fact, 100g of breadfruit contains 103 calories.
It is rich in starch which in turn transforms itself into sugar when it is very ripe. It can be eaten roasted, baked, fried or boiled. Boiled? How? You may want to know. Yeah in coconut cream with our own spices that are handed down through tradition. Yes, they are our own ways – Sri Lankan cuisine, you may say.
Why should you know and enjoy this marvellous fruit? They are the health benefits that should entice you. Breadfruit is a rich source of carbohydrates.
If you call it a rich source of antioxidants calcium, carotenoids, copper and dietary fibre you would be speaking nothing but the amazing truth! Not only that,  the fruit itself is a rich source of energy and vitamin A and C.  
What a rich source of nutrition this fruit is! Amazing isn't it? Well, try it for yourself I would honestly and truly say.
Special in Sri Lanka, Jackfruit – The Juicy Giant!
The Jak tree is a versatile tree and it grows mostly in the wet zone of the island. However, it is also scattered in the dry and immediate zones. In fact, why should we give a place for our pallet for its fruit?
Jakfruit becomes available from March-May and November. It is also available in January. You see nothing but an amazingly pleasant sight when you find yourself right in front of a Jak tree with a heavy load of fruit.
The fruit grows on the branches and the trunk. One may marvel at the wonder of its being able to hang a heavy fruit on the branches and the trunk.
But you guys should know why this fruit would attract your attention. jak fruit is eaten at various stages. The tender Jak known as 'polos' in Sinhalese is made into a delicious curry. It is highly nutritious and given to nursing mothers to increase lactation.
Mature Jak is also made into a curry known as ' kiri kos'. It is cooked in coconut cream. Ripe Jak is of two kinds: 'vala' and 'varaka'. It is known for its fragrance and mouth watering juicy, succulent taste.
We Sri Lankans would have a big Jackfruit, sit around and enjoy the fruit carefully pulling out the edible ripe fruit with the help of coconut oil so that the sticky gum would not remain in our hands. Not only Sri Lankans but also foreigners enjoy the taste of this wonderful fruit. Jak seeds, when fried are a delicacy.
Medicinal values? Of course! It is a rich source of iron, potassium, and energy. It is known to be useful in blood disorder and ripe fruit is also a rich source of carotene. Make sure you will try this fruit too if you ever pay a visit.
Visit Sri Lanka Now – Star Fruit

–

Juicy Melon!
This is yet another wonderful fruit. The whole fruit can be eaten. Yes, you can! Why is it called Star fruit? When horizontally cut into slices to get a cross selection it is like a star.
It is native to many countries and ours is also one. It is juicy, crunchy and succulent and can be found in most parts of our island paradise.
There, of course, are two varieties of them. They are the sour type and the sweet type. When it is not mature it is green in colour. It is dark yellow when it is ripe, though.
Well….What are its health-giving properties?it contains fibres, helps you lose weight, supports the digestive system helps your blood sugar level, is good for blood pressure fights infections and helps you sleep better.
Now let me tell you guys, of its nutritional value. It is rich in carbohydrates, fat, proteins, vitamin A and minerals. What a creation!What a fruit!
When I was in the UK I worked for a restaurant and I was amazed to find out star fruit served with the salad at high prices. I learnt its worth then.
You don't want to forget to taste this watery fruit if you ever visit this island.
Anoda – Cancer fighter! ( Sour So)
This is an evergreen tree bearing a miraculous fruit. Though it is not native to Sri Lanka it grows well in most parts of the island. Ripe 'Anoda' contains a pleasant white pulp that can be eaten and has seeds that do not digest.
This white pulp is eaten as it is or made into a nourishing drink which soothes your whole self. It is available in the local market and there is a considerable demand for this fruit.
Being rich in energy, carbohydrates, sugar, dietary fibre, fat and protein it is well liked by many, both locals and foreigners. It is a rich source of vitamin B, C and minerals. Native doctors use it for hair lice, fever, wounds, cough, constipation, hypertension and diarrhoea. Although not known by many it is a remedy for cancer too !!
So no doubt that this is, of course, a divine fruit that mother nature has given us. Its health benefits are unique. As unique as unique can be!
Visit Sri Lanka and Try Sapodilla – Oval Berry.
It is an evergreen fruit bearing tree and it is a commercial crop in Sri Lanka. It, of course, is a berry which has a round or oval shape. This fruit is popular like mangoes, bananas, and jackfruits.
It has a soft pulp which can be digested easily. Sugars like fructose and sucrose content in its juicy pulp. It is adorned with a slightly musky flavour and has a smooth or grainy texture.
Also, it has a seed that is not edible. One should enjoy it alone without accompaniment to experience its unique flavour. However, it must be washed with cold water before eating as it has a sandy scruff.
Why should it be tried? Is it only for its sweet and unique flavour? This is a high-calorie fruit which has dietary fibres. It is a laxative and it is recommended for constipation.
It also protects us from cancer-causing toxins. In fact, it is a rich antioxidant and gives anti-inflammatory effects. Being rich in vitamin C and A and minerals like copper, iron and potassium it enjoys a high place among Sri Lankan fruits. It really is a nice Sri Lankan berry worth trying!
Guava –  A Guava a Day keeps the Wrinkles Away!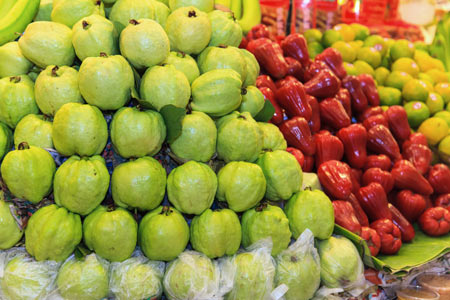 This is yet another tropical fruit that can be found almost anywhere in Sri Lanka. The fruit is like pears with the round or oval shape. There are several local varieties but 'kilogram guava' is the most popular and vastly cultivated variety.
During its harvesting season, they are marketed in the local market profusely. Both locals and foreign visitors go for it because this green fruit is tinged with the sweet aroma.
Kilo guava is a popular fruit when it is sliced and eaten with some salt and pepper. Interestingly, it can be eaten as a snack or as a dessert after meals and well liked to go with your alcoholic drinks too.
As it is known to be full of vitamin C and A it is never detested by anyone who is after nutrition. It is highly profuse with dietary fibre and minerals. Not only that it reduces blood pressure and has antioxidants for skin.
Plus, it is a traditional treatment against diabetes which is a nagging worry for most people nowadays. When your time is spent here on this island, do not forget to have a bite!
Visit Sri Lanka and Try Mangosteen – Queen of Fruits!
This is an evergreen tree which is big in size and bears this amazing fruit.'Kaluthara' in Sri Lanka is famous for mangosteens .The mangosteen seasons last till September. In fact, they are available from May to July and from July to September.
During the season, they are marketed in Colombo and most parts of Sri Lanka.
The sweet fruit inside this mangosteen fruit is very juicy and has a sweet-sour taste. It is liked not only by the locals but also by visitors to Sri Lanka . Its nutritional values are outstanding. In fact, it is known to be a fruit which is rich in carbohydrates, calcium, vitamin C and B.
What are the medicinal values of this tropical fruit? Good for diabetes! !They say so. Well, it really is a genuine fact. I am not merely trying to entice you to this fruit.
Visit Sri Lanka and Try Butter Fruit – Absolute Protein! (Tropical Avocado)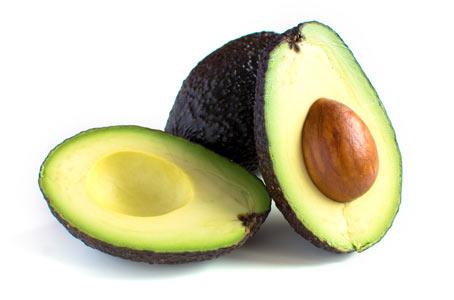 This, of course, is botanically a large berry with a single seed inside. Though believed to have originated in Mexico we have these trees in abundance in our home gardens.
In Sri Lanka, they are grown in the wet zone . There is not any clear historical evidence about its introduction to Sri Lanka. however many believe it to have been introduced during the Dutch occupation.
There is one unique quality in butterfruits. it does not ripe until it is harvested. It is eaten with salads or as a dessert.
When made into a drink with milk and sugar or water and vanilla ice cream there could be no other fruit drink that could beat it! Visitors to our island paradise enjoy this sweet, healthy drink for refreshment as well as for its healthy nutrients.
Being the fruit ever to contain the highest protein content it is a nice substitute for meat. Are you a vegetarian or concerned about slowly getting rid of meat but still want to get a lot of protein? well, then this is a fruit that you must look into!
Of course, there was a  misbelief that it was unhealthy as it contains a lot of fat.but not it has been proved that it helps control heart diseases.
Furthermore, it contains carbohydrate, minerals, fibre and vitamins C , A and E.Its dietary fibers help lower blood cholesterol levels . See..What else do you need other than health?
Do not leave this island without giving yourself the chance of experiencing a juice of butter fruit and take some home if you would!
Visit Sri Lanka and try: Rose apple – 'Jambu'
This fruit tree grows well in most parts of Sri Lanka. It bears a juicy crunchy fruit and it is not like apple, but like guava. Basically, they are grown in our home gardens.
When it bears fruit it is an eye-catching pleasing sight . The fruit grows in beautiful bunches and some visitors do not hesitate to videotape or photograph them.
It is a fiber-rich fruit and is slightly sour . Its waterness quenches your thirst.
During the fruit-bearing season, you can see this fruit not only in the trees but around the ground of the tree like a red carpet. In fact, a lot of fruit is wasted this way when they are abundant.
Many visitors to Sri Lanka love this fruit. It contains many nutrients including carbohydrates and vitamin A and C. Being high in carotene it is best loved by ladies.
It is anti cancerous and has anti-seizure elements. It is known for its ability to control blood sugar levels. As it helps digestion it is recommended by doctors. Its vitamin A and C act as a powerful antioxidant. Also, it is good for losing weight and also controls cholesterol levels . There is no other natural protection from cold than this. It really increases immunity.
Do you want any more reason to try it once you are in our island paradise. Give it a try!
Visit Sri Lanka and try: Green Orange – Brother of Lime !
In Sri Lanka 'bibile'  is famous for green oranges. They are grown in most parts of the country too. The fruit is green in color and even when it is ripe it is green.
During the season, green orange trees are a beautiful sight to visitors. Along with its leaves, a tree would look like it is having  little green bulbs all over it. There is quite a demand in the local market for green oranges.
It is mainly used to make orange juice as a health-giving drink. Visitors to this island, Sri Lanka do not want to miss a glass of green orange juice especially when it is hot and thirsty.
It is rich in energy and vitamin C.It supports our immunity and if you have green oranges In your diet it will reduce the risk of bowel cancer also known as colon cancer.
So if you ever will be offered a glass of chilled green orange juice by our hospitable hosts do not think twice! Just grab it and have your thirst quenched. You can also take the fruit, peel it off and taste it with relish while travelling. You will love its sour sweet taste that will make your taste buds quiver!
Visit Sri Lanka and Try Sugar apple –Creamy sugary fruit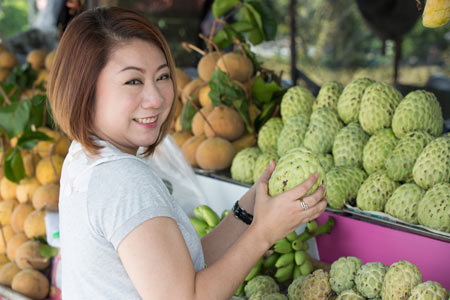 This fruit tree grows well in most parts of Sri Lanka. It is not endemic to this island. It is not endemic to Sri Lanka and the Spanish is believed to have brought it to Asia. It has a round fruit which weighs about 100-240g.
It has knobby segments inside and it's over covering is divided into segments and once ripe the segments open up the inside of the fruit inside emanating its sweet aroma.
It is fresh fragrant and sweet like sugar. Its white creamy fruit is really sweet and it has black seeds which are not edible.
It has a high demand in the local market. With the expansion of tourism, it is high in demand from tourist hotels were local fruits are promoted as an extra attraction to the visitors to our island paradise.
Like any other Sri Lankan fruit, it is rich with carbohydrates, fats, proteins, vitamins such as B1 and C.Also it is a rich source of minerals.
It is known to contain antioxidants like vitamin C which is really beneficial to our health. Not only that, but it also protects you from heart disease and controls your blood pressure.
This sweet taste to your pallet and good health to your body makes you want to eat another one once you find yourself tasting one!
Visit Sri Lanka Now: Amla Ordinary  and Phyllanthus Emblica  – 'Behet Nelli'
This is a medicinal plant bearing a round green fruit. It is known to be grown in most parts of Sri Lanka. The fruit has a sour bitter, astringent taste and it is a rich source of fibers.
During its fruit season, the branches of the trees are laden heavily with the fruit with  a great many numbers. Interestingly it is worth feasting your eyes with the sight of this fruit.
Doctors say that having a few of these fruits is bound to make you healthy and beautiful. So all belles visiting our island paradise might as well go for it! Yes, it is said to be full of nutritious value.
You can get natural vitamin C from it more than any other fruit. It is a powerful antioxidant and is good for controlling common cold and cancer is not a fib.
It is a great truth but you have to drink it daily, yes daily. It has been proved that it could control gastritis.
This nutritional fruit contains seventeen vitamins and it can do justice to your blood sugar level. That is to say, it is a good medicine  for diabetes.
If you have headaches or other head related illnesses go for it. It has its medicinal properties and can cure gum and tooth diseases. Also, it controls dandruff and increases the growth of hair.
Sounds amazing doesn't it? Once you are here look for it, ask for it and experience its benefits. You can consume it as a fruit juice, salad or sambal. Also, do not forget to buy a 'nelli cordial' for someone on returning this island.
Visit Sri Lanka and try: Cacao –  'Goddess of love'
Cacao is said to have originated in the Amazon basin. It grows well in Sri Lanka but out of several varieties in the world, Sri Lanka grows criollo variety mostly. This variety is said to have a fine flavour. However , most of the cacao varieties are crossers.
As the fruit of this tree ripes , the hard inside is collected and many products which are really appealing to our palet and pleasing to our sense of smell are produced.
The products are cocoa butter, cocoa liquor, cocoa powder and cocoa cake. In addition, cocoa ice-cream, bakery products and numerous kinds of  sweet beverages are made out of this tropical fruit.
Cocoa butter is said to be a good remedy for burns, cough, dry lip, malaria, snake bites and wounds.
It is good for your heart and possesses good antioxidants. It is not only an anti-depressant but also a mood elevating agent which has proven properties giving you a long life.
It has an earthy smell and heightens the experience of love making. Wow! Great! yes , Visit Sri Lanka!
So try our cacao related products in Sri Lanka and experience our contribution to cacao related productions in the world. Well, it heightens the amorous rites. Food of venus –goddess of love, here on our island, Visit Sri Lanka Now!
Sri Lanka one of the most beautiful travel destination in the world; Visit Sri Lanka Now sooner or later 
Visit Sri Lanka Written By Neil Costa, Sri Lanka 
More Travel Blogs Here