Adams Peak Sri Lanka is one of the most popular climbing hills among locals. Also, many foreign travelers are climbing the rock. By the way, locals calling and named the mountain as Sri Prada. 
Well, this famous tourist attraction located in a beautiful area of the southern Hill Country. And this lofty peak has sparked the imagination for centuries and been a focus for pilgrimage for more than 1000 years.
Sri Lankan Sinhalese Buddhists believe that mark top of the rock is a footprint of the Budha. However, there no proper scientific evidence to prove it. After all, we don't know for sure who right or wrong. Nonetheless, it has made the mountain a site of pilgrimage for hundreds of years.
Why Do Buddhists Believe It In Sri Lanka?
The mark top of the hill referred to as "Sri Prada" or sacred footprint of Buddha. Buddhists believe the footprint is Buddha's, which was left before his journey to paradise of Sri Lanka. Also, Christian followers think this is where Adam first stepped after he was cast away from heaven. After all, Islamic religion even believing it belongs to them. Well, there is also another belief that the footprint was left by St. Thomas, an early apostle to India. Furthermore, Hindu's believe the mark belongs to Lord Shiva.
Travel Expectation
Especially when we are living in modern society. And sharing the diversity of this world. Unlikely local, you can enjoy great views and fabulous hiking all the way up to the hills.  
Best Season to Walk-Up to Adams Peak
The best time to climb Adams Peak from January to March the most popular times of hike. But the December to May can be the best.  
It would be best not to visit between May and October (the mountain can be blanketed by the cloud cover). Also, rain and bad weather occurred.  
COLOMBO TO KANDY TRAVEL BY TRAIN IN SRI LANKA – THE BEGINNING OF THE BEST NATURE JOURNEY!
Adams Peak – Basics Climbing Information  
Closest climbing pints ( Most Popular) – Dalhousie, Nallathanniya is a village in Nuwara Eliya District in Central Sri Lanka. 
Second closest Climbing Point – Some climb from Ratnapura Town, the track little tricky and longer. Some people calmed it much more beautiful.
Difficulty: 

Easy-Moderate and windy

 Elevation: 

2,243m (7,359 ft) at the peak. Gain nearly 1,000 meters (3,280ft)

Time Commitment:

 5-8 hours. It depends on the individual

Cost:

 None

Altitude Sickness:

 Not a concern ( Nothing has reported)

Bathrooms? 

 Yes, it is available every 20 to 30 mins all the way up to the summit. Well, Don't you expect much more than organic toilets. It and they will be disgusting – what do you expect top of a hill in 

Sri Lanka

?
Adams Peak Accommodations Availability 
Many accommodation options are available on Booking.com and HotelsCombined. By the way, Home type low costs choices also available.
How to Get There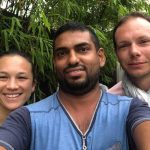 Leel well experience driver in Sri Lanka you to have safe travel around the Island.
As we know, Sri Lanka is home to many new highways now. If you travel from International Airport to Adams Peak? I don't think that anyone will go directly from Negombo to Adams Peak. By the way, Make it on your way to other attractions. So, the best option is Travel by trains or a personal car with a driver. Firstly, keep an eye on closes town to climb the Adams Peak below.
Hatton 

Ratnapura 

Balangoda 
More Travel Blogs Here