Last updated on November 23rd, 2019 at 12:22 am
Yala National Park is the best place to see Leopards in the world
Also known as Ruhunu Park, this is Sri Lanka's second-largest and most visited national park located in the south-eastern region of the country in both the Uva and Southern Provinces, right next to the Indian Ocean.
The national park consists of five blocks or quadrants, two of which are currently open for visitation (the western block or block one has the highest concentration of leopards in the world) and also has adjoining features to the main park.
The park covers nearly 1,000 square kilometers or close to 400 square miles of land consisting of grasslands, scrubs, forests, lagoons, and tanks.
The tanks are utilized as a vital hydration resource for the wildlife during the dry season but actually, date to the ancient days of the Sri Lankan Kings (there are also restored Temples that offer a glimpse into the ancient monastic civilization of Sithulpawwa).
Yala National Park has designated a sanctuary around 1900 and a national park around 1940, but also served as a hunting ground for the British Elite.
It is a good thing those hunting days are forlorn because the park is now home to 44 different mammals and over 215 bird species.
Most notably, the park is home to Panthera Pardus Kotiya, a one of a kind leopard endemic to the south of Sri Lanka. The park's wildlife also survived the disastrous tsunami in 2004, with no recorded deaths of any of the animals.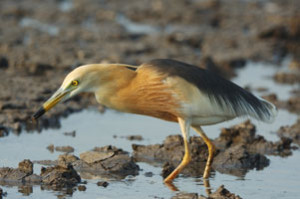 Tragically, the vicious tsunami did claim the lives of over 250 people in and around the park's vicinity.
A memorial has been constructed at the Patanangala site and is open for visitation.
The Yala National Park is a sight to behold and attracts thousands of tourists a year. With that being said, make sure you are booking tickets and/or tours with the park directly or a credible agency beforehand.
Local businesses in and around the park have been known to charge extortionate prices to the unknowing tourist.