Last updated on November 15th, 2018 at 01:33 am
The East coast is predominantly Tamil and Muslim, while the West is predominantly Sinhalese; the East has seen decades of war devastating local business and infrastructure, while the West has remained relatively unscathed; the West is a thriving tourist hub, while the East is a lot more rugged and unkempt.
With the times of conflict behind them, local populations in the East are now at a crossroads; should they develop more heavily like the West, boosting local economies and tourist sectors, or remain the more dishevelled, natural beauty?
One would like to think there would be a merry balance between the two, but that is often not the case. With that being said, get to the East Coast!
The coastline and powdery beaches seem endless, with unique local communities and villages offering wonderful foods and housing (there are a number of resort locations as well). Below are some recommendations of interest.
East Coast Mullaitivu: 
  Situated on the north-eastern coast, Mullaitivu offers a 'darker' tourist trip. With many of the shadows still lingering from the civil war, a war museum has been built to try to capture the demons of the past.
Best Nilaveli  Beaches in Sri Lanka
South on the coast and about half an hour north of Trincomalee is the white sandy beach and resort town of Nilaveli. This is known to be one of the nicest beaches and just off the coast from Nilaveli is the Pigeon Island National Park, with gorgeous coral reefs making it a great spot for diving.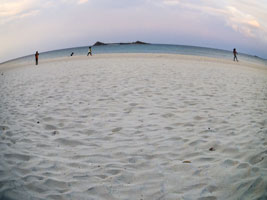 East Coast Trincomalee:
Or commonly referred to as Trinco, is built on a famous natural harbour making it a strategic point and sadly enough, a magnet for conflict.
The city is saturated with military, religious and cultural history. Makes for a perfect day trip in-between some of the beach and water activities.
Trinco has two well-known temples, the Koneswaram Temple and the Bhadrakali Amman Temple, in addition to Fort Fredrick (this is an old Dutch fort located on the peninsula east of the city centre). Uppaveli beach is really quite nice and less than 10 km north of the city.
Pasikudah Beach Town in Sri Lanka 
 A popular tourist and beach town with a shallow coral reef, attracting an array of exotic fish. The shallow waters make it great for snorkelling.
Arugam Bay Popular Surfing in Sri Lanka 
 This is the perfect place for surfers. Has been a mecca for international tourism for quite some time.
Arugam Bay is also close to the gorgeous Kumana National Park, making this a great spot for the many lagoons and outdoor beauty. Enjoy one of the wonderful

safaris in East Coast of Sri Lanka.
More Travel Blogs Here