Philippines Beaches Info Guide 
Stunning Philippines Beaches paradise wonder Islands. The Philippines is made up of thousands of islands (only 2000 are inhabited), each one offering a rich biodiversity ranging from subtropical to tropical rain forests such as mangroves, and coral reefs to mountain ranges and world-class white sand Philippines beaches, what comes to tourists mind Philippines Beaches.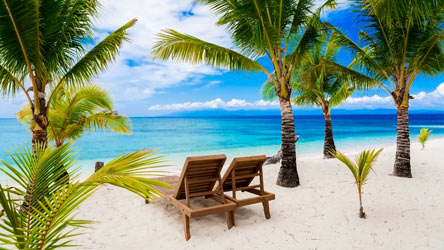 Philippines Beaches

– Burot Beach: Once you experience everything that you can do in this beach, you will surely wish that you have more time to spend and decided to go back there someday, soon.
Looking for a getaway place in a boring weekend? For a lower budget needed? Then go to Philippines Beaches "Burot Beach", this beach is located at Calatagan, Batangas, this place is nice and has a cheap entrance fee that only cost Php 135.00 per person.
If you want to relax and enjoy, Burot Beach is one of the destinations that you may go. It is recommended to bring your own food supplies and tends to have low expenses.
You can have the chance to have this place, alone, because it is not so crowded. And just a few hours away from Manila.
To get there, ride a bus going to Calatagan with a fare of Php 290.00 and ride the tricycle with Php 60.00 per head going to the beach.
When you reach the place, you can go swimming, island hopping, snorkelling, enjoy the view, the sunset and the sand.
Why Philippines Beaches Early is so popular?   in the morning, you can't hear a sound of waves because the water was so calm, clear and the white sand is so fine. The seashore and the trees all over are well kept because it is privately owned.  
But, always be alert for the seaweeds and sea urchins. If you are seeking natural beauty, peace and tranquillity of Philippines Beaches, you will enjoy and appreciate Burot beach.
One of the favourite parts of the beach is on the east side where the rock formations can be seen,  you will find the pile of rocks with small trees on the west side.
This is the perfect spot to see some memorable and remarkable sunset that you will see because Batangas is facing west.
You can spend Php 700.00 – 1000.00 to enjoy your weekend, the food, expenses like fares, fees on the beach are all in that budget.
If you want to have a day tour it will cost you Php 70.00 only and Php 135.00 for an overnight tour and there is no need to worry if you have your own private car because the parking area is free. And if you are a commuter, be sure to have the mobile number of a tricycle driver or ask them to fetch you.
Even Burot beach is still an undeveloped beach, no resorts, hotels or other commercial accommodations, this place is relaxing because it is still unknown to many people so that you can have a peaceful stay.
A little reminder for you, if you forgot your tents, there are tents available for rent for Php 300.00, either you stay one day or overnight.
Overall, make that boring weekend of yours into a memorable and exciting adventure and have a quick getaway from reality. Have a great weekend everyone! Don't forget to have a visit on Burot Beach.
Popular Philippines Beaches: Puraran Beach – Gifted with natural scenic beauty, with its crystal clear water, islets to explore, barreling waves perfect for surfing and a long and white sandy beach.
It is at Puraran, Baras, Catanduanes, Philippines. Every year, in the month of September to October Puraran Beach, becomes Puraran Surf Camp. It hosts advanced surfers into a serious seeker of strokes,  with its powerful and majestic barreling waves many people come to see and surf.
But, most people think that this place is just for surfing experts, in fact, it is one of the best places to visit to learn how to surf, from beginners to becoming experts.
Although its main activity is to teach surfing, it is also a family resort, where the guests are all treated as a family with its services offered whether you are a solo backpacker, a group of family, honeymooners or friends on vacation.
There are native nipa huts, good ventilation, clean bathrooms, convenient and comfortable beds so expect a pleasant stay at an affordable price.
The nipa huts that was mentioned above are the Christine Cottage, with triple occupancy, tv with cable, and bathroom for only Php 1,200.00 per night, Marielle Cottage, quadruple occupancy for Php 1,000.00, Jian Cottage, Shandella Cottage, Cedric Cottage, James Cottage, and more at a lower price.
There are also Bars and Restaurants when you want fresh seafood grilled and ice cold beer or any drinks like fruit shakes and cocktails to your satisfaction.
In the month of November to February, surfing is not advisable, but there is another option, the Windsurfing. And there is a secret to enjoy your trekking, to get the best view, climb up to Boracay Point for an hour, where the scenic masterpiece of Puraran's shoreline varies the dark shape and outline of pristine paradise islands.
Perfect for picnics, meditation and taking pictures. If you want a pool of clear and fresh water, take the Waterfalls Tour. In just 30 minutes away from the camp, you will be able to reach the Maribina Falls, a perfect place to unwind. You can also do Snorkeling, where you can clearly see the marine life and virgin coral formations.
For other tours ask the receptionists for assistance to the antique Bato Church, Twin Rock Resort and PAGASA Weather Radar Station. A little history about the Puraran Beach, a long time ago, Folk legend tells that this quiet little fishing village is surrounded by trees called Pura, a Red Lawaan Tree.
The people started calling this place as "Kapuraan" where it means that this place is surrounded by Pura Trees. And later when the Spaniards came it became Puraran.
You can reach this place by land, travelling from air-conditioned and ordinary buses that travel daily from Manila to Tabaco for 10 hours and by sea, with its ferryboats for 3 hours to reach the island.
By air, Cebu Pacific Air has Virac flights available on Mondays, Wednesday, Friday and Sundays only and have a ride on jeepneys and vans stationed at the Virac Pier bound for Baras, this will take you 30-45 minutes of travel. Book a flight now and experience the joy it will give you.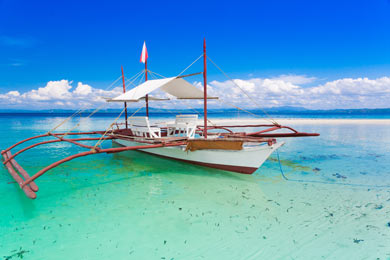 Philippines Beaches: 'Tiamban Beach, Romblon' 
The Beach is in Tiamban, Barangay Lonos, Romblon Philippines. Only 15 minutes away from Romblon Town Proper.
A privately owned white sandy beach has simple facilities and affordable entrance fee. You don't even have to worry about the cleanliness of the place because it is daily cleaned by their staffs.
A nice place to go if you want to escape the busy and wild city. The beach is so calm and clean which is good for swimming even making it ideal for babies.
For only Php 40.00 entrance fee which is paid on the official entrance of the beach. It is nice to gather your family or friends because it is not so crowded, only the local people are there. The water is great and the surroundings are absolutely awesome and simple.
With a rate of Php 650.00 for an overnight stay, the resort has two available rooms and the cottages for day trips. Romblon was the Marble Capital of the Philippines, that's why even in the resort there are marble businesses that make vases, sculpture and other products, which is a perfect souvenir.
The number of marbles that are mined in the mountains is not depleting, they say that it multiplies.  Visiting the Sto.
Nino and hearing the Sunday Mass at St. Joseph Cathedral was also nice, some say that you will feel an affinity to the Sto. Nino.
No matter how difficult the journey is, it is worth it because once you get there you will experience and see all the things that are mentioned above, amazing sights and meet a lot of friendly locals. To get there, you will need to take a bus ride from Manila to Batangas Port for two to three hours.
The fare is only Php 30.00 per person. Take a RORO or either M/V Grand Unity. So enjoy, unwind and experience the beauty of this beach.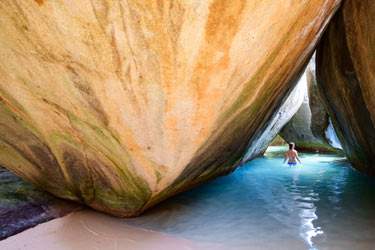 Philippines Beaches – Maniwaya Island, Marinduque: The island beholds the perfect white to golden sand that can exhilarate your spree.
If you want to spend your weekend or holiday peacefully, you can include Maniwaya Island in Marinduque as one of your itineraries.
You can reach the spectacular island via public transportation (RORO). It will take you three hours and twenty minutes bus ride from Manila to Lucena City, Quezon province. You can catch a ferry in Daliharan Port going to Marinduque.
There are two major shipping lines that can take you to the province of Marinduque, the Starhorse and Montenegro.
The ferry schedule is as follow:  2 am, 4 am, 10 am and the last trip is at  4 pm. You will be traversing for three hours from Daliharan Port to Balanacan Ports Marinduque.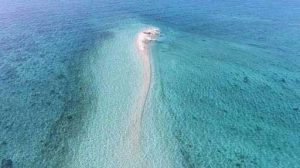 You can ride a jeepney or hire a tricycle from Balanacan to Santa Cruz where the   Buyabod port is located.
A boat ride from Buyabod to the beautiful, fish-shaped island of Maniwaya. The place will welcome you with the lush of mangroves as you sail towards the island. The place has unspoiled beaches that are truly captivating.
The people are very hospitable and the foods are sumptuous and very affordable. There are many resorts in the island.
If you wanted to stay in a resort where you can stay in a bamboo hut and rooms then Wawie's beach Resort and Palo Maria beach resort is perfect.
They also allowed tourist to camp out and offer a tent to rent to enjoy the sea breeze at night. If you desire to stay in on the island with a little taste of luxury, the Marikit- a Beach resort is the ideal place. It is a villa which is not costly.
A perfect destination for a group since the place is large enough to accommodate all. It is located on the other side of the island.
The place is regarded as one of the rising tourist destinations which have unspoiled beaches. The sandbars that appear during low tides will captivate your soul.
The sandbar is a picture perfect for those who like taking pictures which are 50 meters long during a full low tide.
The water is crystal blue clear and the calmness and peacefulness of the sea will bring you at ease from the noise of the city you are living. This is truly a home away from home.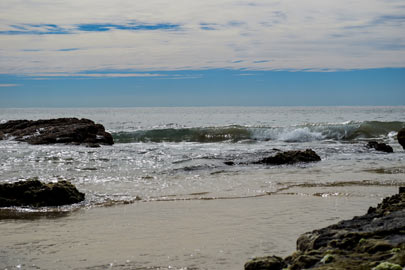 Philippines Beaches: Vulugan Beach, Batanes: 
Valugan which in Ivatan language means east is an ideal place to meditate or if you want to relax and just listen to the sound of the waves as it hit the shore.
The Philippines is known to have thousands of beaches with powdery white sand and a crystal blue water that will invite you to take a plunge every time, however, there are an unusual Philippines Beaches that is very opposite to just ordinary beaches.
The Valugan beach in Batanes is not your ordinary beach. The shore is made up of boulders that have been spewed by the volcano Mt. Iraya.
The boulders look like it has been carefully laid in the shore because it looks perfect.  Although swimming is not allowed because of the huge waves that splash the boulder you will find serenity amidst the raging sound of the waves.  
If you find it very adventurous to trek, well the Valugan beach is a must try. Wearing slippers or flip-flops is not highly recommended so it will be better to bring your hiking shoes.
You can also see the beautiful hillside while you sit on some of the boulders.  You can always find a spot to watch the beautiful sunrise and sunset.
 Batanes is in the north side of the Philippines, so you can reach this province from taking a flight from Ninoy Aquino International airport to Basco, Batanes.
 You can book a flight only with Philippine Airlines ( PAL). Basco is the capital of Batanes and from there you can rent a tricycle to reach the valugan beach.
Overnight staying in Valugan beach is not allowed since there are no hotels or inns in the place. But you don't need to worry because there are a lot of hotels and inns that you can find in Basco. So next time you are up for an adventure, Valugan can be one on your list.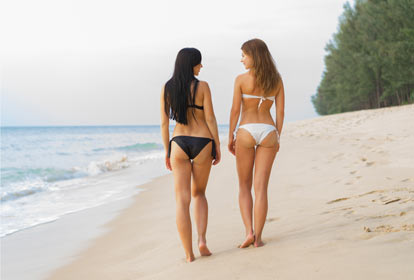 Philippines Beaches: Cagbalete Island, Quezon: 
The island is regarded as the "Boracay of the Pacific" The island is in its perfect location to watch the sunrise and sunset and enjoy its panoramic view.
Cagbalate Island is a perfect weekend getaway that is very accessible. The place is surrounded by vast creamy sandy beach. Getting it is very easy. There are two available routes one is a direct trip from Manila to  Mauban which has a daily trip at 5 am and 12 noon.
The second route is riding a bus from Lucena City bus terminal going to Mauban. From Mauban port, you will have a 45 minutes boat ride.
You can choose to rent a boat or ride the public boat but that loads not only passenger but some stuff as well. The island is secluded so it is advisable for the travellers to buy the things they need while they are still in Mauban.
Upon reaching the island you have to trek to the other side, the East side of the island where a couple of resorts are available to choose from.
Villa Cleofas, The Pansacola Beach resort and the MVT Sto. Nino Resort is the resorts that have been operating for quite long.  
You can either rent a cottage for an overnight stay or rent a tent and enjoy camping. There are activities that you can do on the island such as Snorkelling, skimboarding, kayaking and island tour. They can even instruct you on how to skim board.
If you didn't have the chance to buy food you can ask the locals to cook and you can negotiate the price with them. The menu will be of course fresh seafood like squid and crabs.
Aside from the marvellous mangroves and the rich marine life that Cagbate Island has to offer. There is a sandbar that appears during low tide.
You can seize the moment to take pictures and enjoy the scenery.  So don't forget to include Cagbanate Island on your next trip.
Cibang Cove, Cagayan: The purity of the place is just so stunning as Philippines Beaches
Cibang Cove, located in Calayan Island of Cagayan might be one of the best Philippines beaches in the country that you haven't heard of.
A place like no other, better than commercialized Boracay and Coron. Stunning as it could be, its virgin waters and white fine sand surrounded by beautiful rock formation makes it be the most popular beach in Calayan.
With no resorts available, tourists can still enjoy the place like camping overnight or enjoy the day by staying on huts that are made from light materials.
You can pamper yourself under the heat of the sun and enjoy every moment wandering around the beach with your families and friends. When looking for a quiet yet extraordinary place, then this is the best destination to be included in your bucket list. It offers tranquillity and exotic sceneries. It thus offers the best place for scuba diving and snorkelling.
Summer from March-May is the best time to visit the island. Travelling to the island can be done by either taking a plane or by bus and getting into one of their ports, such as the San Vicente Port, Aparri Port and Claveria Fish Port. The easiest way is to take the plane from Manila to Tuguegarao or Cauayan (located in Isabela) then hire a van going to the three vessels mentioned.
Or get the Manila to Laoag flight and ride on a bus or hire a van to Claveria which is said to be the nearest airport.
Lampitaw, a motorized pump boat is the easiest way to get to Cibang Cove. From Claveria port, you can hire the Lampitaw from the local tourism office of Calayan or you prefer to get soaked under the heat of the sun and enjoy the moment, then you can just walk all the way to the beach from the port, which will take you for about an hour.
Just go and prepare all the necessary stuff such as the shades, light-coloured tops, malong, caps and most especially, sunblock. Always carry around drinking water for hydration and enough food for the long journey.
Also, gadgets such as tablets and phones should be placed inside plastic like trash bags to protect it from the water especially when travel gets rough. Just go and be ready to clasp the beauty of this undiscovered island.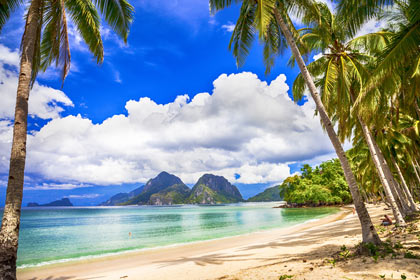 Marilima

Beach, Catanduanes:

 Seductive as it can be, Marilima beach is undoubtedly one of the finest and most charming Philippines beaches in the country.
Located in Virac Catanduanes, Marilima is just one-hour tricycle ride from the Virac town proper. The beach is surrounded by coconut trees with its clear blue sea colour and its pure white sands just perfect for everybody's eyes.
The beauty of the unspoiled crystal clear water is alluring, inviting everyone to take a dip into the water and play around.
Aside from the beach itself, you can take a full view of the majestic Mayon Volcano and Bulusan Volcano most especially on a clear day.
During low tide, the water recedes and you have to walk further to swim. And at high tide, the wave is completely there covering the shore.
This type of Philippines beaches is a perfect getaway to those travellers who want to escape from their busy work schedules and do social media cleansing, for some time.
The best time to visit Catanduanes and hop to Marilima beach is during October where the Catandungan Festival is held every year or during summer times wherein an annual music festival and surf competition are done.
Going to the beach can be done by plane, then land and water transportation. For the land transportation especially when you're in Metro Manila, there are various bus lines available heading to Tabaco.
You can reach the province of Catanduanes via by MV Calista 2, 4 and 5 or MV Eugene Elson that is going to the seaport of San Andres or Virac.
Going around the island can be done by riding on a tricycle. For island hopping, you can opt to hire a "banca" to discover Marilima and other breathtaking beaches.
Places to stay there are as follows: Catanduanes Midtown Inn in San Jose, Kemji Resort and Restaurant in San Isidro Village, Rakdell Inn in San Pedro, Marem Pension House in Sta. Cruz and Rhaj Apartelle and Executive Inn in Rizal Avenue, Gogon.
Marilima and other beaches are also the central places for surfing, which has started to gain popularity to Metropolis.
This place has a lot of its own pride and attractions to flaunt, blissfully unexplored by many. And there is only one thing that won't change, Virac is rich in beautiful places and sceneries that everybody will surely love. Come along, explore and be in awe of its beauty that is beyond unimaginable.
Brother Island, El Nido, Palawan: Its beauty is composed of one-third stone, one-third beach and a kind of wood which is surrounded to protect the island from the bad weather and big waves.
Brother Island is in Sulu Sea, El Nido province, Palawan. There was a house that was built on the island where grandfather Lolo Fermin was the one who made a design with two storeys tall made from a traditional Native style.
The island already includes a very famous place to hang out during the day after a massage and a swim which is a two-floored Beach pavilion.
Many tourists like to stay there because of its very nice ambience, it is free from noise and the natural breeze from the sea at night is quite relaxing. Perfectly suitable for some tourist who needs privacy just like people who is a creative thinker and writer.
Philippines Beaches Paradise: 

There are exciting things to do on the Island such as stargazing by the bonfire, diving, snorkelling and scuba diving. They also have chilling areas in the field of sports at the beach such as tennis court and volleyball court.
They also offer boat riding for rentals going to the Mangrove Forest which is an ideal place for bird watching. During your vacation on the island, there are some lodging and accommodations that you can stay for a few days. It is not too expensive but it can provide you with a better service.
The East brother lighthouse is one of the most preferred places for your vacation. Composed of different types of rooms such as the San Francisco Room with a queen-sized bed. The Marin room which is available only for one night stay.
The walters quarter room has a nautical motif sets and a full-sized bed. Lastly, the Two sisters room and one of the largest room. They provide good facilities and accommodations for a minimum of 3 nights stay during your vacation.
They serve a complete meal plan for the visitors and a 24/7 tea and coffee bar. And also cook Filipino foods which are very healthy and delicious.
How to get this very interesting and amazing Brother Island in Mindanao? You can book a flight to the Cebu Pacific or Philippine Airlines from Metro Manila going to Puerto Princesa Airport then when you arrived you can ride a RoRo Bus going to Puerto Princesa to El Nido Route that cost of 483 PHP per head that last to seven hours and 20 minutes.
from El Nido, you can rent a cab or tricycle going to brother Island. March and December are the best time to visit the place which is the best season in the Philippines.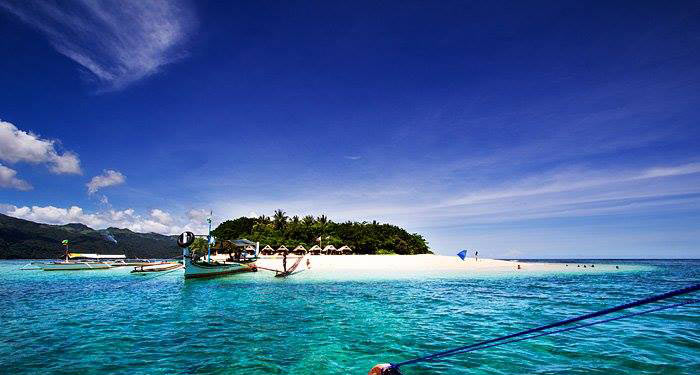 Pristine Philippines Beaches, Aguirangan Islet, Camarines Sur: To describe the island, it is one of the unspoiled beaches in Bicol with no service accommodations available except for cottages and nipa huts.
Aguirangan Island, often called as Rose Islet is located in Presentacion, Camarines Sur in Bicol Region. Planning an escape from your usual busy schedule can be a good idea especially if you want to explore one-of-a-kind places you've never been to.
Aguirangan Island is a perfect haven for anyone who's fond of travelling and exploring the beauty of our nature.  Located in the beach front so it's important to bring a tent especially if you have plans on staying overnight. A comfort room is also available. There is also a caretaker that collects a minimal fee as an entrance fee.
Cottage rentals range from P250.00. This island being uncommercialized and with the limited crowd, you can tell yourselves that the island is all yours.
For beach bums, you can swim, lay or wander around the coastline while enjoying its cream coloured fine sands.
Looking for a certified location to hang out isn't that hard and need not be that far. Aside from the beach itself, you can be lucky to see the beauty of our majestic Mt. Mayon on a sunny clear day.
The sky, the sun, the fine sands, the crystal clear waters, the rocks and even the trees and coconuts are all amazing. And it's also one of the favourite spots for divers in Camarines Sur.
To get there, ride a plane or bus from Manila to Naga Airport. From the airport, take a van going to San Jose, Sabang Port.
The travel time will take about an hour and a half and a maximum of two hours depending on your mode of transportation. From Sabang port to the island, the travel will only take you for about thirty minutes.
There are few reminders to take note especially when you are decided to take the plunge and enjoy the heat of the sun:
Bring your own food as there are no stores available on the island.
No hotels or any sort of accommodations available except for cottages, so it won't hurt to bring a tent and other necessary stuff.
If you're from Metro or outside Bicol then we suggest availing accommodations in Naga City for your comfort.
Then lastly, maintain the cleanliness of the island. Let's keep our nature clean and preserve its beauty and our nature's treasures for our future generations.
Aguirangan Island is an amazing Philippines Beaches paradise that is worth to explore. Let's get soaked and play around the beach. Let's get tanned. And all of these experiences are worthy to be shared to the world about Philippines Beaches.
More Travel Blogs Here