Last updated on January 29th, 2017 at 11:07 am
This is the main town of the Polonnaruwa District located in north-central Sri Lanka. Polonnaruwa served as Sri Lanka's second official capital after Anuradhapura burned down around 990 AD.
And was the second capital of Sri Lanka after the destruction of Anuradhapura in 993 AD, the  city  was first declared the capital of Sri Lanka  by King Vijayabahu I, is an ancient city feels tucked away and hidden inside a dense jungle, which only adds to the mystique of the place.
Polonnaruwa: Miracal Sri lankan Capital
Polonnaruwa's past can still be captured with many old monuments, statues, temples and ruins. Some of the main attraction includes the Royal Place, the Audience Hall, the King's Swimming Pool, the Sacred Quadrangle and the Pabalu Vehera.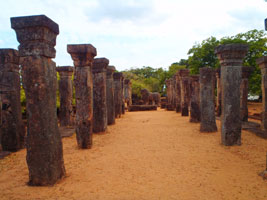 There are also amazing buddha statues and figures carved along the ancient walls. All of these places can be visited, most commonly, by renting a bicycle. Although, it is manageable to site see on foot and there are also tuk-tuks around for hire if your feet get too tired.
Be sure to wear clothing that covers your back, shoulders and stretches below the knees. Polonnaruwa is a must see!