Where is the world End located? It lies encapsulated in the Horton Plains National Park in Sri Lanka. It is an absolutely, completely cliff which has a drop of nearly 4000 ft(1200 meters)
You can treat this place as the most visited location in the National Park. It is also the main attraction for tourists in the Nuwara Eliya District. It is also a known fact that this is one of the most visited places in the country at large.
There is a smaller cliff 1 km away from the main cliff. It has a drop of 1000 feet or 300 meters.
Folks call it the mini world End. On clear days the Indian ocean is clearly observable as it is just 81 km to the south.
The Horton Plains which is the home of World End is a plateau. World End is its spectacular escarpment.
There is a walk to make to get to World's End which is about 4 km. However, the trail then loops back to Baker's fall which is 2 km and it goes back to the entrance.
It is a 9.5 km trip which takes about three hours as you walk leisurely enjoying the beauty of nature.
You really should get there early, for it is normally covered with which must in such a way as to make it obscure. This occurs especially in the rainy season which is between April to September.
What is it that you are able to feast your eyes on at World End. In fact after around 9 a.m. It is a swirling white wall that you can see.
The best time to visit it is between 6 a.m. and 10 a.m. otherwise clouds will roll in. At that time you are also able to see toy-town tea plantation villages in the valley down below.
Not only that but also an unencumbered view south towards the coast. This place is crowded on Sundays and public holidays and it is better to avoid those days.
It is always advisable to get the service of a guide. Usually, a guide charges about Rs. 800/= or so. There are also volunteer guides who also expect you to pay them a similar amount.
You can observe the flora on fauna in this location and some guides are experts on that aspect of its environs.
If you are a solo woman traveller you should hire a guide for safety is what is required for such individuals.
There are two guides with expert knowledge about flora an fauna in this location they are none other than Mr Nimal Herath and Mr Kancel Rajanayaka. They both work as guide/jeep drivers from the Singletree hotel in Nuwara Eliya.
You have to wear strong and comfortable walking shoes, hats and sunglasses. Also, it is better if you bring sun cream, food and water with you. You could have a packed breakfast too with you.
This will be rewarding as you will be able to have alfresco brekkie as soon as you reach World's End.
The weather on the plains around World's End is as changeable as changeable could be. Now it can be sunny and then suddenly it can be really very cloudy, chilly and misty as well. Do arm yourself with a sweater shirt or a jacket to guard yourself against cold weather.
Do keep to the set paths. Walking on different paths would be dangerous as such paths could be slippery. As you can see, you see an absence of safety trails around World's End.
Take a lot of precaution since some deaths have been reported due to fatal accidents in this location.
Do follow the advice of your experienced expert guides. It is very important to remember that if you have small children you should have a firm grip on them as you get closer to the edge of the cliff.
---
Best Sri Lankan Tours with A and The Driver. 10% Discounts Available With Traveller Hints. Message on  Viber or WhatsApp.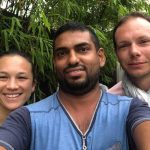 Leel well experience driver in Sri Lanka you to have safe travel around the Island.
---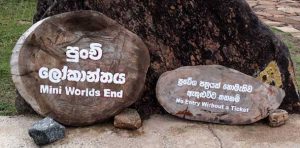 What To See and What to Do?
Well, you can feast your eyes on the flora and fauna. Say you miss the view of World's End due to a thick fog.
Take the 9.5 km circuit through the national park to see animals in plenty. Also, there is a mini world's end and Baker's fall.
Here you have nature in its spotless form, if you are a nature lover your visit will be really rewarding as you can video or take photographs of the plateau clad mists, vegetation other all other breathtakingly spectacular views.
travellers can engage yourself in hiking and while you are there, there are other things to do. There are private day trips to Horton Plains and Pedro Tea Factory from Nuwara Eliya. It will cost you around Rs.9600.
During this 88-hour private day trip, you can get an in-depth look at the attractive landscapes of Sri Lanka's hilly interior. Your excursion will help you explore Horton Plains National Park which is a UNESCO world heritage site.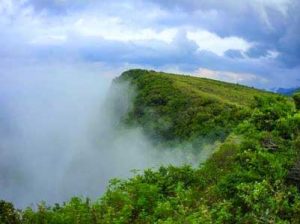 In your hiking, you could engage yourself with your whole being to be in communion with nature. Let me tell you of the experience of hiking to World's End. As you hike along the set path you never think that you will end up with a sudden drop at a great cliff.
You may be unable to see the ground below or maybe you will be hiking into an endless fog. It is so thick that you would not be able to see your feet. As you hike you will be able to see the rich birdlife in Horton Plains.
Also, you can witness the endemic species such as samba deer and leopards before you reach the entrance. Your hiking should be done early morning.
It is better not only because you avoid the hot sun but also because of the view of the World's End is covered with mist after 9.00 a.m.
Before you start the hike you can get the services of the washroom and there is also a place to buy food and drinks.
Your bags should not contain plastic bags. You should always carry your food in paper bags.
The track is well graded and signs posted so that you will not get lost. You walk over several rocks. Most of them are red in colour.
You walk through the trees before you get to the first attraction which is the mini world's end.
Your searching eyes will please you with the surprisingly breathtaking view you behold at this point.
Then you reach the major lookout which you get at after walking through trees. The walk is not strenuous but wearing strong shoes is advisable for the ground is uneven. It takes about half an hour from the mini world's end to the world's end.
Here is a place to take photographs to bring home with you as things memorable in your experience.
Many a visitor turn back at this point. But you can continue along the loop track. You then get to the plains which are out in the open.
In this part of the hike, there is no protection from the sunshine. We advise you to use suncream to be safe from the heat of the sun. You are able to spot lizards lurking in the vegetation and leopards too can be spotted here.
As you come to Baker's fall which is signposted from the main route. It is a small waterfall, its view is enticing, though.
Here you may linger for a short time engaging yourself in taking photographs and giving a break to yourselves.
It is a good hike to this place despite the entrance fees for the foreign travelers. For foreign adults, you may have to pay Rs.2175, for two foreign adults you have to pay Rs.4350. There is also a service charge and VAT charged at 12% of the total. So entrance to Horton Plains where you have world's End cost about Rs.6600 for two foreigners.
There are many hotels in close to World End and you can choose from them in keeping with your needs and tastes.
World's End Lodge, Haputale is one such hotel. It is in Haputale, 12 km from the center.
Credit cards are not needed for booking. Then there is Awinco Rest in Haputale which is 950m from the center..
Olive hilltop hotel, Haputale. It is 2.1 km from the center, credit cards are not needed for booking.
ABC Guest Inn and restaurant, Haputale. It is 900m from the center and no credit cards are required to book.
Silanway Holiday Inn, Haputale. It is 700m from the center and no credit cards are needed for booking.
Lilly Guest Inn, Haputale. It is 2 km away from the center and you can book without a credit card.
Amarasinghe Guest House, Haputale. It is 1.9 km from the center and you can book without credit cards.
White Monkey Dias Rest, Haputale. It is 1.2 km from the center and credit cards are not a necessity to book.
Leisure Mount View Holiday in, Haputale. It is 2.8 km from the center.
Green Valley Holiday resort, Haputale. It is 6 km from the center and not credit cards are needed to book.
hotel Olinka, Haputale. It is 2.5 km from the center and no credit cards are necessary for booking.
Mutu View Resort, Haputale. It is 2.9 km from the center and you do not have to book using credit cards.
Villa vista, Haputale. It is 7 km from the center and credit cards are not needed for booking.
The Mist Holiday Bungalow, Haputale. It is 1.1 km from the center.
Melheim, Haputale. It is 4.5 km from the center.
Search Best Hotels Deals with Hotel Combined 
Thotalagala, Haputale. It is 1.6 km from the centre.
Adisham Village home, Haputale. It is 3.4 km from the centre and credit cards are not needed to book.
Artist Cottage Sri Lanka, Haputale. It is 2.1 km from the centre and no credit cards are needed for booking.
Some other hotels are Grand View Guest House, Pasindu Village, Southview Holiday Resort, Munro, Win Reach Homestay, Queen rest inn.
Farah Guest inn, Amaya View Guest inn, Shangri La Tea Heaven Motel,  New Royal Trip Haputale, Holiday Home, Adisham forest lodge Haputale, Reggae hotel and homestay, cliff lodge – camping Sri Lanka, Olympus Plaza Hotel, New Eagle Best Inn, high Cliffe guest house white home, Blackwood hotel, sunflower inn, Top holiday, cool mount in.
There are many more hotels all concentrated in close proximity to this world's end nature hotspot.
---
As you can see you can have a wide choice when it comes to choosing accommodation connected to your visit to World's End in Horton Plains National Park. However, here are some other best hotels near Horton Plains.
Chez Allen, World End Lodge, Elliotte garden Hotel, Sushi Guest and etc. There are many other hotels but they are located a bit away from our centre of attraction, the world end.
---
The Best Way to Get There
You can get to Nuwara Eliya and from there you can go by car or you can take a tuk-tuk to Horton Plains.
It is the idea of many travellers that though a tuk-tuk is cheap it is better to get to this location by car.
If you travel from Bandaranaike International Airport to Horton Plains;
1.3 Pax Minivan non A/C        13,000 LKR
1.3 Pax Minivan                     15,000 LKR
1.5 Pax van                       15800 LKR
1.8 Pax van                        19000 LKR
General car                        15000 LKR
Premium car                17000 LKR
---
But from Nuwara Eliya by train, it costs around 4000 LKR. A tuk-tuk cost you around 1800 LKR
From Haputale or Nanu Oya
It is always advisable that you choose a place to stay in, close to Horton Plains where you have this marvel of nature – World End.
At the same time do not waste your time during your time of stay. On the contrary, try to capitalize on the opportunity and make an arrangement to visit many other attractions in the vicinity. Then the cost incurred will be compensated with ample and complete satisfaction.
Oh, dear traveller, Sri Lanka is replete with so many marvels of nature for nature lovers who crave for visiting them.
To please their eyes with their beauty, to relax or be in an ambulance of chilling out and while away the time effectively without wasting even a single second.
So the World End is one of them. Make your plans for a visit and have forward-looking thoughts after a fully occupied visit.
More Travel Blogs Here

 
World End on Google map Here