Perth City Things to do and Travel Attractions 
As it is conveniently nestled on the banks of the swan river which is a glamorous spot to be located on, it really is worth visiting.
The natural bushland of several hectares in Kings Park makes the city a place of outdoor activity or interesting nature.
Therefore, the location, environment attractive and pleasing to the eye and the activities that a visitor can engage himself in makes Perth City a location that you really gotta visit without fail.
However, there's more you can do on the west coast capital than the marvelous sunshine and a glittering river.
As it is cosmopolitan and enjoys a comparatively healthy growth economically Perth City has gained cultural confidence.
This confidence it has gained culturally makes it an attractive Perth city on the skyline and also on the aspect of city life.
With its relaxing and soothing, wonderful weather it makes itself a place which is liveable. The other reasons are its charming beaches and characteristically carefree way of life.
It is located almost as close to Bali as to the eastern capitals in Australia. Perth City is a fusion of big-city attractions and chilled out the friendly neighborhood.
It offers a pleasing lifestyle for the Aussies and activities for visitors to make much of activities which are aplenty.
It is in fact, a highly modern cosmopolitan city in the possession of myriad bars, restaurants, and activities tinged with the cultural significance which compete for attention. If relaxation is what you are after it is an easy task in Perth City.
As the City of Perth owns virgin parkland nearby bush, the river and ocean beaches which are accompanied by a good public transport system.
The ones living in Perth City are as free can be. They enjoy everything they can have in their hotel, in its landscape, culture, and infrastructure.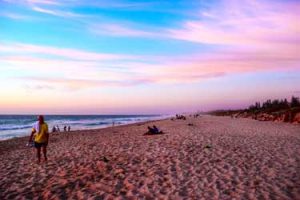 Best of Perth City – Cottesloe Beach 
This beach has the pride of being the most favorite seaside destination for Aussies for more than a century.
Come to this beach with more than a Kilometer of pure sand where you can find yourself engaged in swimming, snorkeling, and surfing. Well, Perth City has some of the best hotspots for those activities.
Engaging in diving into the ocean from the specific floating bell just away from the shore has been an activity practiced by a generation of Aussies who make much of their summer and who spend their summer days diving into the ocean from specific floating bells just away from the shore.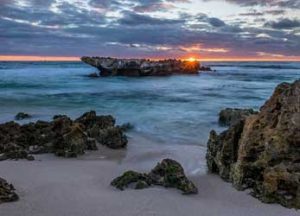 Trigg Beach
Out of the most popular beaches filled with activities like board and surfing. It is a venue for bodyboarders and most of the swimmers.
The sand shifts in summer. As a result, the channel between blue hole is filled with it.  This makes Trigger Point take-off point for a long and ceaseless wave ride to Trigg Beach.
Trigg is blessed to have a beach for snorkeling. It has Mettams pool and it is located to the north of the main surf and swim area.
It indeed is a grand location for partying and being with friends. It is a place which is secluded as if in a hiding place to hang out.
You can also hike down with stuff a little. Don't you think it is worth visiting?
You can make yourself happy with seeing the beautiful water and enjoying the precious privacy the rocks give you.
What do you think you can find opposite Trigg Beach? Wow! It is nothing but its eye-catching and pleasing nature reserve!
It enjoys its fame as being the common meeting point and the lookout for the local surf enthusiasts.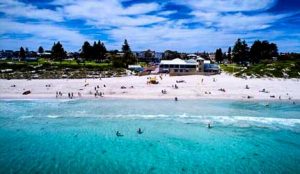 Mullaloo Beach (Bus 863)
It has its starting point at the tip of the foreland and it curves first to the northeast for one kilometer. After that curving, it becomes straight and trends north as Mullaloo Beach.
It is located 3 kilometers to the northern end of the foreland. It also has 10-meter calcarenite bluffs at the beginning. This indeed is Mullaloo Beach in Perth City!
This can be called one of the beaches of higher energy and the waves break across the connected bar and rips forming higher waves as a result.
It is a place surfers adore and they head to the north end of Mullaloo. Why is it so? It is because there is a tendency for waves to be higher.
Subsequently, you find a right-hand surf break along Mullaloo point. You also see the presence of Mullaloo surf life-saving club which patrols the central northern part of the beach. This club was established in 1960.
It lies in a huge grassy foreshore reserve that is between the road and the beach. It has a huge car park just next to the clubhouse.
In fact, there are three car parks to the north of it. At the foreland, we can detect the presence of a large car park.
This is the site of Whitfords Bay Sailing Club in addition to being beach boat launching area. Water skiing is allowed to be one north of the point.
There is 200-300 meter wide reserve which is known to be undeveloped. This reserve spreads itself for almost 2 km north of the point to the first of the entrance point of Mullaloo.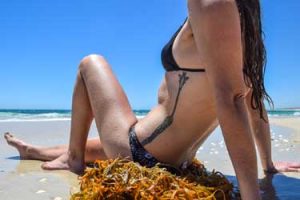 Scarborough Beach – Perth Beaches Info Here 
Scarborough Beach which boasts of its beach filled with white sand as the best such beach in the world is one of the most spectacular beaches in Perth City.
 Many talks of it as being a marvelous and a well suited Indian Ocean holiday destination if one wants to meet the most beautiful people of Perth City and also total relaxation is what you can expect to receive in its bosom.
Scarborough Beach Pool Clubs 
Scarborough Beach is not merely a swimming pool. It means more, yes a lot more than that.
People of Perth City and around are proud of it and treat it as a world-class recreational amenity of classy nature.
Indeed it can be named as a fitness center that you should really go to. It is your modern restaurant.
It is right to call it a tourist destination adorned with total perfection. What is it if not an iconic landmark which is novel and is happily located in the center of Scarborough?
It blows its own trumpet thanks to the charming and breathtaking panoramic views of the coast it is blessed to possess.
There are two pools heated geothermally. It opens a wide array of opportunity and space for sunbathing. There are also places in large numbers and there you can have your gourmet delights.
What about the fitness programmes it offers for you to make you ever so active during your holiday here in this location.
When you give rich thought to all these facts about Scarborough Beach pool you feel that you have every reason to regard this location ever the most perfect place to visit throughout the year here in Perth City.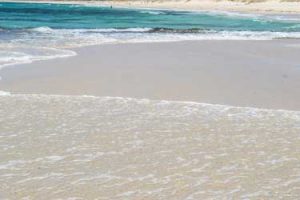 City Beach
City Beach ( WA 841) is, no doubt, one from the collections important beaches in Perth City. Any visitor coming to this location can witness a patrol tower which is at the tip of the southern groyne.
City Beach gets relatively low waves and is similar to many other adjoining beaches in that respect.
The average waves are 0.5 to 1 meter in height. It normally owns a steep beach and a continuous bar.
The occurrence of rips takes place on the beach when there are higher waves. This happens, especially in winter.
All the time waves keep breaking across the bar rips run out against the low wall built to prevent the beach from being washed away.
When it comes to the northern city beach groyne we can note the start of a 6.4km long spreading sand beach of three life-saving clubs for the aid of surf enthusiasts.
The petrol on the beach and Floreat is located on the south to the northern side of the groyne. Well after that you come to Scarboro 4 kilometers up the beach and there you see Trigg island exactly south of low calcarenite of the island.
The entire beach is supported by the west coast highway. It opens up best of avenues to get amenities of three surf life-saving clubs.
The club was first begun in 1925 and at that time the entire beach which was done backed was called the 'Sahara desert'.
The construction of a plant road across the dunes occurred in 1981 and subsequent to that came some primitive shelters and toilets in 1921 and at last the surf club was established in 1925. 
At present what you find here is comparatively a fat better massive development with its modern clubhouse which overlooks the beach and this beach is assisted immensely by the spacious modern car parks and a grassy foreshore reserve enough to be outstanding in this wonderful beach location in Perth City.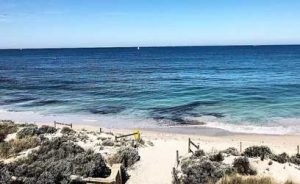 Sorrento Beach
Sorrento Beach (WA 585)  enjoys a place among Perth's traditional northern beach suburbs.
Also, it is a location of the Sorrento surf life-saving club. The average size of waves is about one meter and has a comparatively sleep beach which has a narrow continuous connected bar.
Calling it a part of the ever-spreading sandy beach north of Trigg island is really an apt remark of it.
As a result of ongoing erosion, three 50m long rock groynes have been constructed across this 1000 m long beach.
These groynes are on either side of the surf club 500 m north of this club is yet another huge carving leading to southern breakwater of Hillarys Boat Harbour.
This harbor is a 1km extension out to the sea. In fact, this beach has the blessing of the presence of a massive car park off the highway which is just next to the surf club.
At present, the surf club has a watchtower located between the two groins with its seawall just in front of the club and the car park.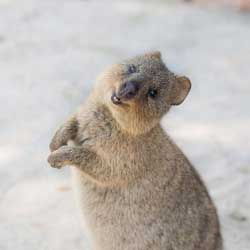 The sunny Rottnest island is nestled exactly 19 km away from the coast of Perth city. In fact, it could be called that it lies really away from the whole world.
This is a sunny holiday island fraught with a casual vibe, really very beautiful scenery attractive marine life and some of the world's classy of beaches and fresh and clean bays.
In 1696 the Dutch explorer Willem de Vlamingh misunderstood and thought of the island's marsupial population as common rats and thus it came to be called Rottnest.
It means rats' nest. The tourists now take great pleasure in being able to take a photo alongside these rats called quokkas.
This is because they think of it as a great opportunity to experience that.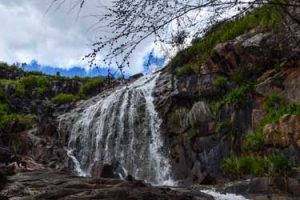 Lesmurdie falls
As you come to Lesmurdie National Park be on the lookout to feast your eyes on the epic view of the Swan coastal plains and Perth city.
Most of all what may take your heart would be one of the world's most renowned waterfalls of Perth. 
You can choose your car parking facilities from two choices. One to the park to get a long walk and a complete view of the valley or the other to get easier access to the bottom of the waterfall for taking photographs which could be called precious mementos for your entire life.
This waterfall is sixty feet in height. Don't hesitate to walk out and climb the top of the waterfall prior to plan your exploration into the Ellis Brook Valley.
Here there is something special for you assuming you are after charming floral designs in the natural landscape.
Why so? It is because here in this valley you find more than 500 varieties of wildflowers.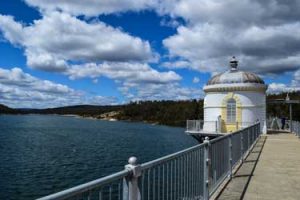 Canning Dam
This Dam lies nearly 33 km from Perth on the canning river. What this dam gives out is nothing but a combination of scenic beauty with pleasing eye-catching, enticing in Western Australia's history. Moreover, it is one of the most significant reservoirs for Aussies.
Canning Dam – What To Do?
Well, here, you can .. yes, yes, why not enjoy a picnic lunch. Let me tell you about the best location for it. It is the lower picnic area of the flowing area of the creek.
Let me call it a stunning location when it comes to having a barbeque. Also get snapshots to your heart's content.
Yes, it is as stunning as stunning could be, you know. Oh Perth what great opportunities you bestow on us!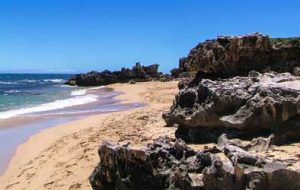 A Wild Destination Perth City 
You can call this an attraction adorned with white sandy beaches and beset by waters which look crystal clear.
Penguin Island lies only 45 minutes south of Perth City. This charming island is just a few minutes away in the center of ruggedly attractive Shoalwater Island Marine Park. Its cynosure is the wildlife.
Come here to go on a cruise in pursuit of wild dolphins and rare Australian Sea Lions. This you could do before approaching the smallest penguins in the world.
The island rangers working there feed penguins at 10.30 a.m, 12.30 p.m everyday.
The easiest way of getting there is by ferry which departs from 9.00 a.m to 3.00 p.m. As you come to look at these marvelous flightless bird species – Penguins, there are other interesting things you can engage yourselves in until the return ferry arrives.
That is to say, you will find it is possible to swim, snorkel, picnic and engage yourselves in explorations in the trails of nature and spectacular beaches maybe for long periods of time or maybe for comparatively short periods of time.
It doesn't really matter what the choice of time duration you opt to go for. What matters is that you make much of your visit to Penguins island.
We Australians feel proud and think ourselves privileged to be able to share with you our natural heritage in this beautiful part of the coast of Perth city.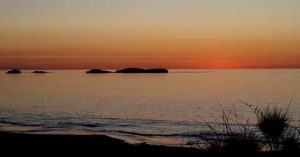 Shoalwater Islands Marine Park
Shoalwater Islands Marine Park? Well .. How should I put into words? It is one of Australia's most important, protected areas of the marine location.
Shoalwater Islands Marine Park is connected with the island's natural reserves hosting an extraordinarily attractive, diverse fauna and flora dependent on this marine phenomena.
One significant aspect of this attractive marine dependent fauna and flora is its easy accessibility from urban areas.
In this Marine park, be filled with blighting mirth as you engage yourself in swimming, snorkeling, scuba diving, fishing, pleasure boating, kayaking, boat skiing and windsurfing and paddle boarding.
This area has cultural significance to local aborigines for whom there is a long history of linking to the land and sea.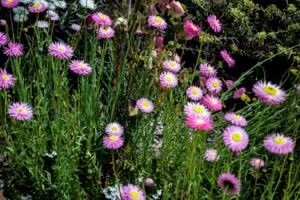 Kings Park and Botanic Garden
Have you ever been to the largest and most attractive inner city parks in the world? Kings Park is one such location of no petty significance.
Being rich in Aboriginal and European history, present culture offers innovative designs displays and services, it enjoys a spectacular place in Australia.
Kings Park enjoys a worldwide good name for scientific research leading horticulture conservation and public education.
It houses a charming Western Australian botanic garden. This Botanic Garden has more than 3,000 species of state's unmatchable flora.
Two-thirds of the 400-hectare park is conserved as bushland and it is indeed as an oasis for native biological diversity.
Oh man! visitors are blessed with the breathtaking views of the swan and the canning Rivers. To the east, you have the city skyline and the Darling Ranges.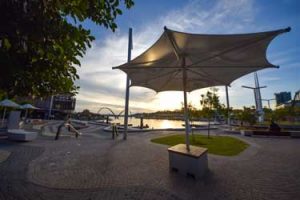 The Swan River and Elizabeth Quay
There is an estuary flowing through the city of Perth. It really is the Swan River Estuary. You should call its lower reaches wide and deep as you look at it comparatively.
However, what you can see is the upper reaches which are generally narrow and shallow. Then there is really interesting new waterfront area on the banks of the Swan River.
Well, what should I say about this place? Calling it a place to be seen and a place for many an activity to be done in Perth would be more than true and it is the real truth in its truest form.
Western Australian attempts to make Perth City stronger and Elizabeth Quay is a part of its courageous plan.
It was officially opened on 29 January 2016. Officially opened in this manner, it has avenues open for almost everybody who visits it so as to enjoy themselves being in its bosom.
How about more attractions? The island playground, The BHP Billiton water park, public artwork, promenades open spaces and the existing new food and drink outlets are some of them.
You can easily get to this location by public transport. It is just a short trekking from the Elizabeth Quay Train and Bus Port.
You can also see the presence of the Transperth Ferry terminal in the inlet and the blue cat bus which is free and which stops near the Bell Tower.
You can engage yourself in river cruises to enjoy the scenic beauty. These are available for tourists and locals alike.
The cruises sail from Barrack Street Jetty to the Swan Valley. Then from Fremantle and Rottnest Island.
Are there any more other activities of interesting character? Well.. they are segwayed, Little Ferrica Gondola on the Swan or taking leisurely walks alongside the river, now stopping for a selfie on the bridge or now stopping in front of Spanda.
What other pleasure can your joy craving soul look forward to acquiring from this spectacular location in Perth!
You can witness the seduction of its visitors by swan valley with the rich fusion of its wines, food art scenery, and natural beauty.
The producers of the best Verdelho, which is a specialty of the valley and Chenin Blanc and Shiraz varieties add more force to this seductive attraction of swan valley.
As you visit a cellular door there is a likelihood for you to be greeted by the owners themselves looking to sharing with you tales about the area's viticulture which is boastful of its history which is about 180 years old.
What else do you find pleasing to your enthusiasm for exploring new places there? There are outdoor concerts.
There are dishes for the connoisseurs. There are masterclasses. There are feel-good festivals, there are long table feasts.
There is family funs. What a lot of things. Gosh! I am sure now you have to do nothing but to crave a sweeping visit to swans valley.
Blessed it is also with winding trails full of delights appealing to your taste and refreshing drinks.
Some say that in Swan Valley, in Perth City you detect traits which are the most desirable mouth watering. These traits emanate from groundbreaking cider and ale trail.
WA comes first! The greatly delicious food tempts the visitors. The food and wine offered at Swan Valley food and wine trail which is an important trail with over 150 delightful dishes to satisfy the taste buds in really conspicuous. Moreover many are the things you can see and do in the valley.
Whether it is by driving a car, whether it is by freely stretching your leds or whether it is by getting pedaling delightfully, there are marvelous ways in plenty to cut your way enthusiastically through food delights, delightful scenic beauty and spectacular natural wonders of the Swan Valley in Perth.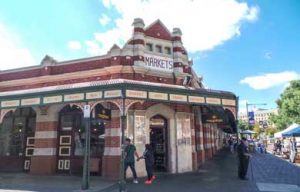 Fremantle Market
In Fremantle Market, there is a clear vibe of more than a hundred years of vibrant culture and heritage.
So why not step inside Fremantle Market and enjoy all that. As you listen carefully, you may say that you hark and hear the horse and the carts of the past that arrive at the market which are full to the brim of fresh fruit and veggies. It was first established in 1897.
Surprisingly it is! Yes, it is indeed is so just to think that when the Fremantle Market first opened arrival of visitors to it would be by horse cart.
The architects called H.J Eales and Charles Oldham designed the grand old Victorian building in Fremantle Market.
Its foundation stone was laid by Sir John Forrest, the Premier of Western Australia. It took place on Saturday 6th November 1897 and it was completed in 1898 incurring a cost of £8268.
There are really a few old existing municipal markets in Western Australia and this building is one such of its kind.
It is important as it still serves its original purpose for which it was enthusiastically constructed. Once you are in Perth, plan a visit to this nice place.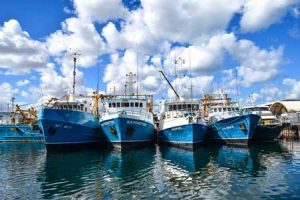 Fremantle Fishing Boat Harbour
Fremantle Fishing Boat Harbour has a relaxing vibe and it is ideal for your next day out or holiday you make to escape mundane care of a busy lifestyle.
Thanks to this reality, it is one of the best destinations in Perth City for tourists and locals. It's positioning right between the ocean and the sea is unique.
Its harbor which is busy is famous as there are world class restaurants with some of Western Australia's freshest of seafood as well as bars, recreational amenities, and place for finding accommodation is right around it.
Oh yes, it is delightfully beset by all such things essential for fun loving holidaymakers who head to it to chill out.
All the locations have their picturesque views and provide you with their inherent or characteristically unique vibes.
It is nestled between Esplanade park and the sandy shores of Bathers Beach. Here is a warm welcome to this marvelous holiday location in Perth.
Here is our invitation to come and explore this favorite urban hub of Perth which is adorned with nature's breathtaking, tantalizing attractions that make you nature's slave once and for all.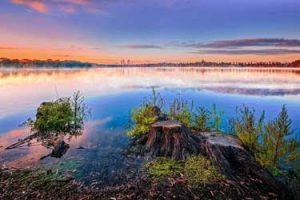 Lake Monger
Lake Monger Reserve is nothing but a principal destination in Perth that is meant for relaxing recreational areas, shared use paths, nature trails, shaded playgrounds, picnic and barbecue amenities and some sporting facilities to be used for the sole purpose of recreation.
You can see the middle of the park where Lake Monger stands conspicuously. It provides a habitat for a wide array of indigenous flora and fauna.
This makes it a well-liked, the place for observing a wide cross-section of Western Australia's bird life in all its splendor.
There is an availability of boardwalks and lookouts around the lake in its undisturbed, spotless, virgin character. It also owns a lookout on the northern side of the lake so that you can enjoy the view of the Perth city skyline.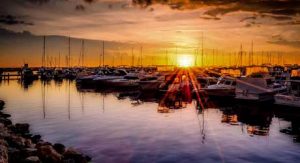 Hillary Boat Harbour
Hillary Boat Harbour houses the elite Hillary Yacht Club, AQWA – the aquarium of Western of Australia and a crowded retail shopping area.
Added to them are Sorrento Quay and Sorrento Quay Boardwalk, beautiful 4-star luxury self-contained apartment accommodation.
The Hillary Harbour Resort and a wide array of attractively kept public parkland and ocean swimmers' cove.
You have to know that Hillary Boat Harbour is a hub for visiting Rottnest Island. Coastal Heli Tours and adventure fishing, Diving, and Whale watching characters.
There is much to attract you to Hillary Boat Harbour with its daytime and nighttime attractions and this is one of the most desirable holiday destination of all time in Perth, WA.
Come here to spend a day or a week with your family or friends.
And how about the best of bars to have a drink to revel or chill out and the most exciting nightclubs for adorable night outs here in Perth City, Western Australia.
Well, they include the best place for cocktails, rooftop partying and waterfront bars.
Come to Perth City blessed with its sandy beaches rich nature reserved adorned with precious marine life fauna and flora, a multitude of scenic views, for gourmet delights and for best of viticulture delights.
 All the information we have furnished for you in this informative piece of writing can be trusted.
As you can see Perth City is clad in all its beauty only to become an important place for visiting to be filled with mirth and laughter for relaxation and fun and for many more other things.
Come to Perth City .., and see it for yourself. Perth, Western Australia is the place for you!
More Travel Blogs Here
Perth City Travel Attractions on Google Map Here