Rottenest Island is located 18 km offshore of Fremantle in Western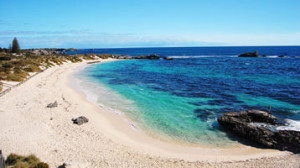 Australia. The island is only around 19 square kilometers and only 100 people call Rottnest Island there permanent home.
However, the island is a popular tourist destination, with more than 500,000 people visiting annually.
The island is most easily accessible from Perth, Fremantle, and Hilarys, from which there are daily ferries to Rottnest Island.  
Rottenest Island: 
is a nature lover's paradise.  The island has both the distinction of an A-Class reserve, the highest distinction bestowed upon a natural site in Australia, as well as an Important Bird Area.  
The island has a wide variety of native and introduced species, making it an ideal spot for bird watching.  Rottnest also has three endemic tree species.
Prior to being settled on, the island was heavily forested for the mainland.  Along the coasts, visitors can find colonies of Australian sea lions and fur seals.
Lastly, Rottnest is known for its large population of quokkas, a small native marsupial that is very rare outside of Rottnest Island.
The use of the island for recreational purposes started in the 1900s and today, Rottnest is a high demand summer location.  The abundant beaches and swimming, holes, diving, snorkelling  are one of the major attractions to the island.
There are no vehicles allowed on the island, except for emergency and service vehicles, which makes it a cyclist's haven.
 Additionally, many of the settlements and bays around the island have permanent boat moorings which can be rented from the Rottnest Island Authority.  While there are a number of hotels, a campground, and a number of villas (all of which book extremely quickly and before the internet, used to be claimed by a lottery because the demand was so high)
available for visitors hoping to spend the night, or more, around 70% of visitors to the island are only there for the day.
So, for those visiting Perth, a visit to Rottnest Island would be highly recommended.
The majority of visitors arrive either by ferry, or by air taxi.  The island does have a small airport that can accommodate light aircraft.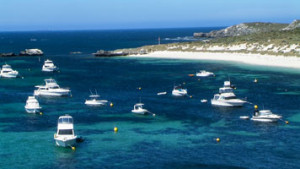 P.S. Rottnest Island is a popular destination for Australian Secondary School students to celebrate after their exams.
In fact, during this period in November, accommodation on the island is reserved for newly completed students and in order to book a place to stay, proof of your status as such a student is required.
So, if Rottnest Island is somewhere you really want to go, be sure you keep this in mind as you plan your trip!
 Rottenest Island: Boat Departure time: ( Subject to changed )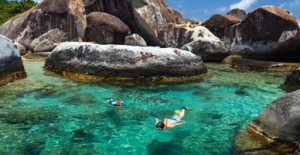 | | | | |
| --- | --- | --- | --- |
| 07:15 | B-Shed Fremantle |  Rottnest Island |  Direct Service from BShed to Rottnest |
| 07:45 | Northport Fremantle |  Rottnest Island |  Service travels from Northport via BShed to Rottnest |
| 08:15 | B-Shed Fremantle |  Rottnest Island |  Service travels from Northport via Bshed to Rottnest |
| 08:30 | Barrack St, Perth |  Rottnest Island |  Perth Passengers transfer vessels at Bshed, Fremantle |