Cape Le Grand National Park is located 631 kilometres southeast of Perth and 56 kilometres east of Esperance in Western Australia.
The park covers an area of 31,801 hectares and is an ancient landscape that has remained both un-glaciated and above sea level for well over 200 million years.
 As a result, it is home to a number of primitive relic species.  The area is known for its largely granite shoreline and picturesque white sand beaches.
Many visitors are drawn to the area each year to enjoy the park's beaches, fishing, off-roading, and hiking opportunities.
What to Do – Cape Le Grand National Park
       

First off are the beaches.  The famous Lucky Bay beach sits within the confines of Cape Le Grand National Park.
This beach is regarded as the, "whitest sand beach in all of Australia."
With wonderful warm, calm turquoise water, Lucky Bay is the perfect place to spend a beach day.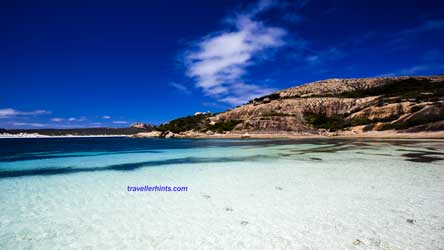 In fact, it is such a great beach that it is home to a colony of friendly kangaroos that are often found lounging in the pristine white sand.  
There is also the large and expansive Rossiter Bay, which is located just east of Lucky Bay.  
While this beach is not quite as pristine as Lucky Bay, it is beautiful nonetheless.
Visitors can enjoy a picnic with fantastic views from the naturally sheltered nook above Hellfire Bay or even explore the whistling rocks at Thistle Cove.  If you want to enjoy a bit of relaxing fishing, head to Dunn Rocks, on the eastern side of the park.
Of course there is also the Le Grand Beach as well.  There is a beach for everything in Cape Le Grand National Park.
        Cape Le Grand National Park is also home to a variety of different walking tracks.  Visitors can enjoy the beautiful coastline on the Cape Le Grand Coastal Trail, which starts at Le Grand Beach and terminates at Rossiter Bay, passing through Lucky Bay, Hellfire Bay, and Thistle Cove along the way.
The whole trail is 15 kilometres and can easily be completed in a day by experienced hikers.
 However, the trail can also be easily broken into four sections to be leisurely completed over the course of a few days.  The sections would go as follows:
1)   Le Grand Beach to Hellfire Bay: Three hours one-way, Class: 5, Difficult.
2)   Hellfire Bay to Thistle Cove: Two to three hours one-way, Class: 5, Difficult.
3)   Thistle Cove to Lucky Bay: One hour one-way, Class: 3, Moderately easy.
4)   Lucky Bay to Rossiter Bay: Two to three hours one-way, Class: 4, Moderately difficult.   
Should you hope to complete trail all in one day, expect it to take around 8-9 hours.
        Visitors can also hike to the top of the 262 metre Frenchman Peak where hikers will be rewarded with wonderful panoramic views.
There is a large cave at the summit that geologists suspect was created by wave action and underwater currents around 40 million years ago.  The peak is an important place in Aboriginal mythology.    
Wildlife enthusiasts will find Cape Le Grand National Park to be particularly interesting.
There are a wide variety of flora and fauna that call the area in and around the park home.
The sand plains are home to dense stands of banksias.  There are also sheoaks, Christmas trees, grass trees, blue China orchids, and a variety of others.
The fauna commonly found within the park are bandicoots, pygmy honey possums, ring-tailed possums, quenda, and western grey kangaroos.
Some of the relic species commonly found in the park are the common scaly foot lizard and the blind snake.  There are also a few endemic frogs in the area, such as the quacking frog, the western banjo frog, and the humming frog.
Where to Stay
        The National Park is home to two beautiful, well-equipped, and popular campgrounds, the Cape Le Grand Campground and the Lucky Bay Campground.
Each one has camp kitchens, gas barbeques, picnic tables, toilets, and water.  There is a fee to camp at these sites and the campground runs on a first come first serve basis.
If you are just traveling to the park for the day, there are a number of accommodation options in Esperance, 56 kilometres west.
How to Get There
        The road between Esperance and Cape Le Grand National Park is sealed all the way, thus making the park easily accessible.
If you are travelling from far away or from abroad, Esperance is about 8 hours driving from Perth, 10 hours by bus (for which there is daily service to a town about 30 kilometres away), or a 1.5 hour flight.  Perth is home to a major international airport, serviced by many international destinations.
All the roads to the recreation sites in the park are sealed with the exception of the road to Rossiter Bay.  However, this road is still graded for two-wheel-drive.