Last updated on November 21st, 2018 at 11:17 am
Eagle Bay is situated on the tip of Cape Naturaliste on Geographe Bay in Western Australia.  A little over a three-hour drive south from Perth, Eagle Bay is a very affluent holiday destination that enjoys a number of natural attractions as well as close proximity to Dunsborough, Yallingup, Busselton, and the world-famous Margaret River Wine Region.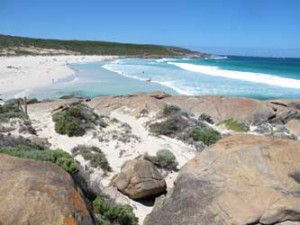 Drive through Eagle Bay and you will find yourself cruising through an opulent holiday paradise, with large, luxurious beachfront homes belonging to Western Australia's most affluent residents dot the stunning coastline.
Eagle Bay truly is the southwest's premier luxury destination.
What to Do in Eagle Bay
Eagle Bay has no shortage of ways for its visitors to keep themselves entertained.  
The bay is home to world-class diving sites, including the ever popular HMAS Swan.  
The HMAS Swan was the southern hemisphere's first purpose prepared dive site.
 When the former naval ship was decommissioned, it was gifted to the government of Western Australia.
They decided to turn it into an artificial reef/tourist attraction.
Over the course of twelve months, all the hazardous material, both to the ocean and to divers, was removed from the boat.  It then took a few kilometres offshore of Dunsborough and scuttled.
It now sits in relatively shallow waters, for a wreck site, and serves as both homes to a variety of marine life as well as a popular dive site.

Suitable for divers of all levels, Cape Dive provides a variety of diving options and tours to the site.  It truly is a must for diving enthusiasts visiting Eagle Bay.
If diving isn't your thing, Eagle Bay is also home to some world-renown surfing.  Nearby Yallingup is had internationally acclaimed big-wave beaches and breaks.
Even if you aren't an expert surfer, or aren't confident enough to take on these renown big waves, there are a number of more beginner friendly surf spots in and around Eagle Bay as well.
Of course, the shallow coastal waters of the bay are ideal for some swimming, snorkelling, or beach lounging as well.    
        Eagle Bay also has some wonderful hiking as well.  Geographe Bay has a network of trails that allow visitors to enjoy the stunning coastline as well as the beautiful forestland the area has to offer.
If you are up for a truly challenging, but also rewarding hike, head to Cape Naturaliste.
The cape is the beginning of one of the most diverse hikes on Earth, the Cape to Cape Track.
 This 135-kilometre trail will lead you to beautiful beaches, stunning headlands, tall karri tree forests, ancient caves, and past expanses of spring wildflowers.
If you aren't up for the whole 135 kilometres, no worries, it is easy to hike just a portion of the trail.
Before you start, take the time to see and explore the Cape Naturaliste Lighthouse.
From the top of the tower visitors are provided with stunning 360-degree views of Geographe Bay, and when you finish, take the time to explore the even more stunning Cape Leeuwin Lighthouse.
        Visitors should also visit the nearby Margaret River Region.  Margaret River is an internationally renowned food and wine region.
It is also arguably the only place in the world where visitors can enjoy beautiful beaches, tall-timber forests, ancient caves, world-class surfing, and premium wines all in one day.
There are more than 100 wineries in the region, with many of them producing some of the best wines in the country.
There are also a number of truly fine dining restaurants that showcase the excellent local fare available in Margaret River.
Additionally, many of the wineries have their own restaurants or cafes where visitors can have the house produced wines paired with their ideal food pairings.
 If you aren't the biggest wine fan, Margaret River also has a renowned brewery.
Where to Stay in Eagle Bay
Eagle Bay has a number of accommodation options, including bed and breakfasts, hotels, cottages, and chalets.
The area also has a number of luxurious house rentals. The majority of the accommodation in Eagle Bay is luxurious, self-contained holiday rentals.
I was there a few weeks ago and I really like that shared interesting information about some accommodations options which would surely appeal to a large group of people to Eagle Bay.
The

Azure Holiday

House, the hotel offers luxurious accommodation here at Margaret River Australia. 
How to Get There
        Eagle Bay is an easy three-hour drive south from Perth City.  While Eagle Bay itself does not have an airport.  There are nearby towns with airports that are regularly serviced from Perth.