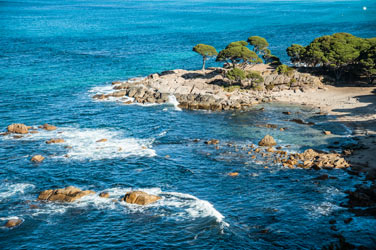 Located in the southwest of Western Australia, around 220 kilometres southwest of Perth, Geographe Bay is a curve of coastline extending from Cape Naturaliste, through the towns of Busselton and Dunsborough, and ending around Bunbury.
 The bay benefits from being protected from the Indian Ocean by Cape Naturaliste, thus making the area a popular destination for both boaters and beachgoers alike.
The bay is extremely shallow for quite a distance out from the shore, thus making the bay the perfect place for families.  The bay is also a popular destination for whale watchers as well as surfers.
Geographe Bay: What to Do
Geographe Bay is full of attractions and activities for visitors.
Whether you want to just enjoy a nice relaxing day at the beach, surf, view wildlife, or indulge in some fine wine and dining, Geographe Bay has something for you.
 Geographe Bay has a large expanse of sandy, protected beach that is great for a variety of water-based activities, including swimming, kayaking, beach games, and just plain relaxing.
If you are a bit more adventurous, and willing to venture a bit farther off shore as well, Geographe Bay offers excellent conditions for surfing as well.  Also along the coastline is the famous Busselton Jetty.  
Originally constructed in 1865 out of piled up timber to accommodate for the fact that the bay is too shallow for large vessels, the jetty is the largest in the southern hemisphere.
Measuring at 1,841 metres, the jetty was recently refurbished and includes an Underwater Observatory, which is a fascinating place to visit and a great place to take children.
Also, relatively near to the
coastline, is the Cape Naturaliste Lighthouse.  This is a functioning lighthouse that offers tours daily.  Visitors can enjoy fantastic views from the top of the light tower.
        If you are looking to experience some of the native wildlife, Geographe Bay is also home to the Dolphin Discovery Centre.
There are around 60 bottlenose dolphins that live in the bay year round, with that number jumping to around 260 during the summer months.  
Located in Bunbury,  the Dolphin Discovery Centre has a beachside zone where the dolphins frequently visit and visitors can wade into the water and stand alongside the dolphins.
 If you really want to see a dolphin the centre also offers 1.5 hour Eco-Cruises as well as a three hour Swim Encounter Cruise.
Bunbury is also home to the Bunbury Wildlife Park, which has a number of Australia's most recognizable wildlife.  Parrots, kangaroos, wallabies, possums, owls, and emus can all be found at the park.
 Right across the street from the park are the Big Swamp wetlands, which is a great location for hiking and birdwatching.  If you are in the Geographe Bay area during the right season, it is also a wonderful place for whale watching.
        Of course, if you want a break from the great outdoors, Geographe has other entertainment options as well.  First, there is the Geographe Wine Region.
Part of the Margaret River Region, which is known for producing some of the best wines in Australia, the Geographe Bay area produces around 11% of the state's total wine output from around 30 wineries.
Capel Vale offers free tastings to visitors.  There is also the ArtGeo Cultural Complex.
 Situated around the old courthouse, the complex includes a gallery, tea rooms, and wood turners.
Bunbury is also home to the Bunbury Regional Galleries, which has an impressive collection including work from renown Australian artists Arthur Boyd and Sir Sidney Nolan.
If you want a little history, head to Busselton Museum, which has a number of informative exhibits detailing the area's local history.
Geographe Bay: Where to Stay
The Geographe Bay area is filled with a variety of accommodation options.  Whether you want a campground, a caravan park, a hostel, a bed and breadfast, a motel, a hotel, a luxurious resort, or a peaceful, self-contained holiday rental, there is something for you in Geographe Bay.
Geographe Bay: How to Get There
If you are travelling from abroad, Perth International Airport is the primary hub in Western Australia.
It is serviced by over 20 international, domestic, and regional airlines.  From Perth, the Margaret River Region is only a three hour drive south.
There are a number of small airports in Geographe Bay regions that are serviced regionally from Perth.  There are also other airstrips that can be serviced by charter flights.
  If you are not flying, it is an easy drive to Geographe Bay.  There are also regular coach and bus services from Perth to the Margaret River Region.