Once tourists set foot on Nuwara Eliya, they will find a variety of recreational activities to do in this picturesque city clad in all natural beauty. on the other hand, Nuwara Eliya is known to have the famous 8 hole golf course in Asia.
Nuwara Eliya is situated high up in the mountains. Due to the location, The Town has a lush, green landscape which is pleasant to all possible extent.
It is mixed with a history that dates back to the colonial era in Sri Lanka.
This beautiful mountain city is loved by most visitors who are both local and foreign mostly because of its pristine natural locations.
These natural areas are nothing but an ornament to this hilly abode.
The History of Nuwara Eliya Town
The city was founded by a British explorer. Aso, He discovery of Nuwara Eliya dates back to the 19th century.
Samuel Baker who was an explorer based it. During the British era of rule in Sri Lanka, this city became a promising tea plantation venue.
As a result of, it had turned out to be a favorite of the British growers and administrators.
The main reason for that popularity was its pleasant temperature and climate.
The Colonialization
It has an annual temperature of 16 c. The heat can be as low as 3c. The importance of Little England emerges from the well preserved and atmospheric colonial buildings which look imposing though they are old.
The local tourists frequently come to this city in April to celebrate Sinhala and Tamil New Year.
That is the time the vibe of the town becomes attractive with its festive characteristics. Also,
they make the colonial hotels in the main square chock a block with people.
The foreign tourists who hear about this celebratory nature filled with many cultural facets also flock to this mountain city in Nuwara Eliya District and, as you can see, it is just 150 km away from Colombo.
Things to Do in Nuwara Eliya
Once you find yourself, you will find many things to do in Nuwara Eliya. And, You will see that many are the places to visit and your limited number of days here in Sri Lanka you will perhaps not be able to fix them all in your tour itinerary. By the way,
you can go to Horton Plains National Park which is a beautiful natural park in Nuwara Eliya. In this park, you can see the World's End.
If you are into exploring the park you could do it with the support of an experienced tour guide.
You are able to see various plant and animal in this national park in Nuwara Eliya District.
Gregory Lake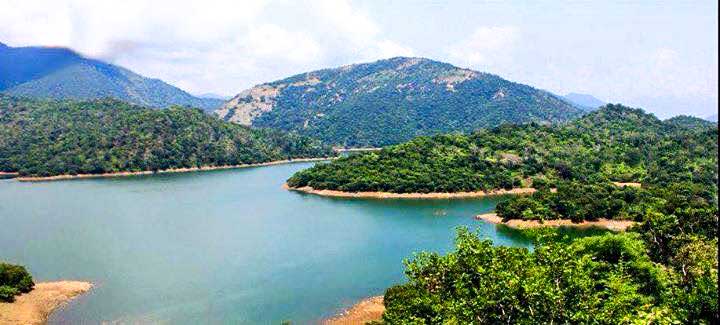 Gregory Lake is yet another beautiful place to visit during your stay here. You can enjoy a boat ride in the lake.
You just have to spend some bucks to hire a boat for a set time duration and while away your time is merely peddling your boat in the lake or you could travel in a motorboat.
Hey, use your camera here to get some best photos of natural beauty here in Little England.
Hakgala Botanical Garden
Hakgala Botanical garden is just a little away from Gregory lake. Many tourists love this botanical garden as it is full of beautiful roses and trees. Here you find tourist couples taking photos of the beauty found here.
This is also a honeymooners paradise some honeymooners who come from the Middle East lavishly spend big bucks to enjoy nature clad in floral designs of roses in their different shades.
St. Clair fall
Once you are in Nuwara Eliya make much of your stay by visiting beautiful cascades in the vicinity.
The breathtaking St. Clair fall is one such waterfall here you see the beauty of the waterfall uniquely having its character. Tourists both local and foreign holidaying here in Nuwara Eliya never should miss St. Clair Fall.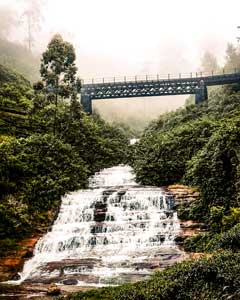 Devon Fall
Devon Fall is yet another and if you explore Horton plains. You can see some other beautiful waterfall.
You will really marvel at the beauty of them. Then only the truth will dawn on you as to the abundance of natural beauty here in Nuwara Eliya, Little England in Sri Lanka.
Lover's Leap Fall
Lover's Leap Fall is also spectacular and does not hesitate to visit it. It gives you a wealth of opportunities to be in close contact with real natural beauty here in Sri Lanka. Visited as it is by many a foreign as well as local tourists, Lover's Leap Fall enjoys a high place regarding natural beauty with its own character.
Bomburuella Waterfall
Bomburuella Waterfall and Mohini Falls are two are two of other cascades that you should not miss out visiting. And how about Kolapathana Falls? Visit it is known to be an excellent photo spa for tourists.
Forest Reserve
Are you into exploring a forest reserve here in Nuwara Eliya? Then, buddy, you should make a visit to Piduruthalagala forest reserve.
It is a beautiful area with natural beauty, and you will be able to see Moon Plain or 'Sanda Tenna' after you explore Piduruthalagala forest reserve.
Get your camera or the smartphone ready for photographing wild deer and leopards in this area.
Ambewela Farm
Go to Ambewela Farm. This farm really resembles a dairy farm in New Zealand. The farm rears cattle for milk.
The grassland well maintained by the farm staff takes your heart. So does the beautiful mountains clad in dark robes of nature. You can experience the way milk is produced here.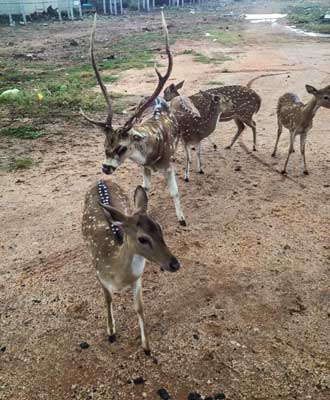 Things to Do in The Farm
The best time to go here is the milking time. The farm staff mechanical devices to milk the cows keeping the best of sanitary standards. You can also visit their butter and cheese factory.
How about enjoying some fresh farm products on the same farm itself? Enjoy a glass of milk which is not expensive, or you may have a yogurt.
In addition to cattle, they also rare rabbits to produce rabbits.
So if you plant a barbeque after the visit- if you have such facilities- you could buy fresh rabbit here.
You can choose a live one to be prepared for you in no time. But buddy, this new rabbit is a bit expensive. This farm is open for tourists throughout the week from 8.30 am to 5.30 pm.
Tea is what we excel in, in the world. We, Sri Lankans, are really proud of our tea and we also fondly think of its history. We recommend that you visit a tea factory which will be an occasion to experience novelty once in your lifetime.
Visit Blue Field Tea Gardens in Nuwara Eliya. You can taste the tea that is well infused here at Blue field Tea Gardens.
This tea garden lies 1905 m above sea level. Travellers can walk it and see an excellent opportunity to experience how the tea from the plantation reach your table.
The visitors can sample some of the tea both black and white that is fragrant.
This tea is produced in the same factory itself. So will it not be a uniquely novel experience for you to have? This factory has a shop. You can get by any drinkable souvenirs back home from here.
If you go with children, then there is a child's play park located in this tea garden.
We advise you to have a Blue Field tea garden in your personalized itinerary.
The Redro Tea Estate
Then comes The Redro Tea Estate. You should give this tea factory a try. It lies a few miles from the center of Nuwara Eliya.
It is easily accessible by tuk-tuk, or you can use public transport to get here.
The spectacle of factory machinery being used in the production tea arouses your curiosity as to what a marvel your cup of tea is.
If you have kids with you, this place will really work with them. They no doubt will look at the tea making process with fascination.
Do not forget to walk around the plantation to see how tea grows. Staffs also give you a cup of tea on a beautiful balcony.
This can be called the most critical occurrence in your visit to the Pedro Tea estate.
Pedro Tea Estate
You explore the plantation you see the process of making tea, and then you enjoy a gorgeous cup of tea. Well .. could there be a better climax to your visiting the Pedro Tea Estate?
You explore the plantation, you see the process of making tea, and then you enjoy a gorgeous cup of tea.
Well, could there be a better climax to your visiting the Pedro Tea Estate? Come on buddy make much of your visit to Nuwara Eliya!
Victoria Park
You may want to relax in a natural ambiance. Come to Victoria Park, which is another historical landmark of the colonial era of Sri Lanka.
It is adorned with various plants, trees, flowers, etc. Come here to relax. A park is an ideal place for couples as well as families.
Take your Souvenirs by way of photo shoots here. This is a beautiful park to chill out after a tiring day of touring around the city.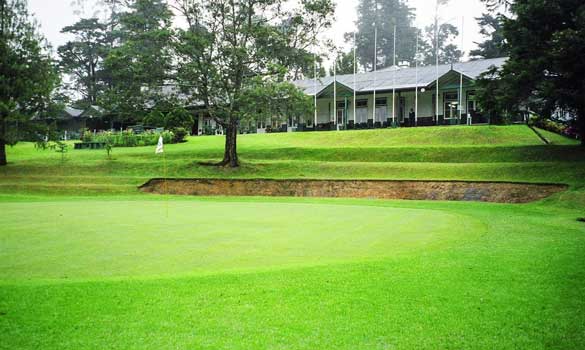 Nuwara Eliya Golf Club
Nuwara Eliya Golf Club is world famous in Asia. This golf club was founded in 1889, and it could be called one of Asia's oldest Golf Clubs. Its location is quite bewitching.
It is surrounded by beautiful gardens and lies at the foot of tea gardens in Sri Lanka.
Do you want to have a golfing experience here in Nuwara Eliya? Or maybe you want to have a friendly match with your chum.
Well .. do not hesitate to inquire as to how you should get access to experience this novelty here in Nuwara Eliya. This golf course is open from 8.00 am to 7.00 pm.
The golf course has 18 holes in the court in a 6075 yard. There is 71 testing pa of fairways.
They are long and narrow, and also they are surrounded by tall trees and shrubbery. On Wednesdays, you have to pay 2880 LKR (10 holes). At weekends you have to pay 3300 LKR ( 10 holes).
Land National Park
Land National Park can be called one of the national parks that is the smallest and newest here in Nuwara Eliya.
Galway's Land is nothing but dense forest. While you are in Nuwara Eliya, you should visit this place without fail.
This beautiful park finds itself located within the city limits of this national park is a declared sanctuary.
It was declared a sanctuary in 1938. There is avifauna as well as rare flora here. The plants have both local and foreign origins. You can visit it from 6.00 m to 5.00 pm.
This park comes under the purview of Department of Wildlife Conservation in Sri Lanka. It lies in Havelock Road Nuwara Eliya. The fee for entry is 150 LKR.
Amman Hindu Temple
How about Religious sites? Seetha Amman Hindu Temple has an impressive, eye-catching look across the natural landscape in Nuwara Eliya many travelers like it as it is a colorful temple.
It lies 7 km southeast of Nuwara Eliya. History has it that this place was the place that belonged to king Ravana, a king of the Yaksha tribe who kept Sita, the beautiful wife of the ascetic Rama, a captive. This place is a holy place for Hindus as the legend has it that.
Sita prayed to Rama here daily when she was a prisoner of Ravana, a great prehistoric king of Sri Lanka.
Small Buddhist Temple in Nuwara Eliya
Then visit the small Buddhist temple in Nuwara Eliya. It is situated just south of Victoria Park. This place is adorned with a statue of Lord Buddha. Both local, as well as overseas travelers, visit it to see its small white stupa.
After touring around Nuwara Eliya, you may desire to visit a farm. How about a strawberry farm.
Then Adma Agro Strawberry farm is the place for you. It is an exciting place for kids and groups.
It closes at 6.30 pm. You can try strawberry foods here. You can have delicious desserts here. If your love is strawberry do not miss it out on your personalized itinerary.
Hiking in Nuwara Eliya
Here in Nuwara Eliya, you have fantastic opportunities for testing your endurance over the different choice of terrain.
One of the most spectacular beauty nature trails is there across the Horton Plains National Park. Clearly, this place is a must for tourists with physical fitness and adventurous spirit.
You can also hike up Pidurutalagala the country's highest mountain. Travelers may not be able to reach the peak.
Anyway, you could possibly reach points as high as 7000 feet from the foot of the hill.
Here are Some Other Best Hiking Trails in Nuwara Eliya
Lover's Leap Pedro Estate has six miles. It is near Nuwara Eliya in Central Sri Lanka. It is a moderately strenuous hike.
Nuwara Eliya Lovers Leap. This trail covers 1.23 miles, and it can be called a strenuous hike.
Plantation de thé Paysages Superbes. With the distance of 5.86 miles, it offers you with comparatively an easy hike.
Plantation de the has a nature trail with a distance of 6.6 miles. This trail is moderately hard but exciting.
Lover's Leap Waterfall – It is a nature trail of 2.92 miles. Hiking here is easy.
Nanu Oya nature trail is 8.48 miles long. It is moderate regarding physical exertion.
Nuwara Eliya – Lovers Leap and amp Pedro tea factory. This is a hike with a distance of 7.83 miles, and it is moderate regarding its similar difficulty.
Lover's Leap – This is a short hike in the distance and covers 6.21 miles. It is difficult in moderation.
Camps de the waterfall lovers, Sri Lanka. This hike has a distance of 1.72 miles. It is an easy hike.
Some Other Tourist Attractions in Nuwara Eliya
Single Tree Hills – This is a hill with a simple tree at its peak. It provides you with mountain and sunset panoramas. It is open 24 hours. There is also a Buddhist temple here.
The Nuwara Eliya Post Office is a must see. It shows you colonial architecture as it is housed in an antique Tudor Manner. It was built in 1894. In fact, it is really worth visiting.
Nuwara Eliya becomes the most liked place in April. This is because it is the season of flowers, pony races, go-cart races, boat races, and auto rally.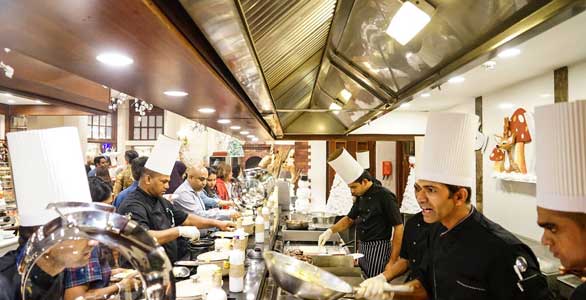 Restaurants, cafés, and Bars in Nuwara Eliya
Edinburg TEA Track – This cafe serves international food as well as Sri Lankan dishes. It is vegetarian-friendly and has vegan options.
Victoria Garden Restaurant – This cafe serves Asian, Sri Lankan, and International food. It is also vegetarian-friendly.
Tea Lounge – If you are into European and British food come here. It has the vegetarian-friendly option.
Dine-way – This cafe serves fast food. Also, you can have international and Asian food here.
The Diplomatic Corner – It is a cafe that specializes in Pizza. You can have Indian and central Asian food here.
Tea Factory Hotel Restaurant – Asian and Sri Lanka food restaurant. It is also vegetarian-friendly.
Sri Ambaal – This restaurant serves Indians and Asian food.
The Silva Food Centre – It has Asian and Sri Lankan food.
Restaurant TWO – It is a restaurant serving both Asian food and Sri Lankan food.
Salmiya – This restaurant in Nuwara Eliya which serves Indian pizza.
Grand Indian – It is a restaurant which serves Indian and Asian cuisine.
Indian Summer Nuwara Eliya – Come to this restaurant for both Indian and Asian dishes.
Grand Thai – It serves Asian and Thai dishes.
Themparadu – Serves, international, Asian and Sri Lankan food. It is vegetarian-friendly with vegan options.
Barnes Hall – It serves European, Asian, Sri Lankan, and International food. It is vegetarian-friendly with vegan options.
Mackwoods Tea – come here for the best chocolate cake.
Grand Dewasiri Cottage And Seafood Restaurant for seafood, it serves Asian and Sri Lankan food.
Hill Club Restaurant for European food. It is vegetarian-friendly.
Adma agro fresh strawberry food, Nuwara Eliya Sri Lanka. This restaurant serves best desserts and is vegetarian-friendly.
TCK 6685 – Serves International food.
Queens Wood Restaurant – For Chinese, Indian and Arabic food. Serves pizza and has a vegan option.
St Clair's, Hela Bojun Hala, Genuine humbugs Restaurant and Inn, Tea Bush Ramboda, The pub Grashia Restaurant, and old course restaurant are some other restaurants.
Nuwara Eliya Bars
The Pub Nuwara Eliya, Lake view, Windsor Bar. Road Hole Bar, Lions Pub, the 19th Hole Pub Tohono Alpine Hotel.
In their bars, you can have a cold beer in the evening and chill out. They also serve local and foreign spirits. If you want to try local spirits made from the coconut palm you could do so.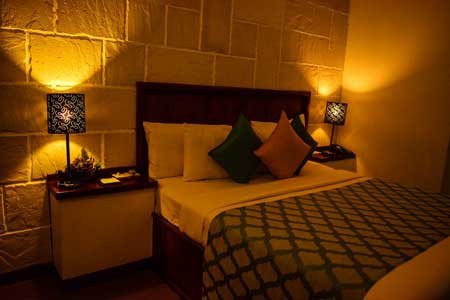 The Queenswood Cottage – LKR 31,197 – free wifi, parking available.
Heidi's Home – LKR 12,370 – free wifi, free parking.
The Golden Ridge Hotel – LKR 35,859 – Free wifi, free parking.
Araliya Green City – LKR 23,532 – Free wifi, free parking.
Unique Cottage – LKR 15,756 – Free parking, free Internet.
Manudi Glenfallsedge Rest – LKR 6,634 – Free Wifi, Free Parking.
The Black Pool Hotel – LKR 28,687, Free Wifi, Free parking.
Araliya Green Hills Hotel – LKR 27,433 Free Wifi, Free parking.
Glendower Hotel – LKR 12.802 Free parking, Restaurant.
Heritance Tea Factory – LKR 47,228 Free Wifi.
Midky Hotel – LKR 11,229 Free wifi, free parking.
King Fern Cottage – LKR 6,634 Free wifi, free parking.
Glory Bush Villa – LKR 20,374 Free Wifi, Free parking.
Panorama Green View Hotel – LKR 11,410.
Richmond Inn – LKR 6,071 – Free Wifi, Free parking.
Villa Cassandra – LKR 15,582, Free Wifi, Free parking.
Forest View Cottage – LKR 8,965 – Free Wifi, Free parking.
Tea Plant – LKR 52,985 – Free Wifi, Free parking.
Blue Moon Hotel – LKR 6,293 – Free Wifi, Free parking.
The Grand Hotel – LKR 14,287 – Free Wifi, Free parking, Restaurant.
Villa Mount Royal – LKR 14,532 – Free Wifi, Free parking.
The Oliphant Bungalow – LKR 41,442, Free Wifi, Free parking.
Blue Meadows – LKR 10,762 – Free Wifi, Free parking.
Hill Pride City Hotel – LKR 9,218 – Free Wifi, Free parking.
Misty Mountain Villas – LKR 4,722 – Free Wifi, Free parking.
Nidwalden Resort – LKR 7,568 – Free Wifi, Free parking.
Nuwara Eliya – LKR 5,169 – Free Wifi, Free parking.
In addition to these, there are some other hotels which have been built and furnished in Colonial style. In them, the visitors can nostalgically wallow in bygone days.
They are as follows. St. Andrew Hotel, General House, Queens Hotel, Heaven Seven, The Grand Hotel – The home of the governor Edward Barnes, Glendower Hotel, Hike and Sleep, Tea Bush Hotel and The Hill Club Hotel.
The Best Way to get to Nuwara Eliya!
There are six means of transport to Nuwara Eliya. You can reach this city by bus, plane, train, taxi or car.
Fly to Hatton 1 hr 32 mins – LKR 7261 – LKR 38063.
Bus – 7 hrs – LKR 4300 – LKR 5400.
Fly to Katugastota – Taxi 5 hrs LKR 8361 – LKR 32163.
Train, Taxi – 4 hrs – LKR 7574 – LKR 9744.
Taxi – 2 hours 45 mins – LKR, 1000 – LKR, 13000.
Drive – 2 hours 45 mins – LKR 2100 – LKR 3200.
We traveler hints always try our best to tell you plainly about exciting places Nuwara Eliya. So, Anticipate coming to this tropical island paradise where Little England illuminates itself with beauty and fame. Bye- Bye!