Last updated on October 26th, 2018 at 03:45 am
North Perth Travel Attractions
North of Perth adventure, I'm a 21 years old French girl who lives in Perth, Australia, since September 2015. I decided to leave France to explore new lands, meet people and get to know the "world".
After a technical degree in tourism in France, I bought my ticket for Australia. I landed in Perth and have been the second summer in a row here in Perth, in a city where you can't feel alone and lost.
My aim is to feel more comfortable with  Australian culture and society. Also, I'm happy to share my personal experiences and travellhints.com, tips and advice among other travellers.  Head North!:
North Perth Attractions 
First stop: The Yanchep National Park, around one hour from Perth (42km).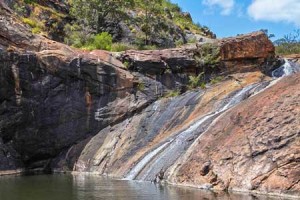 Leaving Perth between 8 and 9.30am is fine, you'll be sure to have enough time to enjoy all the places.
There, you'll have plenty of possibilities: walk trails, caves, Aboriginal experiences.
But the first step say Hi to the sleeping koalas on their eucalyptus. Try to find those cuties animals, natives of Australia, hidden in the trees. You may have the chance to see them climbing between two naps.
Yanchep is also a good spot for birdwatchers. You'll see and hear the colourful cockatoos and many of others birds.
Enjoy the serenity of the lake and keep your eyes open, you may see the western grey kangaroos, lying on the lawn.
If you are in a sportive mood, you'll surely like the trails that Yanchep offers. You can choose between different levels (from 2 to 8 hours walks for the most experienced walkers).
If you want to have experienced the trails, and the cave, maybe it's better to plan an entire day, just for this park.
For the visits to caves, don't forget to book your place at your arrival. For those guided tours, you will have to pay extra fees (around $14). There are more than 400 caves, so choose yours!
The price for the entry is $12 per car and allows you to visit the Nambung National Park on the same day. So keep your receipt with you.
If you want to spend the morning at Yanchep and then reach the Pinnacle Desert, feel free to bring some food and enjoy a barbecue within this peaceful park.
I and my friends stayed till lunch at Yanchep. Up to you to drive to Pinnacles Desert after lunch or staying in the National Park and experiences the caves, the trails and landscapes and spend two days in this trip.
Best Attraction, North Perth
Pinnacles Desert (3 hours from Perth, 245km), and The Pinnacles Desert is one of the best in WA!
While you drive to the Pinnacles, enjoy the typical Australian landscapes, listen to some good tunes, and feel the road.
You'll know you're almost there when you'll see the big white dunes. It's really wild over there; the landscapes are almost untouched by humans and it is pleasant to imagine that the area wasn't so different from now, thousands of years ago.
After enter in the Nambung National Park, leave your car on a bay and took the path to the desert. You can also visit it with your car, but for a real and true experience, walking is the best.
Follow the "Kangaroo paws" and walk on the yellow sand. You'll be mesmerised by the genuine landscape: shades of the yellow stones, blue sky and white dunes in the background.
The limestone pillars are all unique and important, just like people. That's why it's really important to respect this protected area and preserve it. Just remember that those stones were there for millions of years ago before you… If you have nothing to do after this stop, wait for the sunset. It is worth it.
If you still have time, then drive to the town of Cervantes, and have a look to the Lake Thetis.
Walking around the desert won't take you too much time (Between 30 min and 1h).
Cervantes (35 minutes from the desert, 23 km)
Sand beaches and the turquoise waters are beautiful, and you may have the chance to see sea lions. It's nice in the afternoon in winter or spring to have a bowl of fresh air. So take a deep breath and listen to the sound of silence, in the low season when nobody's at the beach. This is also a good spot if you want to fish.
Lake Thetis (Cervantes)
This lake is isolated from the sea for almost 5000 years and is one of a kind. Indeed, it's one of the rare places in the world where you can see "Living Fossils". Those stromatolites are the oldest form of life on Earth.
Stay on the provided path to preserve, enjoying this short walk. A good way to finish the day, thinking about the origins of our planet and the place of the human beings within.
Budget to North Perth :
The first thing is the transport: if you rent a car or if you have your own car, the budget will surely be different.
My tip is to do this trip with 5 persons, as the rate for the parks is per car. The more you are, the less you pay.
For the two National Parks, you won't ruin yourself ($12 for both). If you book a guided tour in Yanchep you'll have to add at least $14 per person to the budget.
Bring your own food and have an outdoor lunch will be more economic. Anyway, you won't find many shops on


the road.
My feedback concerning this trip :
This short trip is ideal for people who want to escape from Perth for a while. Especially if you are supposed to spend a while there because of work. Those places are a must in WA, and you don't want to leave this area without going there.
In my opinion, it was exactly what I expected from Australia landscapes: wildlife, very dry landscapes in different shades of colours, very long roads and a warm atmosphere.
If you are a newborn in Australia, like me, you won't be disappointed.
More Tavel Blogs 
North Perth Written By 

Margaux Ot
Look up your HOTELS Deals here